Best Live Quiz / Trivia Games for Android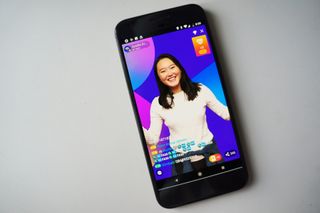 Have you always thought you'd do great on a trivia game show? Well, in 2018, you can test your trivia skills multiple times in a day playing live trivia for real cash right on your phone.
This trend was started by HQ Trivia, which seemingly blew up overnight and has regularly drawn in a million players ever since launching for Android users in the Google Play Store. Keep answering the questions right to move one, or spend an extra life to stay in the game after a wrong answer. Make it through 12 questions and you win cash! It's easy to play and addictive as hell.
But with any trendy app there are imitators and competitors, which means that every weekday you have a handful of opportunities to win cash with your trivia knowledge (and a little bit of luck).
Does it sort of feel like we're living out the first act of an episode of Black Mirror? Absolutely, but why not enjoy the spoils before it starts to spiral out into a nightmarish dystopian future world.
HQ Trivia
Why you can trust Android Central Our expert reviewers spend hours testing and comparing products and services so you can choose the best for you. Find out more about how we test.
The app that started the craze. HQ Trivia is a daily trivia game show where you simply need to answer 12 questions to win a split of the pot. The daily weekday cash pot has risen to $5000 with a new tradition emerging for Sunday's game — $25,000 with a non-stop stream of questions until players are whittled down to one lucky winner.
It has turned regular host Scott Rogoswky into an internet celebrity as he provides an entertaining performance as the quiz master extraordinaire. The app itself has improved significantly since launching on iOS in October 2017 — stream quality (and most importantly, stability) is improving and the servers seem to be handling the larger influx of users better now since launching for Android. You can play it alone, but it's much more fun to play in a big group.
Recent updates have removed the payout minimum of $20 and you now have better control over how you spend your extra lives (gained by a new user using your referral code). The chat during the trivia itself is a mess and doesn't seem to serve much use for anything meaningful.
HQ Trivia Schedule:
Weekdays: 3pm ET and 9pm ET
Weekends: 9pm ET on Saturdays and Sundays
Live.me Quiz Biz
Okay, so Quiz Biz is a bit interesting. I'll fully admit having never heard of Live.me before it launched it's own trivia game, but it's a natural fit.
Live.me is a live broadcasting video chat app that's looking to build a community of influencers across a wide spectrum of topics and personalities. It's available in 85 countries and has millions of downloads from the Google Play Store.
The platform itself is not for me — I haven't spent any time checking out anything on Live.me beyond the daily Quiz Biz trivia show but the experience here is arguably better in so many ways. The cash prizes are always as big or bigger than HQ — on Super Bowl Sunday they hosted three separate games with $50,000 jackpots. Since it's built upon a seemingly well-populated user base from the existing Live.me community the games feel lively and popular while still remaining small enough to ensure bigger cashouts, and the stream quality overall is way smoother than HQ on its best days. And yet…
It's all bit overwhelming. Live.me includes a bunch of in-app currency and items that you can buy and gift. During the pre-game of one show, some dude donated 100 "magic wands" which was I suppose a display of status amongst the Live.me community… but as an outsider looking in it all felt a bit cult-like. I'm just here for the trivia.
Live.Me Quiz Biz Trivia Schedule
Weekdays: 3:30PM EST, 8PM EST, and 10PM EST
Weekends: 8PM EST on Saturdays
The Q
I mean this with no disrespect, but The Q is the trivia app equivalent to The Little Tank Engine Who Could. This app popped up shortly after HQ Trivia began making waves in beta for both iOS and Android, and I've been tracking its growth through to 2018.
I appreciate the lack of an annoying and pointless chat system, and the player pool is significantly smaller than HQ or Live.me, but The Q is the one app I've seen taking trying new things. They now regularly holding Survivor games where the questions keep coming until one player remains. They've also advertised some fun theme nights, including a Star Wars trivia show around the premiere of The Last Jedi.
The player numbers are growing, but still in the low thousands and payouts are significantly smaller than its competitors with weekday games in the $100-$200 range. Still, The Q is a fun trivia app alternative that might fit into your schedule better than the other options.
The Q Trivia Schedule
Weekdays: 1pm EST and 5:30PM EST
Weekends: 8:30pm EST
Swag IQ
SwagIQ stands out from the rest on this list because it doesn't directly dole out cash. Instead, you play to win SwagBucks, which can then be exchanged for cash via PalPal, or redeemed for gift cards for popular sites like Amazon or Steam, stores such as Barns & Noble, JCPenney, and Bath & Body Works, or even donate your winnings to charities including Doctors Without Borders or ALS.
SwagIQ also lets you earn points based on recruiting new players, and you'll get a 10% cut of whatever they make playing the app (which, admittedly, sounds a bit like a trivia pyramid scheme to me). You can also spend your SwagBucks to buy back into games, and you earn a few SwagBucks each time you play. 100 SwagBucks convert to 1 USD, but there are deals to be had if you redeem your SwagBucks for gift cards.
Now if you'll excuse me, I've typed out 'Swag' one too many times and need to go take a shower.
SwagIQ Schedule
Play every day at 8pm EST
Your favorite?
Are you an HQtie or just a tourist? Let us know in the comments below!
Updated March 2018: Added SwagIQ to our list and updated the HQ Trivia information to reflect the daily prize being bumped up to $5000!
Get the Android Central Newsletter
Instant access to breaking news, the hottest reviews, great deals and helpful tips.
Marc Lagace was an Apps and Games Editor at Android Central between 2016 and 2020. You can reach out to him on Twitter [@spacelagace.