Best hockey apps for Android to kick off NHL season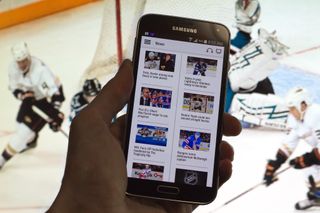 Alright hockey fans, the NHL seasons start tomorrow as you well know. You want to make sure you're on top of what's happening, even if you can't be rinkside or plopped on your couch in front of the TV. Luckily there are a ton of great hockey apps for Android that can make sure you're in tune to what's up before, during, and after the latest games.
Let's drop the puck and get started with our top five NHL apps for Android.
theScore
TheScore is a fantastic third-party app for following not only hockey, but just about every other sport you might be interested in. You can follow specific teams, get home screen widgets for the latest information at a glance, notifications when things get crazy, and, of course, the latest scores and stats. The best part is, you can keep tabs on NHL, NFL, MLB, NBA, and lots more at the same time. Diversified sports fans will find good use for theScore year-round.
NHL GameCenter
NHL GameCenter is the free, official app for keeping tabs on games. Get play-by-play information, audio streams, a simulated view of the game, up-to-date standings, and with a premium subscription, post-game video highlights. If there are specific teams you want to keep an eye on, NHL GameCenter lets you get customized alerts whenever anything new happens with them. Verizon customers will get a few extra for free, including NBC and live streams of games.
NHL GameCenter lets you get the latest hockey news right from the horse's mouth.
ESPN SportsCenter
If you're used to following hockey on TV, ESPN SportsCenter will be a familiar face. Dive into deep analysis after the games, catch breaking news, watch video highlights, and mark teams as favorites for notifications as soon as there's something you should know. Twitter integration lets you see what everybody else is saying about the latest results.
Rogers GameCentre Live
Rogers is offering front-row seats for premium, live streaming to Canadian hockey fans. A ton of blackouts have been lifted (though there are still many to keep in mind), so you can catch in-market and out-of-market games without a hassle.
The season pass price has been bumped up to $199.99, but that lets you access every game (including the Stanley Cup Playoffs) on any internet-connected screen during and after the game. If you're already a Rogers customer for wireless or internet access, you get additional access to a bewildering array of camera angles through GamePlus, plus free access until the end of December.
If you're really serious about catching every game, Rogers GameCentre Live should be your first stop.
Yahoo Fantasy Sports
Fantasy sports fans will already be very familiar with Yahoo's offering. With Yahoo Fantasy Sports, you can keep tabs on player news, plan your next matchup or draft, and talk smack on the message boards. Scores are updated in real-time, which is perfect if you need to make some last-minute calls.
Fantasy hockey fans needn't look any further than Yahoo to get their fix.
Your favorite hockey apps for Android?
We don't claim to be authorities on sports around here, but we're happy to connect you with the best apps available on Android. Leave a comment with your favorite hockey apps for Android.
Simon has been covering mobile since before the first iPhone came out. After producing news articles, podcasts, review videos, and everything in between, he's now helping industry partners get the word about their latest products. Get in touch with him at simon@futurenet.com.
Bleacher Report >I'm the kind of guy who stops a microwave at one second to feel like a bomb defuser.

HS Droid is a must for anyone with a Hockey Streams account. https://www.androidcentral.com/e?link=https%3A%2F%2Fwww.anrdoezrs.net%2F...

I saw the Hockey Stream service and tonight I will be signing up for it! Thanks for sharing this. This is what I have been looking for years! :)

The score for everything. LET'S GO DEVILS!!!!! Posted via the Android Central App

Looks like I have a few to try this week.
LET'S GO CAPS!

Between Bleacher Report and CBS Sports I'm pretty set. The former could use a visual update, but still a solid app. Posted from my Nexus 5 via Android Central App

LET'S GO ISLANDERS (though I might be the one and only Isles fan on AC) Posted via the Android Central App

We all hope so. Posted via Android Central App

No Sir, Big Islander fan here as well!

Is it too much to ask for Chromecast support NHL? Posted with my Nexus 4 running L Go stars!

Amen Posted via Android Central App

Two of my favorite things: Android and Hockey. 1 day till the season opener. GO DUCKS. I use the NHL app and have game center, but the app is shit and I've emailed their support complaining multiple times only for them to do nothing about it. I pay good money to stream games and something would always go wrong. Terrible.

Use the score but hate how it displays game times in UK time, wish I could change that. Hoping NHL Gamecentre live will have a much needed update this week. Posted via the Android Central App

Hi Novabob - James from theScore here. You can actually alter your timezone! Please drop us a line at thescoreapp(at)thescore.com and we'll take a look for you! Also - many thanks to Android Central and everyone else who is using theScore this hockey season. If you ever have any feedback, please get in touch via the above email address. Your feedback is vital to us. Thanks,
James

The Score and Yahoo Fantasy!

Thank God they didn't list tsn. Their app doesn't even load for most people. And if it does, it quickly crashes. Shame that tsn has gone down hill. I grew up watching that channel religiously. Posted via Android Central App

NHL App and Score +1 Go Hawks!

I actually like the Yahoo Sports app which has a lot of the puck daddy stuff on top of the regular news. Bleacher Report can pull in good hockey stuff as well. I would also love to see Chromecast support for the NHL Gamecenter app as i subscribe but, i would highly doubt that it would stream well.

Individual team apps are way better than any of these.

I couldn't agree more. I use the Kings app that has streaming radio feed built in. But when it comes to checking scores around the NHL the Score is best. Go Kings Go Posted via the Android Central App

Kings? lol you guys just got lucky!! NYR should have won it :)

TheScore easily. Posted via the Android Central App

the score. LET'S GO RANGERS!

hsdroid is a must have. Made cord cutting easy for me finally the only thing I was missing from cable. Streams all hockey games Posted via the Android Central App
Android Central Newsletter
Get the best of Android Central in in your inbox, every day!
Thank you for signing up to Android Central. You will receive a verification email shortly.
There was a problem. Please refresh the page and try again.