Beloved webOS Twitter app Carbon coming to Android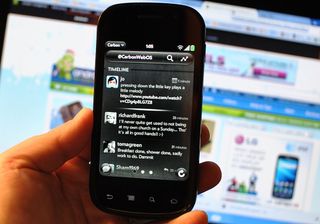 Now that webOS is all but dead, we're starting to see not only the end users defect to Android, but developers as well. And one of the more popular webOS Twitter apps is headed this way, too. Carbon, which already is working its way to Windows Phone 7, is coming to Android, developer dots & lines tells Android Central.
It's currently in the design phase, UX director Saleh Esmaeili tells us. And he also gives us a little bit of insight into why we're just now seeing Carbon come to Android. In a word (OK, three words): Ice Cream Sandwich. Says Esmaeili:
You can never have enough Twitter clients, and you can never have enough good Twitter clients. Carbon undoubtedly will be in that latter category.
"We're very excited and are going to be on it full steam," Esmaeili says. Stay tuned, folks.
More: CarbonwebOS.com
More twitter apps please! ...Just switched back to TweetCaster Pro

Holy crap...a non-Nexus blog post!

Good news! I know amongst WebOS users it's a very popular client. The latest official twitter app update is so bad, i'm looking forward to giving Carbon a try.

Is there a way to get the "old" Twitter app back? Is there an apk out there for it if you wanna downgrade? I hate it.

The more the better.... that's what Android is all about - options.

But does any app other than the official one give push notifications for mentions?

Push notifications? That sounds a bit disastrous if you have a lot of followers... not a plus for me at all.

Not exactly push notifications for every second but i'm using Plume ,after Twidroyd turned into that shitted app called UberSocial, and you can set that up for 15 minutes refresh and works perfectly fine. That means you'll get the notification in 15 or less minutes. Also the ads are just at top of the timeline and not consuming space like a popup bar.

I use twicca, honestly the fastest, cleanest client with the absolute smallest footprint out there, you can have it update as often as every minute if you want, and there are no ads to be concerned with ANYwhere.

Now if EchoFon would only get off their butts and make an Android app!

Oh good God I miss WebOS, but this is great news. Now, if they would do the same with facebook.

Amen to that. I just got a Droid phone this week and getting used to all the UI frustrations. lol The lack of a GOOD twitter app was definitely noticed.

I miss webOS as well!! I'm thinking of switching back once other manfufactures pick it up. I miss the UI.

Loved this on my Pre, hopefully this gets released soon or at least get some beta testers out there.

Bring the webos email client to android!!!!!!!!

Cool I loved this on my Pre.. I seriously miss webOS...

I watched the video and was quite impressed!

Am I the only one That uses the actually twitter app? I actually like it & even better since the update...lol

I've honestly tried my hardest to like the official app on more than one occasion but I can't seem to get into it. I've grown to love the ability to tell the difference from general tweets, @replies, and my tweets that Seesmic and Plume have.

I used Carbon on my Pre and use Graphite on my TouchPad. It's a GREAT Twitter app. Better than any other one that I've used. Very happy for this news!
Android Central Newsletter
Get the best of Android Central in in your inbox, every day!
Thank you for signing up to Android Central. You will receive a verification email shortly.
There was a problem. Please refresh the page and try again.