Beats Music review: Yet another music service, and one that still needs some work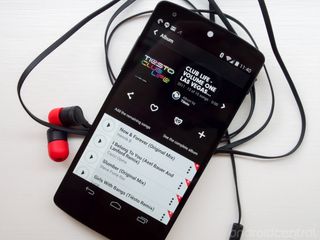 Beats is trying something new, for sure, but it's got room to improve
Beats is a name that is synonymous with hip-hop music and iconic (and expensive) audio gear (and, at one time, HTC smartphones), but not exactly with streaming music. The company showed its intention of getting into the space in 2012 when it purchased MOG Music, and finally killed that service when it launched its self-branded Beats Music streaming offering.
On the surface, Beats Music checks all the boxes ​— unlimited streaming music for a flat monthly fee, a seven-day free trial for signing up, and a compliment of mobile apps and web interface. It also brings to the table something other streaming music services don't — a group of knowledgeable and popular curators to help you choose what to listen to. And that's Beats' main selling point — a human element instead of algorithms.
But with lots of features to market and a competition-matching price, will Beats Music be your choice for listening going forward? Hit the break and find out.
The Beats Music app experience
It's tough to launch an much-hyped app and have it hold up to the scrutiny of a half-million users — Beats Music found this out the hard way. The first release of the app on Android was riddled with bugs — music randomly paused, it wouldn't remember your track position, lockscreen cover art didn't work, the app would randomly launch when you didn't want and it was generally a little clunky.
We're happy to report that a week and several updates later, the app has fixed many of its big flaws. Unfortunately, several still remain. The app regularly forgets your login credentials, requiring you to log back in. It's still up in the air whether the app will pause music playback when you remove your headphones, and it still chooses to launch every time we end a phone call, for some reason.
Luckily, the interface and experience once you're inside the app is very good. Beats Music has an interface that distinctly sets it apart — in terms of style and colors — from other offerings out there, building strongly on its existing brand messaging. The app is primarily black and white, with strong pops of colors to make it seem lively.
The main layout of the app is separated into four panels — Just For You, The Sentence, Highlights and Find It — to break down your listening. Just For You gives recommendations based on your listening habits, as well as genres and artists you picked when first setting up your account. The Sentence is a unique system that lets you pick out words that describe where you are, what you're doing and who you're with to help find just the right playlist. Highlights are, well, highlights, while Find It is a broad search by genres, activities and curators.
There's a limited but functional web interface as well at http://www.beatsmusic.com where you can make use of the Just for You, Highlights and music search. It works well, but it's not a perfect mirror of the functionality in the app.
Experts vs. algorithms
Beats Music puts heavy emphasis on its suggestions, highlights and curated playlists. While you have the option to search for specific artists or songs and manage your library, those actions are relatively hidden inside the slide-in panel on the left and aren't part of the main interface. Unlike other apps that highlight your library, Beats wants you to see its suggestions first.
The proposition of Beats Music is that it has a system for bringing great music to your attention, backed up by real people who are picking artists to spotlight and popular playlists to check out. Under the Find It section you can browse suggestions from a list of curators who you can "follow" and see their specific choices. It's very much like a social network centered around music (anyone remember Ping?), but one that's still in its infancy with few features.
Curators include groups like the Academy of Country Music, Friends of Beats, Pitchfork, Rap Radar, Rolling Stone and more (Trent Reznor of Nine Inch Nails fame is another big name and a creative director for Beats Music), with the list presumably getting longer going forward. You can tap in and see what each one of these curators has picked for their playlists, and if you enjoy it share it out on Twitter or Facebook as well as add to your own library. There's also a list of 30 different genres to browse, as well as hundreds of different activities — think cooking, working, partying — to look at, each of which has dozens of playlists in it.
This is all relatively foreign to anyone who uses the likes of Pandora or Google Play Music All Access, where you're used to a music algorithm picking out suggested music simply based on what you've listened to recently and what you have in your own collection. While we're sure the Beats Music model of curators serving up new and interesting things is appealing to some people, we're not so sure it scales to be applicable to a majority of people looking for a streaming music service.
The value proposition
Even with the extra costs associated with having a group of people curating playlists and genres, Beats Music charges the industry-standard $9.99 per month (or $119.88 per year, what a deal!). That gives you unlimited access to all of the features in the app and web player, along with offline music downloads and a personal library that can be filled with your choice of 20 million songs.
An interesting wrinkle here is that AT&T customers can get three months free when they sign up if they have a qualifying plan, and those with Mobile Share plans can get a "family" pack for $15 per month that covers up to five people on a single plan. That's a pretty darn good deal if you have a few music lovers in the house, and one of the only things that truly makes Beats Music a good value.
Since the monthly service costs are the same and the music catalogs are basically comparable at this point among all streaming services, the choice of which one's for you comes down to the app and its features. At this point, we can't really say that the Beats Music app is on the same level as the current stable of proven music apps. With the number of bugs and issues still plaguing the experience, it just honestly isn't worth paying $9.99 per month for.
In terms of the curation and music offerings, we're still not sold on its highlighted picks enough to have them take complete priority over our own library and artists. Sometimes you just want to open the app and listen to a specific album or artist, and on Beats Music that ranges from inconvenient to frustrating. Further, it just doesn't offer the same intelligent radio or music queue system that makes Google Play Music All Access so great.
As we said before, Beats Music will likely appeal to the music lover that wants to constantly discover new music and follow popular artists and groups, but for the average listener, your money can be better spent elsewhere.
Get the Android Central Newsletter
Instant access to breaking news, the hottest reviews, great deals and helpful tips.
Andrew was an Executive Editor, U.S. at Android Central between 2012 and 2020.
I'm in the middle of my free trial now, I like it!! something different, the mobile app runs great on my moto g, seems they have a winner here!

i will keep my $7.99 All Access Google Play

+1 I love the OS and think it's pretty but not being able to upload my own music (no, Beats doesn't carry everything), not being able to save music to my SD and not having an EQ are enough to have me stick with All Access.

Ya got that right Sent from my Nexus 7 2013 or iPhone 5

+9000 Posted via Android Central App

Agreed Posted via Android Central App

Agreed Posted via Android Central App

It is great that there is another option for music lovers, such as myself. However, I am extremely happy with my $7.99 per month Google Play All Access subscription. I have a feeling not too many people will make the switch from other services to this. Posted via Android Central App

Yeah, I'm happy with All Access, too. But remember, $7.99/mo is the promotional, early-adopter rate. It'll go up to $9.99/mo after you've had your service for a year, and people who sign up for All Access now pay $9.99/mo as well. The fees for all of the services are pretty much the same, although it looks like Beats is only $14.99/mo for all users on a family plan on AT&T.

I think radio has that to, if I'm not mistaken Sent from inside a cave. Yes, T-Mobile covers caves. N5

Where is this end of promotional rate detailed at? I've never seen nor heard anyone else mention an expiration date for the discounted rate. Posted via Android Central App

Yep that dude's post is the first I ever heard of the promo ending as well. Source please.

Beats is very good because it combines the best of both worlds. It's like having Spotify and Pandora bundled in one price.

Elaborate please. Because everything that Pandora can do Spotify does also...Minus the commercials.

Last time I checked (1 minute ago), MOG was still up. According to a Beats Support Notice, MOG will close down on April 15. http://support.beatsmusic.com/hc/en-us/articles/200790370-What-happens-t...

So they killed it, it just hasn't died yet..

To me, the language in the article implies that the MOG service stopped when they started Beats, which is just not the case.

No. It said they killed it. Which they did. The launch of the new service facilitated the impending closure of the other. Which ducks for those people who use MOG as they will have to build their playlist all over again. That's my biggest fear with these services. With so many players in this space now, it's bound to happen to someone else again. Posted via Android Central App

This statement is not accurate. Current MOG members, including myself, will be able to use a transfer tool to keep music libraries and playlists intact. We received an email from Beats explaining that it will be coming soon.

To me this continues the Beats trend of make everything about the hype (their headphones, speakers, and even things like the software equalizers the load onto phones). Everything they make is more about the Beats name than any actual quality, value or usefulness. That said, they also score on design. I do have to admit, they make some good looking hardware/software. I'm sticking with Google Play All Access for now, $7.99/mo for what Google is offering is a steal.

Agreed. Who cares if it's a human making recommendations rather than an algorithm? Are you telling me a human is going to give me a custom recommendation for every possible list like Pandora or Play Music All Access do? I doubt it.
Hype. Buggy hype. Posted via Android Central App

Would love to at least try this out....sigh. No love for Brits. Again :-(

You guys get the Xperia Z1 Compact, though. I'd rather have that.

Hey Richard, we're working hard to expand globally as soon as we can. Thanks for your interest and stay tuned -m

It is alright, I'd like a radio option instead of all play lists. Also there doesn't seem to be a widget for it. Sort of annoying to have to pull down the notification window to skip a song.

In the last week beats has signed me out twice for no reason. This isn't a good sign.

This is one hating ass review. Just sayin. In terms of app design however, it looks flawless. . . Visually. Verge FanBoi

Wait...... So like Play Music where you have a personal library stored on device where you can play the music.... Seems like that option is not on here with Beats. Which makes it suck as a music player. Verge FanBoi

You can download from the beats service to your device for offline use, same as Mog. (@ 320k) Posted via Android Central App

Heck not . beats is awesome better than rhapsoyady posted with a galaxy note 3. h8ers gon' h8. live2win#swagface#switchedOn*_*

I'm really liking the curation to be honest. Finding lots of new stuff so far. Never liked Pandora since the algorithms were never that good at "getting me" so I'm trying to like Beats but $10/month is a lot considering how annoying it is to just play an album or artist. And I've never seen an app so buggy from a professional site before.

I'm currently on the 14 (7 extra for the problems) trial. I have to say I like the "Just for Me" section. There are some fun and interesting playlists there. The problem comes in when I'm still driving along and the playlist ends, I now need to take my eyes and attention off the road and pick another playlist. Lack of "radio" function is an issue for me.
The other thing I would mention is the idea of the curated playlist as opposed to an algorithm. Beats is correct here, it is better, but they are not the only or first to do it. Slacker has always done this and to a superior level (for now).
I like Beats Music better than most, I've tried them all, but I'll stick with giving my money to Slacker, they do the human curated playlists and have the "radio" function.

This review omits one of the most important features of Beats Music (and MOG too) - it broadcasts at 320 kb/s. - the highest fidelity of any music streaming service. On a high performance audio system, it's easy to hear the improvement!

Actually, Google and Spotify both have 320, also, so yes, it's the highest, but it's not the only one using that rate.

We started the AT&T family 90 day trial. So far so good. We currently have Spotify, Google Music, and Beats Music. I've had Xbox music in the past as well. We are a family of iOS, Windows Phone, and android devices. Trying to find one that works across all 3 was the problem. With Spotify at $9.99 a month, my kids were constantly knocking each other off-line when they would start playing from their device. I got google music for $7.99 and it allows a couple of people to play at once, but you share a login. There is no google music for Windows Phone though. So in walks Beats Music for less than the 2 of them combined, and I get 5 logins across 10 devices. WOW. The service is just fine. The app is basically the same on all 3 environments. Music plays darn near instantly (unlike Xbox music). Spotify on Windows Phone is a joke compared to the others. Much to my daughter's dismay, she is going to need to setup her play lists yet again. If I can cancel spotify and google music for the next 3 months, I'm so far ahead of the game financially that it just makes sense. Instead of a movie channel, we are far better off with a monthly allowance for streaming music. I couldn't afford to buy all the music they want to listen to at any given time if I had to pay for each track/album like the good old days. 3 kids = 3 different musical preferences. Glad they each have their own account now. I just hope Beats will stick around. Competition is good.

Yeah, the family plan thing is huge. If this service takes off at all, I'm sure we'll see similar sweetheart deals with other carriers from the other streaming music services.

Family plan is cool. ATT restriction can kiss my sweet Irish backside though. Carrier exclusives suck. Posted via Android Central App

I still have some days on Google's service....soon as that's over I'm switching to Beats

Any particular reason? Posted via Android Central App

I'll just choose my modded Pandora unlimited skips and no ads thank you very much. Silly to pay when you can get free music legally from YouTube to Pandora etc Posted via Android Central App

I am running this Android app on my BlackBerry Z30 and overall I do like it. I just find the app a bit 'laggy'. On the other hand my Spotify Android app runs smoothly. I would probably switch from Spotify to Beats if it werent for the poorly performing app. Might wait to see how this app behaves after a few more releases and then do another trial...

Probably not going to end up paying for it since I already have Spotify. The UI is pretty nice, though.

In a word... Confusing! I don't want to pay and work so hard to find music.

I don't get this. I logged in, I tried this. It said choose the genres, hold the ones you hate. Cool. Choose 3 artists.. double tap the ones you love, hold the ones you hate. Cool. Problem: My FAVORITE artist, which happens to be Lady Gaga, so MASSIVELY mainstream NEVER appears. wtf? I figure maybe this retardo interface is just flash for creating the initial settings, I go into settings-- wtf?? No where to edit the favorite artists.. Then I go into the sentence and see some mood stuff.. ok, and feel like listening to.. again.. wtf? 90% of these genres are ones I didn't choose, and the only pop available is "pop latino" I did NOT choose latino and it's giving me a bunch of spanish music. I exit keep tapping SAME GENRES THAT I DIDN'T CHOOSE pop up. What? Then I go into the suggested for you and it has Miley Cyrus and I hit play.. can't stand any of it. I also can't seek through the track.. wtf? in Beatport you can seek, in iTunes Store you can seek. This app seems to me like pure example of 100% hype 0% value. am I missing something??? It's a great concept but to me the implementation is an epic fail. I mean I love the ability to select artist you love, and like and hate but the bubbles are stupid. Once you select quite a bit of artists no more bubbles will fit. Major thumbs down.

Hey there Alex, the more you interact with the app by hearting and unhearting songs, albums and artists the better the app will adapt to your musical tastes and offer better suggestions. Hope that helps, and you can hit us up anytime at support(@)beatsmusic(.)com or on Twitter @beatsmusichelp -m

I have this app on my iphone and i love that I have 3 months free because I'm an AT&T member. That's pretty sweet. However, there are absolutely some bugs that this app needs to iron out. It constantly refuses to play and even freezes while I'm in the app, causing me to have to quit it, start over and lose my place. The music sometimes doesn't play, even with working internet or data service. I love the sentence feature, but I wish it had more options. Sub-genres maybe? The experts use sub-genres, why can't the sentence? I am a huge rap enthusiast and love how much the experts update the playlists. Keeps my hip-hop head fed. So, all in all, I like the app, I just wish it wasn't so buggy. 7/10

Hey there, thanks for the feedback. We're here to help. You can get in touch via Twitter @beatsmusichelp or support@beatsmusic.com -m

I kind of like it. Reminds me of zune for some reason.

Appreciate the article, but you are so focused on the UI, you miss the value proposition of Beats Music - it is sound quality. I stream from MACs to Home Theaters via Airplay and Apple TV. I use DACs and AMPs for my iOS and Android devices. High Bit Rate is a key, and music just sounds better from Beats than Pandora Paid, Slacker, iTunes Radio due to the 320K Bit Rate as opposed to the other services which typically max out at 256K. The UI will improve over time. And their library will grow as well. At this point, March 2014, Beats is a bit skimpy on content.