BBM 2.1 now available for Android with a few new tricks up its sleeve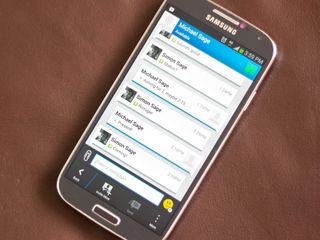 As expected, the latest version of BBM will begin rolling out today across BlackBerry, iPhone and Android devices. BBM 2.1 brings with it BBM Stickers as well as some new features like pictures in multi-person chats and larger file transfers of up to 16MB. It isn't live at the time of writing, but you should be seeing it sometime soon.
The stickers will be available in both free and paid packs through the integrated BBM Shop. Packs will contain between 20-25 stickers and will be for brands like Shaun the Sheep and WWE.
Keep on scrolling to check out the full press release.
Press Release
BBM Chats Just Got More Fun with the Introduction of Stickers
Multi-Person Photo Sharing and Larger File Transfers Round Out New Features
Waterloo, ON - BlackBerry Limited (NASDAQ: BBRY; TSX: BB), a global leader in mobile communications, today announced an update of BBM™, a leading mobile messaging platform for private and secure communications, that allows customers to further personalize and enhance their chat experiences.
Available for download later today from the respective app stores for the Android™, BlackBerry® and iOS® platforms, BBM will now offer stickers – larger, bolder and more expressive images than emoticons – that BBM users can add to their BBM chats. Customers will be able to purchase and download sticker packs from the new BBM Shop found in BBM.
"Stickers are another great example of how we're making the BBM experience more engaging and fun for our customers," said David Proulx, Senior Director, BBM at BlackBerry. "Stickers let you personalize your chats and strike the right chord with people around the world who rely on stickers in chats when they connect with colleagues, family, friends, peers and partners."
BBM customers will be able to download a variety of sticker packs right inside BBM from the BBM Shop. Each sticker pack contains between 20 and 25 stickers and features content developed by talented artists or relating to a theme or a character like CosCat, Gilbert's Tales or Bubble Bot, as well as sticker packs featuring content from popular brands including Shaun the Sheep and WWE. To start, sticker packs will either be offered for free, or cost US $1.99, or an approximate equivalent amount in the local currency, and will be billed through the device's app store.
With WrestleMania 30 just around the corner, WWE is planning to give away a free sticker pack to its fans through BBM. In addition, a free sticker pack created by BlackBerry featuring favorite BBM emoticons will be available to all BBM customers that download the new update. BlackBerry plans to add new sticker packs on a regular basis.
In addition to stickers, BBM customers can now easily share photos in multi-person chats*. Photos will be delivered in the chat as a thumbnail that can be opened to reveal the image in full size. BBM customers can also now send higher quality photos, videos and presentations thanks to larger in-chat file transfers. Files up to 16MB can now be shared in a chat, an increase of 10MB.**
Editorial Director - High Yield
After getting his start writing about BlackBerry in 2008, Adam is now the Editorial Director of High-Yield content at Future. Leading an outstanding team, he oversees many of the articles the publisher produces about VPN, TV streaming, and antivirus software — from buying guides and how to watch content, to deal news and in-depth reviews. Adam's work can be seen on numerous Future brands including TechRadar, Tom's Guide, T3, TTR, Android Central, iMore and Real Homes.
Wtf??? It's quiet in here man where are the usual BB and BBM haters at yo?

Sorry, I had to head to urgent care. I cracked a rib laughing at the "stickers".
Damn, there goes another one...

On CB you would of thought it was the second coming of Jesus Christ lol. I just moved from BlackBerry a month ago and couldn't be happier with my Note 3. My only question is why I didn't move sooner? Oh well better late then never. Android is where my heart lay's now!

Yeah, and here on AC one would think that BBM would work better if it only displayed a blank screen. I don't know where all the hate is coming from here, but the app isn't bad. I actually like it. I like the delivered and read icons, the clean style, the voice chat feature, channels, and am going to be even happier with the larger file limit. Improvements can and will be made and features can and will be added. Did everyone expect the perfect, end-all be-all, of chat programs from BlackBerry or something? And what's with this hate on stickers? If you don't like them, don't use them. Simple. It's obviously meant to draw the younger crowds. I've also seen the argument that BlackBerry should focus more on business with BBM instead of adding silliness like stickers. After all, that's what it was made for, right? Well, things change. I welcome the additions as long as they aren't subtracting. The security that governments and corporations enjoy with BlackBerry products I want for my family as well. If stickers and the like let them enjoy it, then bring it on. My life is really great user friendly and smooth.

Never said the application was bad at all. I still use as it's the last BB product I will ever use. Posted Via AT&T Galaxy Note 3

Stickers are the In-App Purchase of the IM world. "The security that governments and corporations enjoy with BlackBerry products..." is an Illusion. India sends their love.

http://www.forbes.com/sites/terokuittinen/2014/04/03/blackberry-gets-sur... Rotfl lmao!!!!

What is BBM? Posted via Android Central App on Google Nexus 7 2013

+cos(90) Posted on my Galaxy S III, Nexus 4, Nexus 7 (2013) or Gateway ID49C

01101110011001010111001001100100

I am not sure if he is genuinely unaware or trolling??

Part of me really wants to believe the Stickers thing is a April Fool's joke, especially after all the talk of BBM being The Serious Business Messaging Service (tm)

What's sad is this stuff would have been great 2 years ago. Right now I have no one on this service. They all left for one of the other platforms. Sad just so sad. Posted via Android Central App

Agreed I'm just wondering how much longer they will be blinded by the light. Oh wait they have the latest and greatest Q20 coming out with the return of the track pad LMAO. What absolute joke! Even though I will continue to use BBM as its still my favorite messaging app

Their customer base is asking for the trackpad, they should have never removed it from the Q10. They still have 2 new all touch devices coming out also. Posted via Android Central App

Haa haa, a good april fool's joke...

I'm up for larger file transfers, videos in particular. The grandkids are always doing something awesome and it's pretty easy to make a video that's too big to easily share. Posted via Android Central App

Upload it to Youtube like the rest of the universe. Who wants to have to download a video?

Nope, not the whole universe. I share small videos directly through BBM, easier and more fun. Plus my family members like to keep videos of my little boy, making their own collection of him. Posted via my LG G Flex

I must be part of the small population that doesn't live inside this universe. I don't upload videos to YouTube. And, if I make a quick clip I want to share, I don't want to upload it to YouTube first, then share the link. I'll just cut out the middle-man and simply upload it to the person I want to share it with. My life is really great user friendly and smooth.

What universe are you living in?? Posted via Android Central App

Still looks ugly, IMHO. Actually, I don't like how Hangouts looks, either, but this one just feels more outdated.

Stickers...?! What are we? In grade 3?? LOL! Who the heck cares about that? How about adding in video calling for Android users? Now THAT would be useful feature imo, at least far more than stickers. Posted via Android Central App

I agree and as soon as they announced the next BB was going to be a track pad and keyboard phone. I was completely done with them. I just wished I would of made the move sooner

Apparently Stickers is a billion dollar business, so why not add it. People getting upset because an app is updated with more features is ridiculous. I'm sure they're still working on Video and Screen sharing and will release that update soon too. Posted via Android Central App

I still don't see the update Posted via Android Central App

Update is not live yet! Please fix the header where it says "Now Available" Posted via Android Central App

Ugh. I was a fiercely loyal BB user for 7 years up until May of last year. Their trainwreck of a rollout of the BB10 devices (speaking only about the marketing and lack of availability, not even the hardware/software) was the final straw for me. Still, I vastly prefer a physical keyboard and occasionally, in moments of weakness, wonder what the Q10 or the upcoming Q20(?) would be like for me. Anyway, the whole cross-platform BBM *as executed* is just another in a long line of miscalculations a day late and a dollar short. It's just more cluelessness from BlackBerry. The features tyhat the BB version has that would truly give it at least a fighting chance to catch fire out in the world still aren't available yet. *Still* aren't available yet. But at least you can get some stickers. You can even pay for them!

Which features are you referring to? I'm interested to know wha'ts coming.

Well, the most obvious is video chat. I don't even care about that too much personally, but I think if the app is to be as suuccessful as they hope (and it needs to be), that is an important one. I wrote my prior reply a bit too quickly, as some of the features I had in mind, like Channels and BBM calling, are available now. Still, they took way too long to roll out (in v.2.0). It was a case of the app simply not being ready for prime time at a level it needed to be. The fact that perpetuates behavior they've exhibited before only makes that worse. Stickers are so insulting they're funny.

I personally don't mind the stickers. I think it'll help draw a different crowd. I know my fiance and kids will like them. Now, I would totally agree with you as far as being insulted if it weren't for the useful upgrade which is the increased send limit. I think that's a pretty substantial thing. Stickers is just a side-show. Also, they seem to releasing incremental upgrades fairly frequently. I'd rather have that than some giant upgrade pack every half-year or something. Getting a decent new feature every couple of months is not bad in my opinion. Nifty Food BBM Channel C003262E5

I'm not sure what you mean by "as executed" since I personally don't see a problem with how things are being executed. They're rolling out regular updates that not only add functionality, but also entertainment. This latest one also provides a way to monetize on an app that is free. I find it hard to believe that you would be so harsh if you were commenting on a new company that released a new free chat program that gets updated in the same way as this cross-platform BBM has. I really don't see how this BBM app reflects badly on BlackBerry. If anything, it's simply on par with other chat programs. Really, people get these chat programs to chat, right? Everything else is just extra. Voice chat? I would think most people just call. Video chat? Chances are you're probably using Skype. Chatting? Well, that's the only thing that really doesn't have something else really comparable. If you aren't sending an SMS or email, you're probably using a chat program. That's really the core place where these apps differentiate their selves and I think BBM does a good job standing out differently enough to be an up and coming relevant force. They have security and send, delivered, and read notifications. I don't think other programs do that, but I could be wrong. My life is really great user friendly and smooth.

Going back to the beginning, the app wasn't ready to be rolled out initially. Then when it was, it was so bare bones as to be pretty ridiculous. I loved BBM on my BlackBerry handsets, and even used it for SMS messages to thsoe who didn't have a BB at the time. To call what was released last year BBM is an insult to anyone who had used it before. Unless maybe we're talking the 2007 version. They needed to launch it ready for action with many more of the features they were touting (and that BB users had already). Not all, but more than essentially none. Because, even as a bare bones texting style app, it was boring and outdated in look and feel. I've used feature rich messaging apps and bare bones apps. When they launched BBM cross platform, it did neither well. That's what I mean by "as executed." I think time and again that BB is somewhow clueless about its rep, as it continues to do things that perpetuate it.

I can't fully disagree. It definitely would have been nice to have more features out the door that what they gave us in the beginning. I felt it was bare-bones when it was first released cross-platform. I wasn't very annoyed with the bugs, but then, maybe that's because I play quite a few video games, an industry where initial releases are often bug-ridden sometimes to the point of being unusable. I'm used to it. To me, it was just another first release software that had its fair share of bugs to be worked out. I think as of now things are pretty stable. My life is really great user friendly and smooth.

Wow. Guess you guys don't know an April Fool's joke. Haha. Don't you feel? FOOLISH? Posted via Android Central App

Afraid the joke's on you. This update is quite real, as are its features. I read about it over on CrackBerry last week.

Did the UI get an overhaul recently? It looks like it got uglier. Who decided putting that green icon on that blue background was a good idea?

silly canucks. amateur hour is over.

BBM is dead Posted from my 2013 nexus 7, yeah baby!

I don't know which is sadder: (1) all my friends who held on to their Blackberries have now switched some other mobile OS (2) some of those moved from Blackberry to Windows Mobile OS. (isn't that a downgrade?)

I moved from a BB Z10 to a Note 3 so that would be a HUGE UPGRADE!

Actually it's just HUGH. :-P Posted via Android Central App

Maybe one of its new tricks will be to make me care.

ok i may have to download and try this thing now

why not just buy the real thing? I'm sure Blackberry wants to sell you a phone!

As far as user experience go, I give BBM thumbs up, it's pretty fluid (at least on N5) and never crashed on me. But why in the world does it have to use 120mb+ ram? Also, that green on blue call icon is hideous, the entire UI design seems like an amateur facelift from old BB era.

I just received the 2.1 update. Posted via Android Central App

BAH..
Still can't use in landscape, only works in portrait...
Almost every other app rotates when I turn the phone to type... Let's see if they fix that..
Stickers are fine, but Functionality 1st..!?!? Posted via Android Central App on my Samsung Galaxy Express i437p on AT&T's 4G LTE Network

Wow. You haters didn't let me down thanks. Anyways I hope this brings out the hate even more. Lol http://www.forbes.com/sites/terokuittinen/2014/04/03/blackberry-gets-sur...
Android Central Newsletter
Thank you for signing up to Android Central. You will receive a verification email shortly.
There was a problem. Please refresh the page and try again.