Meet Astro, an email client for Android with artificial intelligence baked in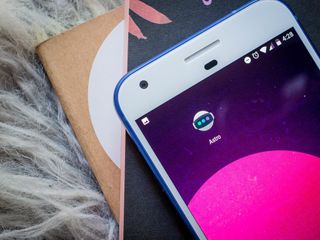 There aren't too many hearty email clients in the Google Play Store, so we're naturally curious when one comes out that's not only a delight to use, but it's got artificial intelligence baked in, too.
I've been using Astro: AI Meets Email for the past week and it's truly a breath of fresh air compared to the dual Gmail-and-Inbox life I've been juggling. Whether you've got a scattered brain or you've mastered the art of maintaining an inbox, Astro is worthy download for anyone who wants a little help on the backend ensuring that the important emails are always seen.
Here's a quick rundown of some of the features that make Astro a worthy download, and we'll walk you through what it's like to manage your inbox through Slack.
There's priority, and then there's "other"
Off the bat, my favorite part of Astro is the concise inbox. Unlike Google's Inbox, which compartmentalizes emails into a number of different categories, Astro whittles them down to two: important and not important. The pressing stuff will be automatically funneled through to the priority inbox, while the extra stuff — like newsletters, daily mantras, and online shopping receipts — will be filed away to "other." Best of all, Astro will work in the backend doing all of the message sorting right off the bat.
If you're finding that the Astro is having a bit of trouble properly parsing your contacts, you can add the very important people to the VIP list. This ensures that every email from the addresses you've specified make their way into the priority inbox. Then from the settings, you can control how you're alerted for those especially crucial letters.
It looks like Android
The Astro app for Android has been designed so that it follows the basic rules of the Android design paradigm. It has a simple color scheme; two floating action buttons, one for composing a message and one to call upon the AstroBot; and a well-organized hamburger menu. What's more: there's a companion desktop app for the Mac that properly integrates with its mobile counterpart.
It also takes advantage of some user-friendly swiping mechanisms in its interface. You can swipe left on an email to immediately archive it, or swipe to the right to snooze it until you get back to your desktop at the office. Astro also lets you enable read receipts, and offers quick toggles for unsubscribing from newsletters and scheduling emails.
It's not a useless bot
The "bot" categorization for Astro's functionality might seem passe with the proliferation of so many digital assistants. But the good news is that the AI-based features in Astro are contained within the app so that you only hear from AstroBot when you're in need. AstroBot will mostly rely on you to prompt it, too, so there's no need for any Microsoft Clippy comparisons here.
AstroBot is especially useful for managing bulk tasks, which can become overwhelming if you're terrible at trimming your inbox on the regular. For instance, if AstroBot notices you're receiving newsletters that you don't actually read, it will ask you whether you want help unsubscribing to them all. There are other prompts it will relay overtime, too, like whether you want to add a contact to your VIP list or archive a pile of messages.
It works with Slack and Alexa
One of the best features of Astro was added only a few days ago, and that's integration with Slack and Amazon Alexa. I did not test the Alexa integration, but in the demonstration I saw, you can use it to compose and reply to emails with just your voice.
I have been using the Slack abilities and I can say it's now a feature I rely on daily. If you spend most of the work day in Slack, as I do, you might find that email falls by the wayside. Having Astro set up with Slack helps ensure that I'm consistently notified whenever I receive an email from those ten very important contacts. I don't have to leave Slack to reply to them either, as Astrobot works entirely inside the Slack app — on both the desktop and mobile Slack apps. The only downside is that the replies will appear weirdly formatted when they're sent out if you're using emoji in the body text (and yes — I use emoji in my email correspondence).
There's also an included signature to let people know you've replied from Slack, in case there are any follies. I've already had one when I didn't realize that Slack was stuck in the "reply to email" command. Fortunately, there are enough prompts so that you're not constantly, accidentally sending emails.
Try it for yourself
Contextual engines and artificial intelligence and the ability to message bots — these are all the ways of the future, and it seems to be an especially popular tag line to add on to mobile apps. In Astro's case, the AI-infusion seems legitimate enough after a week of use to take the app for a ride as a daily driver. Perhaps this is the kind of assistance we need to keep us from going insane from digital clutter.
Astro is free for now, so you can try it out as an email assistant without too much commitment. It works with email addresses that are served by Gmail, GSuite, and Office 365.
Get the Android Central Newsletter
Instant access to breaking news, the hottest reviews, great deals and helpful tips.
Florence Ion was formerly an editor and columnist at Android Central. She writes about Android-powered devices of all types and explores their usefulness in her everyday life. You can follow her on Twitter or watch her Tuesday nights on All About Android.