The Apple Watch Series 7 beats the Samsung Galaxy Watch 4 in this important way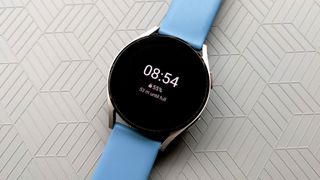 (Image credit: Ara Wagoner / Android Central)
When I upgraded from the Galaxy Watch Active to the Samsung Galaxy Watch 4, I expected an upgrade in just about every way. Wear OS 3 brought us Google Play apps and services while the One UI Watch skin gave us the software fit and polish Samsung is known, and there are more health tracking features than ever, even if the most advanced ones are limited to Galaxy phones. Unfortunately, the battery has only lasted about 24-36 hours on a charge, and recharges are slower than the Watch Active, too.
Meanwhile, Apple's upcoming Apple Watch Series 7 is packing a new USB-C-plugged wireless charger that works with Power Delivery for faster speeds. The Apple Watch Series 7 might not be sporting any processor or sensor upgrades, but battery improvements are more important to the product and the people who use it. I just wish Samsung had realized that, too.
Smartwatches are meant to be worn all the time. They're swim-proof and water-resistant, so we don't have to take them off when swimming, doing dishes, or going through our nightly makeup remover and facial cleanser routine. They have dust proofing so you can keep them on while mowing the lawn or tending the garden. And these days, they pretty much all have sleep tracking. That's why the amount of time a watch has to spend off your wrist needs to be as short as possible.
Apple is very, very cognizant of this, given that it usually lasts less than a full day and thus needs to top back off before bed and again in the morning, and recharging a dead Apple Watch today means taking it off for 2-3 hours. That's why the switch to a faster charger — with a USB-C plug compatible with the iPhone's 20W charger, no less — was crucial for Apple, allowing it to cut charge times down dramatically, getting your Apple Watch back on your wrist where it belongs.
While Apple could have increased capacity, maintaining its slim profile was paramount. When speaking to Gene Munster, Managing Partner at Loup Ventures, he believed Apple was right to prioritize charging speeds:
That strategy could work out quite well for the Series 7 when it launches, but for the Galaxy Watch 4, it's a little too late for Samsung to learn from it. It might be helpful on the Galaxy Watch 5, but that'll be little comfort to Galaxy Watch 4 users who have to charge more often and for longer periods.
With my Galaxy Watch Active, it'd usually be around 25% to 35% in the morning, so I'd throw it on the charger and take my 10 to 20-minute shower. Then, after getting dried and dressed again, the Watch Active would be back to at least 85% and ready for a full day of notifications and heartrate tracking. With the Galaxy Watch 4, I have to leave it on the charger for a solid hour every morning or more, and many other users have resulted to charging twice a day to keep it topped up.
The combination of keeping the same battery capacity as the Galaxy Watch Active 2 and the increased power usage by Wear OS leaves the power situation on the Galaxy Watch 4. Further compounding this problem, Samsung still uses a 2W wireless charger that plugs into a basic USB-A port, with no fast-charging option other than pointing a table fan at it to keep charging speeds from being throttled for heat so quickly.
The slow charging gets even more apparent once you try other smartwatches. When Micheal Fisher reviewed the Fossil Gen 6, he was quick to notice how much faster the Gen 6 charged than the Galaxy Watch 4, and I've experienced the same on my Gen 5E. The two-hour recharge on the Galaxy Watch 4 is almost as bad as the Apple Watch, but with the Series 7, that will change and leave Samsung alone at the bottom.
In recent years, Samsung has been extra careful when it comes to charging speeds and heat buildup, limiting the Galaxy Z Fold 3 and Flip 3 to 15W wired charging, as well as a number of its A-series phones. This caution helps the slow charging speeds make some sense, but it doesn't excuse it. Users shouldn't need to factor in two charging times a day for a watch that advertised two-day battery life, and while optimizations can help the battery last a little longer, that slow charging speed is here to stay.
The Galaxy Watch 4 is still the best Android smartwatch you can buy today, and I have no intention of returning mine over a battery that comfortably lasts a full day out and about. Having to charge it more often just means I'll have to pay more attention to my phone when I'm home, as my watch's primary function is to vibrate me out of my focus when I get a push notification from work or family. Samsung needs to do better in the future, or this might be the last Samsung wearable I give my money to.
The new Wear OS
(opens in new tab)
The full power of Wear OS 3 and a slow charger.
The Galaxy Watch 4 is the first smartwatch to run the new Wear OS powered by Samsung. It finally gives us the polished, smooth performance Samsung is known for, while also giving us access to the Google services and Google Play app store. Optimizations still need to be made to improve battery life and performance, but just out of the gate, the Watch 4 still gets almost everything right.
Get the Android Central Newsletter
Instant access to breaking news, the hottest reviews, great deals and helpful tips.
Ara Wagoner was a staff writer at Android Central. She themes phones and pokes YouTube Music with a stick. When she's not writing about cases, Chromebooks, or customization, she's wandering around Walt Disney World. If you see her without headphones, RUN. You can follow her on Twitter at @arawagco.
The battery on the Galaxy Watch 4 is a joke. It won't last for a long weekend? Really?

If you turn off tilt-to-wake, tap-to-wake, crank down the brightness, and swap HR to manual only, it should last from Saturday morning to Sunday night. Battery saver could help extend it further, but it's not great.

And sticking with my Ticwatch Pro 3 means the best battery life of the lot and possibly an upgrade to Wear 3. Mobvoi havent been great at comms so far and its probably as well the product is so good

Very happy with the battery life on my Ticwatch Pro 2020. I have the Cardiogram app set to sample heart rate every 2 minutes but with the dual LCD/OLED display I usually have 40-50% battery remaining after my day. Next morning I put it on the charger for about 20 minutes and it's fully charged. Pretty sure if I increased the sampling frequency for the heart rate I could go two full days without a charge.

Anybody know the watchface in the last pic?

The last watch face is found in wear o's under the graphical category. It's called Big Number. Easily the best watch face is "Digital Dashboard" with heart rate, steps, weather, etc, around the circumference of the watch. And no, the Apple watch isn't revolutionary and worth upgrading due to charging... Jezuz. You can extend the Galaxy 4 watch battery by doing things like decreasing the frequency it measures heart rate. I don't see the problem... Phones and watches both require daily charging.

It's from Facer. CEED by Almarinov from Facer ($1.99)

You buy a watch for trivial novelties like step counting and heart rate. It really isn't an advantage to get notifications on a watch when your cell phone is already with you. The only awesome app is turn by turn navigation on your watch while driving.

Seriously? It's not an advantage to get notifications on your wrist when your phone is in your pocket or purse? That's how you know whether it is important enough to get your phone out. Turn by turn on your wrist, while driving? I can't see my watch with my hands on the wheel, and it's pretty small in any case. Now, the big screen on my phone in a handsfree holder, or the car display with Carplay or Android Auto. That's a good place for directions. The haptics on the watch do cue me to look at the big screens though.

I don't always have my phone on me (I work from home after all), but even when I'm out and on the go, its easier to peek at notifications, control music playback, check the time or my heart rate from my wrist rather than pulling out the phone every time. And a phone alone can't track my sleep well or my heart rate. I let my dad try my Galaxy Watch 4 the last four days, and even he admitted that it is very handy when playing music as he didn't have to pull out the phone every time he wants to pause or skip tracks. I also agree, turn by turn on your wrist is annoying and potentially dangerous (that's why Android Auto exists!).

This is a misleading article, poorly researched at best. Where is the mention that there are plenty of people getting better than the promised 40 hours? I get 50+ regularly. Reading reddit, you of course see complaints, but you also see people saying they have no idea why others are complaining. There are also much fewer complaints than there would be if even a slim majority of users had to charge twice a day. This article is such a disservice to the watch and the truth that it should be updated.

I asked for battery usage among the half-dozen of the staff with a Watch 4 and Watch 4 Classic about the battery life and their charging habits. And while we all turned off AOD, with continuous heart rate, sleep tracking, and tilt-to-wake enabled, battery usually only lasted 24-36 hours. I've heard for 40-50hr battery life, but those cases usually turn off tilt-to-wake, tap-to-wake, and some of the health features, too.

I'm getting about 2 full days. I have everything enabled except for snore tracking and AOD. Before the most recent update, I was charging more often, but it seems like Samsung tweaked something that extended the battery life. I'm fine with the rate of charge. When the Watch does get low, I'll drop it on the charger when doing dishes, showering, or sitting down for the night to watch a show or 2. It seems like other Samsung accessory chargers are faster than the puck that came with the Watch. I was disappointed to learn that my Gear S3 Frontier's charging stand wouldn't work with the Watch 4. The puck is ok, but a stand that gets the watch band off of the table is helpful. What I do want is for do not disturb mode to prevent the screen from turning on. I'll be going to sleep, and the screen keeps turning on despite the screen facing away from me. I have to enable sleep mode to prevent this and disable sleep mode in the morning. It feels like unnecessary babysitting. Sleep mode and theater mode are unnecessary features. DnD on my Gear S3 prevented the screen from turning on, and you could set the duration from the watch.

That is what you get with AC. Mostly Apple promotions.

I get a day and a half with my Galaxy Watch 4 using it normally without charging. That's more than what any Apple Watch user will get. I will say that what works best for me is putting it on the charger an hour before bed time. That works for me because usually, I'm not doing anything except watching TV, the News or reading online. After taking my shower and getting ready for bed, my watch is fully charged so I put it back on my wrist and go to sleep. The watch lasts me until the next day when I repeat the cycle. Its about 40% at that point so it only takes about an hour to fully charge.

I had a bright 3rd party watchface giving me just about 24hrs. But realistically just take an hour out of your day and top off your watch. Most can charge while driving to work, watching TV or eating etc. Just being lazy and asking 5-6 days on a single charge is a bit much, but they got full powersave for that.

My Gear S3 Frontier got over 3 days when I first bought it. After years of daily use, it was barely making it to 2 days when I decided to get the Watch 4 Classic. The starting maximum charge is MUCH lower on the Watch 4. Samsung decided to go slim for the sake of fashion. Let the regular version be lighter, slimmer since it's targeted towards an active lifestyle. Make the Classic a bit thicker for better battery life. It's already going to be heavier because of the build materials.

I'm digging the new wear OS on ONEUI but wish it had 3-4 battery life like the original Galaxy watch. I'm disappointed since I know Samsung has done it before and Google bought out Fitbit and Fitbit knows how to make great battery life watches. I mean the Sense gets 5-6 days!! Come on Google and Samsung

I have the Galaxy Watch 4 Classic LTE 46mm. It´s my second smartwatch after the Fossil Gen 5 - which was a disaster in terms of battery life and performance. Did try it a whole month and returned it afterwards. Now with the GW4C I´m a lot happier. It works like a charm and feels a lot more like a finished product. Sure it could have more features but the core features are there. I´m okay with the battery life. It easily lasts me a day with 50% left (AOD off, continious HR+stress on, auto brightness, tilt-to-wake on). I did turn off LTE instead of setting it to auto since I don´t have a esim yet. But I also wish it would last longer and would charge faster, too. I hope to see improvements here in future updates!

I moved away from Wear OS because of Battery life. I got a Huawei G2, it answers my phone, it has blood O2, heart beat and a myriad of sport settings. It shows messages just about everything I did with My Zen, Motorola and Huawei Android wear EXEPT I GET 14 DAYS BATTERY LIFE!!!! Who cares if Apple last 2 days and Samsung 1 and a half days?

What a dumb article. The website is becoming very lame.

The battery life has improved alot since the last update.

Agreed. Before the update, I was charging daily. Now I'm getting about 2.5 days. Still starting out with less battery life than my Gear S3. That doesn't bode well for the longevity of the device.

Can't get that Apple Watch to pair with my Galaxy phone

I have the classic 4 and with all features enabled except of the AOD it last me more than 36 hours with a single charge..
However I would prefer a faster charge speed.

This is interesting. I've used a smartwatch for a few years now. I had the Microsoft Band - which was great BTW - then a Garmin Forerunner 235 and now the 245. I am interested in the Wear ecosystem and this latest version "seems" to be getting there. The question I have to ask myself is do I keep a Garmin for running and a Wear device for everything else. I don't know if I need everything else though. My Garmin gives me notifications, what else do I need?