The Apple Watch Series 4 is light-years ahead of anything running Wear OS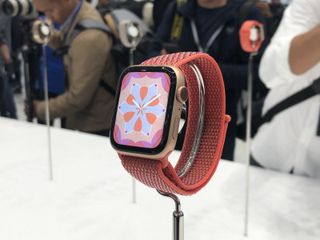 If you're a fan of Google's wearable operating system, Wear OS, 2018's been one of the better years the smartwatch platform has ever seen.
In late August, Google announced a completely revamped interface that puts a big emphasis on the brand-new Google Fit and makes the Google Assistant more powerful than ever. Just last week, Qualcomm unveiled its first new wearable processor in over two years that aims to greatly extend battery life.
Those refreshes in software and processing power are two things Wear OS has been in dire need of, but even with these enhancements, last Wednesday's announcement of the Apple Watch Series 4 is another reminder of just how much work Google still has ahead of itself.
Here are just a few questions I still have for Wear OS.
Where's the good hardware?
Wear OS has gotten big improvements on the software and processing side of things, but there's one thing that's still missing — impressive hardware to tie all of this together.
Most all existing Wear OS watches will be updated to the new interface, and while that's great, the platform needs support from OEMs to create new devices that ship with both the new UI and, more importantly, Qualcomm's Wear 3100 processor.
So far, the only Wear 3100-powered smartwatch is this...
That's the Montblanc Summit 2, and while it's far from an ugly watch, it isn't the device we need to get Wear OS back on track. Its predecessor had a starting price tag of $890, and with new features like NFC, GPS, and waterproofing, the Summit 2 likely won't be any cheaper.
The Summit 2 isn't the watch that Google needs to get Wear OS off the ground. There's certainly still time for a company like LG, Motorola, etc. to announce a more accessible and mainstream watch, but we haven't heard much on the rumor mill in those regards and we're already getting well into September.
How long will it take for another processor upgrade?
Qualcomm's new Wear 3100 processor for Wear OS is exciting, but a lot of that excitement is a result of the company essentially ignoring the platform for two years. In Wear OS's entire existence, we've had just two dedicated processors for it — the Snapdragon Wear 2100 and Wear 3100.
On the other hand, each new version of the Apple Watch has shipped with an upgraded processor time after time.
Apple Watch (Series 0) —Apple S1 chip
Apple Watch Series 1 & 2 — Apple S1P/S2 chip (2x processing speed and 50% higher GPU performance than S1)
Apple Watch Series 3 — Apple S3 chip (Up to 70% faster than S2)
Apple Watch Series 4 — Apple S4 chip (Up to 2x faster than S3)
With every Apple Watch release, Apple makes meaningful improvements to the silicon that powers its hardware to ensure the best user experience possible. The Snapdragon Wear 3100 sounds like a great piece of tech, but if we have to wait another two years for its successor, Wear OS is going to find itself back in the same rut it's just now starting to climb out of.
Seriously, what the hell is Google doing?
Tying back into my first question, Google isn't helping Wear OS by choosing not to release its own smartwatch hardware. In fact, all it's doing is hurting it.
Google's Pixel brand still isn't on the same level of popularity compared to Samsung Galaxy devices and the iPhone, but with each new release, the company's continually establishing the Pixel line as being home to one of the best smartphone experiences around. On top of that, products like the Google Home, Chromecast, and Pixelbook are further reminders to consumers that Google is now a prominent hardware brand that's worthy of their time and money.
Perhaps more important, these products act as showcases for Google's software. The Pixel 2 exposes people to Google's flavor of Android. The Pixelbook reminds buyers that Chrome OS isn't just for students. The Google Home and Home Mini are great-looking smart speakers that put Amazon's popular Echo devices to shame in more instances than not.
Why not create an accessible, powerful, and good-looking smartwatch that also lets people know that the Apple Watch isn't the only wearable they can buy this holiday shopping season? Google even has an iOS app that allows you to have a fully-functional Wear OS experience on an iPhone.
A quality Wear OS watch with Google branding has the potential to propel Wear OS to heights we haven't seen before, but because Google would rather "focus on our partners", we're not getting one.
The Apple watch has none of these problems
While Google continues to figure out what in the world it wants to do with Wear OS, Apple will continue to eat up the smartwatch market for breakfast like it's done for the past three years.
With the new Series 4 Apple Watch, we're further reminded of just how far ahead Apple really is. Now that the company's nailed features like notifications, general fitness tracking, and even music streaming, it can now focus on lifestyle things that have the potential to make a big difference in people's lives — fall detection, ECG readings, you name it.
The Apple Watch is a fantastic smartwatch, yes, but it's also evolved into an incredible fitness wearable, standalone communicator, life-saving health companion.
In the meantime, Wear OS is still relying on luxury fashion brands to keep it alive.
Joe Maring was a Senior Editor for Android Central between 2017 and 2021. You can reach him on Twitter at @JoeMaring1.
I couldn't agree more. I went out and bought the LG Watch Sport when it was released and basically shelved it a year later. The watch had poor battery life, was slow, did not have swappable bands, and was just ugly. I switched to the Samsung Gear S3 Frontier and have been happy with it in general - pretty much the only downside is the lack of apps. I went to upgrade to the Galaxy Watch LTE the day it came out and was disappointed to learn that I had to have a Samsung Galaxy 7 or higher phone in order to activate LTE (I have a Pixed 2 XL). I returned the phone before even leaving the T-Mobile store. On top of all this, as of two weeks ago there were still Snapdragon 2100 watches being announced left and right just weeks before the Snapdragon 3100 announcement. None of this makes sense.
I finally decided to jump ship and go with the Apple Watch Series 4 (stainless steel LTE). I ordered an iPhone XS Max to go with it. Very pricey ($1,000 for the watch and $1,400 for the phone) but one thing I know for sure - the watch will work very well and there is no appgap to deal with. The only question is batter life but I'm used to charging daily anyway. In terms of hardware, between Pixel, Samsung, and Apple, all are good enough - even great. I think that the differentiator (at least for me) is the accompanying watch. If each manufacturer is going to force your to live in their ecosystem, I think Apple makes the most sense. I used iPhones years ago, switched to Windows Phone, then to Google (Nexus/Pixel) and now I have come full circle back to the iPhone. I think Google and Qualcomm blowing off the watch market for the last two years has and will cost it the market.

I'm not buying another LG smartwatch again. My Watch Sport isn't even 18 months old, and the band and battery are shot (and as far as I've seen I'm unable to get replacements). Epoxy held the band together for a month but it fell off on my bike ride yesterday. I almost didn't go back to pick it up. My choices at this point seem to be the Galaxy Watch (assuming the Verizon LTE model comes out soon) or going in a completely different direction with a Garmin Fenix. The app situation on the Galaxy doesn't seem so bad--especially with Wear OS apps languishing, and the fact that Verizon eliminated support for Message+ on WearOS (you need it to do calling and texting from the watch--well, Google Messages mostly works for texting but not natively). I'm also not as blown away by the Snapdragon Wear 3100 as I had hoped to be. Then again, I don't want to cede the whole thing to Apple--who have their own weird lock-in issues and feature limitations, and a different sort of forced obsolescence.

Highly recommend the Fenix. Have the 3hr. Does everything I want it to and I charge it every 10 days or so, assuming I'm running and biking etc. 2+ wks otherwise.

I stopped reading after you said you bought a watch you thought was ugly.

Ugliness is just one of several traits to look at in deciding to purchase a watch. Others are function, price, battery life, swappable straps, and available apps, I've always thought I could give up one or two traits in favor of strong counterbalancing ones. My journey started with a Fitbit,, Microsoft Band, LG Watch Sport, Samsung Gears S3 Frontier, and now Apple Watch Series 4.

Ugly describes every Apple watch.

Please at least attempt to read what he wrote before making a worthless comment in reply to it.

I'm not sure they are ugly, but they are far from masculine. There is no way I would be caught dead wearing a watch that looks so effeminate, unless of course I was also wearing one of my wife's dresses, which thus far hasn't been something I have yet tried ( apart from that party in Paris when I was a lot younger). The Galaxy watch at least caters for men and woman alike, by having 2 different sizes of watch.

I finally decided to move over to iOS also. My Fitbit Charge 2 has a cracked screen and I was planning on replacing it with a rumored Pixel watch. Especially since I heard Fitbit and Google had worked together on some software or something. But since there is no Pixel watch and the Apple Watch Series 4 looks and sounds great I am going that route. I ordered just a GPS version and will order the iPhone XR.

Awesome! You're going to love the Watch! I got my series 4 and a gold XS Max coming Friday. So excited. The Android watches never appealed to me and after getting the first  Watch back in April 2015 there's no way I'd switch now to Android due to me loving the Watch so much. Great article Joe! Google doesn't know what it's doing and it's showing bad.

Except for one fatal flaw. They don't support Android. I get it, Apple watches are generations ahead of Wear OS, but I'm not going to get rid of my Android phones just to get a watch.

This... Couldn't bring myself to move to an iPhone just to get an Apple Watch. Google needs to have a good alternative or you will have people who make the switch just because they want an Apple Watch. Google has a bad habit of not committing to things...

Google is making Android so much like iOS that pretty soon you won't really even know the difference. May as well switch and get in on an ecosystem that isn't in perpetual beta status.

Man, I love your comments lol.

Damn, this comment is the one I've read that is making me consider moving.

If and when that occurs, I'll reevaluate. I'm still into rooted Android, so here I'll stay.

Lol that is the funniest comment. I also wanted the watch series 4 so bad I'm dumping my S9 and getting the XS max to go with it, so you are far from alone here. Apple seems to have momentum at the moment when you look at the wider ecosystem (lets just call that planning) and Android seems to be splitting between Google's vision and Samsung's vision, with neither being fully joined up. I just want something that works as a customer and will be supported, by the manufacturer and by developers.

True.
That's why I have high hopes for Librem 5 phone. I can't buy iPhone ever again but having a hard time accepting the Android's constant degradation and more importantly security and privacy issues.
None of these platforms can't give what a user needs. It's either "we know what's best for you, so you don't have a control over your [our] device" - Apple. While still allowing apps to collect data and Apple itself is storing as well. Just not selling it as much as Google. Or "hey, look how much stuff you can do with your device [truly yours] , but you have to give up every iota of your privacy because we need make some profits with data collected from you." Now , seeing the course they are taking with UI and copying counter intuitive Apple BS and terrible designs as well, it's getting harder to differ between the two. Yes, I will still get Android over iOS - launchers , notifications and file system access are undeniably most important for my use, but I really won't another player in. The one who will look out for my security and privacy first and then give me absolute freedom over the device I own. 0 harvesting data has to be the norm. I don't need or want to rely on any app. Some services can be used online and that's it. I don't want any company reading or looking into my phone, period.

Funny, I couldn't drop my Apple Watch to switch to Android. If Apple decides to open the AW to android, WearOS is DOA

Im the opposite, I cannot bring myself to use one of my android phones as my daily driver, so I bought a new 8 and series 3 LTE watch. They work great. I use my garmin when I am running one of my android phones.

As long as Apple continues with that garbage square bubble design, I will continue to be unimpressed. I jumped from WearOS a year ago for what is better than either of the Apple/Google/Samsung offerings... Garmin. My Fenix 5X has 2 week battery life, 20 hours of battery life when tracking with GPS, a better screen in sunlight, full topo mapping, smart notifications, and incredible build quality. All of these smartwatches are a joke for any serious fitness. The battery life and amoled screens make them silly for real running or cycling. I'd say skip all of these and go check out a Garmin.

You're really missing the point. These are really wrist-worn smart phones. They should be using a form that best allows that primary function. Telling time is about the least-significant function of a smart watch. Traditional watches are round because that was the easiest thing to do with mechanisms that basically went around in circles. Time to move out of nineteenth century thinking.

Square watches are square......and ugly.

For being the #1 selling watch, everyone must like the ugliness.
I see a round Apple watch in the forecast.

I don't, they had plenty of time to adjust in a circle watch, and haven't bothered...

Exactly! The Apple Watch outsells every other wearable, so obviously people have no issue with the square watch. I have an Apple Watch, and a Garmin Descent (for scuba diving) and I much prefer the Apple Watch. My wife tried to convince me to just use the Garmin all the time, but it's smart watch functionality is pure garbage compared to what the Apple Watch is.

I use both, and garmin is the best non Apple Watch available.

Sorry, but I am not going to wear a stack of chiclets. I'm sure, one day, someone will explain to me why candy is so appealing, but I have yet to find the design of any Apple product attractive enough to get.

I find myself wondering how different things would be if Samsung would just make a WearOS watch? They keep iterating their silicon, too. Could a third party even buy that from Samsung? It feels very much, even with the 3100, like Qualcomm doesn't care. It's unbelievable that it's still being made on a 28nm process.

It beats repeating. The Huawei Watch Sport 2 has two day battery life. Sure Google needs to do better with Wear OS. People we're thinking that this 'new' snapdragon was going to be the answer and it isn't. It is a modest upgrade at best. What Huawei and Casio have done with Wear OS is where people should pay attention. There are good Wear OS watches out there. Secondly, Google needs to release a Pixel watch to show everyone how great Wear OS, the Assistant and health monitoring they can be. For now I will continue to use me well worn Huawei WS2, but will wait for the next one from them or Google. Everyone needs to calm down a bit, and realize that 'lightyears' regarding watch OSs is millimeters not miles.

Been looking at a Huawei watch 2, are you happy with it?

Wearing it right now. Love it. Favorite to date. Had the og Moto 360, then the Sport, then the LG Style, still have that. Like this better as it does what I need (heart rate and notifications).

Huawei have been doing some special things lately.

As much as I have fought tooth and nail to stay away from iOS Google's struggles are making me consider it. If it wasn't for all the app purchases I have made I may have done it.
Android P was an extremely minor upgrade, their wear software is 2 generations behind IOS, the fact they don't make a watch tells me they aren't even sure what a wear watch should be, and as a company they are wandering around clueless to the direction of technogy.
This holds true for Android TV which tells me they have hit a wall as a company on innovation

Have you ever used nvidia shield? Can it be compared with Apple TV. What Apple offered this time is features for old people with medical condition. I hope there will better things to buy if you have that risk. Series 3 is equally good for the masses. The larger screen is an upgrade but not a break through. I am not a fan of Android wear OS but We should wait for the new OS to see what google does with wearables.

The series 4 isn't limited to old people. People of all ages have Afib and can benefit from the series 4.

"features for old people" That is an ignorant statement because Afib can occur to people of all ages. I will never forget when my local game store growing up had a somber experience when their 20-something year old guy that worked there collapsed out of the blue and died because of a heart issue he knew nothing about. Or my sister who was born with a hole in her heart and has to monitor her heart rhythms daily.

thats the biggest issue with google, they dont back up their products in the long term. They have switched messaging applications several times. I think they have dropped tablet support for their software. Customer service is just not there compared to apple. Many manufacturers are also trying to block people from putting their custom rom onto their device. Watch os is mediocre at best, and android tv is nowhere to be found.
Where will google go after this? They need a better direction and to support their products

The Apple Watch is probably the item I plan on buying that will "lock me in" to Apple's ecosystem. Not iMessage, not iCloud, not iTunes...but the watch. Considering how Google is trying to copy Apple step by step, I am VERY surprised they aren't coming out with a Pixel Watch. Maybe next year.

Just curious, why is a smart watch (out of all the different things) the thing to lock you into Apple?

When apple makes the best watch and it requires you to use an Apple phone that means you buy an iPhone and leave Android.
Once there Google doesn't look to be capable of bringing anyone back.

iOS is so stale I could not keep my iPhone X as my daily driver. It was just a stopgap until the Note 9 was released. I still use iOS but if I had to choose only one os I'd definitely stick with Android. And no, the Apple Watch isn't compelling in the least to me eventhough I'm quite the avid watch collector that happens to have 3 smartwatches in my collection.

Have you found a smart watch that is compelling?

Serious question... what is "stale" about the iPhone X?

@johnTortorici Exactly, as someone that uses both platforms I'm not sure how iOS is "stale."

I am guessing he means he cannot handle the IOS platform looking the same as it did when released 11 years ago. Android lovers love to change everything about everything and pretty well create a huge mess on their phone. Creating poor functionality in the process. Most of the launchers, icon packs etc slow down the system because it has to do more.

A mess to you may be organization to others. Personally, the way my mind works, iOS has always come across as inflexible and boring.

Just bought a XS sold my s8 couldn't deal with Samsung anymore this iPhone is incredible. I will never buy a android phone again maybe a cheap tablet to screw around.

Well because the other things that Apple does hasn't sold me completely. I have been using an X since April and still monitor Android completely because at any moment I could go back. iMessage is cool but I mean, its not game changing - I was always happy using Pulse. Airpods are cool but I can use other bluetooth earbuds on Android. I like my Google home and have no plans on getting a HomePod. But I do plan on getting the watch and if I love it, and since you must have an iPhone to use it...that's a lockdown.

My Pixel will become my backup device because I also agree to get the watch you need the phone. The heart monitoring is what I am into the watch for. I had an irregular heartbeat when I was younger so I want to be able to actually monitor it. And bring some sort of data to the table when I meet with my Doctor. Other than "the other day I FELT like my heart was skipping a beat." I love my Pixel and the Android phones before it. But this watch feature is going to be the catalyst for going back to iPhone for the foreseeable future.

You need to be aware that heart rate and consistency are liable to "white coat syndrome" or "observation affects the thing measured". I know that already a number of doctors are worried about the effect of this on what they call the "worried well", people who are a bit hypochondriacal. My wife has to keep an eye on her heart but she uses an ankle band sensor and only checks it daily, and has periodical "real" ecgs.

Simple. You don't compete with your customers. If Google releases a watch, no other tech companies will want to compete using that platform. You'd get the luxury manufacturers, the Pixel Watch, and maybe one or two very budget devices. Everyone else would consider that Google could out-compete them whenever they wanted, in a market with little profit and an uncertain future: why would they want to spend money on the platform? Look at how the Nexus line was kept out of the spotlight until Google's customers were utterly reliant on Android, and they had no choice. Look what Microsoft buying Nokia did to the Windows Phone market. Windows RT wasn't just a flop because it didn't have the software Windows or Android had, but because no OEM wanted to fight the Surface and be reliant on Microsoft at the same time.

I don't see what is appealing at all about a square watch that turns off 99% of the time and doesn't even have Assistant or Maps.

You look at your watch 99% of the day? Just curious.

No, but I do prefer to see my watch when I do look at it.

I bought an Apple watch Series 2 Nike edition sometime in 2017, because I loved the looks of the watch and my wife was happy with her Apple watch. I then made the switch to iPhone (obviously). Both were on great offers. I didn't like the experience, coming from a Galaxy S2 and Note 8 combo. Apple watch was slow, sync between different apps was non-existent and battery hardly lasted a day. Sold both and got a Huawei Watch Sport 2 and Mate 10 Pro. Though m very happy with the phone, cant say the same about the watch. Wear OS makes Apple Watch seem refined, smooth and everything it actually isn't. It's that bad. Wear OS is the worst smartwatch OS currently in the market. Hope things get better with wear OS, coz I definitely don't want to go back into the Apple ecosystem just to use their watch.

I liked my Apple Watches but the lack of options just like iPhone is highly frustrating. No option for keeping the display on at all times and forced to only get notification tones on the watch and not both phone and watch is not good enough

Smart watches aren't that smart. They count steps, read your heart rate well, and receive notifications you already receive on your phone. Smart watches don't do anything else well. If you are over 40, just reading the tiny screens is a challenge. Smart watches are annoying because they require charging at rate that might drive push the obsessive compulsive crowd over the edge. Premium cell phones are expensive, and few can also afford a watch that costs as much as a decent Chromebook. Do yourself a favor... Never buy a smart watch. A very basic smartwatch like those by Fitbit... I own a charge two... It's amusing to see steps walked, and it's a clear watch face. I need to know the time at work, but can't carry a smartphone due to security rules and explosive potential if I dropped one in a sensitive unit (oil and gas industry). The risk of my Fitbit is next to zero.

Agreed! I don't understand the fervor around smart watches. Not sure I'll ever bother with one

This. I live in a bubble. I freely admit it. Everywhere I look I see Apple watches. I think I have seen one person with my watch in the wild so I know it isn't popular but I can't fathom why. I have the Verizon Gear S2 Classic from 2016 and I use it every day. Voice calling, health tracking, music player, and texting are probably what I use most and it's been reliable, snappy, and has not ever lasted lasted less than a full day per charge. I don't track sleep, I already know it's too little, so I don't wear it to bed and that's the only area I could see why battery would be an issue. Given all this and being able to use it with any android phone is really why I have no idea what more you could possibly want from a watch that justifies all the Tizen hate.

Seriously? I have a Gear S3 Frontier. The design is great and the UI is pretty good, but I want some damn apps. Fix that and maybe you stand a chance

Keeping my Gear S3 Frontier until something suitable comes along. The Gear Watch looked promising until I found it wasn't going to have Samsung Pay. I use SP every day.

I will never understand why they didn't include MST--That was the only reason I bought the Gear S3 Frontier.

Too bad Motorola mobile was bought up and stifled by Lenovo. They were one of the true Smart Watch innovators for Android in the beginning. I agree with the article that a Pixel Watch is needed. Once my Moto 360 dies, I don't see anything new worth going to. I don't want to be locked in to the Samsung ecosystem, I don't want to be locked in to Apples ecosystem. Give me another choice that I can take with me wherever I decide to go.

Hardware/software aside, the Apple watch is the fugliest thing I've ever seen. Doesn't hold a candle to the original Huawei watch or even the TicWatchPro with a steel band on it. Just terrible looking. If Esquire put out a watch that gross I'd be making fun of them so it's not just blind Apple hate here I'm dishing out if that's what you think. It's fugly watch hate, and I've seen traditional square watches that were drop dead sweet looking, so it's not square watch hate either.

Speaking as someone who has used iOS and an apple watch extensively, it's still not the glorious hardware people are making it out to be. Even my previous series 2 had a clunky software experience, middle of the road battery life and pretty sluggish performance.

I agree completely, but its not enough to make me want to use an iPhone. I just find iOS so inflexible and boring.

One thing they have right is they didn't make it a stupid Circle

You mean like all clocks have been since the beginning? Maybe if they would breakaway from the candy store design style it could work. As it stands, I would sell it if I got it for free.

I cannot for the life of me justify 1k for a watch of any kind. I am in the market for a watch to go with my Z2 Play and I dont like ANY of the Wear OS watches save the Ticwatch Pro...the fruit is a nonstarter, so I guess I'll continue wearing my 27.00 generic fitness band...

It is ONLY ego that there is a Android Wear - just like Android tablets. There are no apps and no corporate will to invest time or money in developing a variant OS against a real competitor who has time, interest and a genuine interest in pushing forward (Apple). First, Google is an ad sales company - watches do not help sell mobile ads - only because Apple is in it are they interested. Samsung will try and sell anything if they think there's a buck in it (they LITERALLY sell ships and seaweed snacks). BTW, the Pixel has a 0.07% market share - Google has spent $20 BILLION on smartphone hardware for that market share. It makes total business sense to give away a mobile OS to help them sell more ads, hardware? After $20 BILLION spent for a ,1% maret share, just corporate ego.

There are apps, you seem to be misinformed.

I think that he is talking about Samsung. I frequently think back to all the useful major apps that I had in Android Wear. Facebook, Messenger, USAA, for starters. Samsung: Spotify...

I agree with the article but I don't see myself wearing a square watch. Wear OS needs a revamp and a Pixel Watch indeed but I still prefer my original Huawei Watch to anything launched meanwhile. I looks terrific.

Personally I would never base a decision on what phone to get based on a watch. To each his own...

I've been very happy with my Movado Connect it does what I want a smartwatch to do for me. Google Pay, customization of notifications received increasing battery life, controlling music and answering texts without using my phone. It integrates with my KEYone seamlessly. Google Fit gives me what I need; heart monitoring can be tracked by the stations bike in the gym. I can't stress strongly enough to know what you want a smartwatch to do for you there are plenty of non Apple choices that exist today; let's hope it stays that way. FYI - Movado is rumored to be soon coming out with a new watch with the new Qualcomm chip.

I'm still rocking my original Huawei after owning Samsung's Galaxy Gear 1, 2 and Gear S. I enjoyed all my watches but I have to say I favored Huawei, it's a solid watch, the design is not out there, I'm not a fan of the sports versions with the printed dials to pretend to be a analogue watch. It give me notification and be able to glance at whatever messages that comes through to my phone and that is all I use it for. Yeah it has it's ups and down, not sure what more you can do to smart watches to be different? And if someone going to use all of the added features? Heck, even I don't even use all of the features, I just wear the watch like a normal watch but have the ability to get notifications as my phone is always in my pocket and while at home it's just sitting on a table. Not sure what to think about the watch segment, it's a tough market and it's anyones game to come out on top. Apple has one up because there is only one model with 2 sizes to choose from so it makes it easy for consumers, whereas us Android eco system, there is many brands to choose from. Just my 2 cents.

I think Apple has the best watch game at the moment, but saying they are light years ahead is a bit of a stretch.
We're a mostly Apple household with the series 3 Apple watch, and 6 iPhones including the 8 Plus, but we've learned that a lot of people parrot exaggerated claims. The Apple watch being light years ahead is about a credible as the A11 Bionic being 200% faster.

@Joe Maring, what exactly are you comparing here? How about listing what the Apple Watch does, and what Wear OS does, and THEN come to a conclusion? Here, I'll help: the new Apple watch detect falls, has EKG, and has almost caught up to Wear OS watches in tems of pixel count. It still doesn't have an always on display, still only has one button, still only comes in a square shape, still doesn't support third party watch faces (ergo you are stuck with the handful Apple throws your way). It still ONLY works with LTE with a few telco providers, and you need to have the same provider for your phone and your watch. No prepaid possible for the times you do need your watch to work stand alone. I'll point to the one and only advantage Apple watch has over Wear OS: they managed to make a swimproof version with a speaker. It would help if you actually used a Wear OS wach for a while before writing such an opinion piece.

I was ready to go back to Android with either the Pixel 3 or OnePlus 6T but I use my Apple Watch extensively with work, fitness and health. I initially leaned to Pixel 3 as it was believed that Google was coming out with an accompanying Pixel Watch to go with their new Pixel phone but they recently said they were leaving it up to other companies to release a SmartWatch. It is puzzling to see Casio and others releasing new SmartWatches with old 2100 chip? What are they thinking? I am going to be patient and wait till next months Android phones are revealed though may just get a new iPhone XS Max and Series 4 Apple Watch.

Once the excitement fades after a while, you'll just use them as a regular watch and check the time...maybe check some notifications here and there.

Have you ever used one? Now that they also can make calls like my Samsung watch. They also have a walkie talkie feature that would be great for even just in my office since there are exactly 2 of us that carry a Note and everyone else has Apple. They are also very competitive about closing their rings and now they have given them a way to encourage others to also do so

I don't hate the Apple Watch Series 4 or the new iPhones but considering it would cost $2-3k to buy both and I don't have that sort of change just lying around, I'll just stick with my Nokia 8 and get a Misfit Vapor instead.

Get a gen 4 Fossil Venture or Explorist instead. They are also swimproof, but also have GPS, HRM and NFC.

Why is this any surprise? So far Android Wear has been subject to typical Google MO. Half ass launch followed by years of improper support and left to slowly die. I mean, Google play music, Allo, Hangouts ,duo, inbox, keep, Google now, Google +...etc.

It's tough to argue with this article. However I don't know if I'd say light years ahead. One thing I do agree with is Wear OS is crap; its another typical example of Google dabbling in something and producing a beta product. The watches themselves are not impressive and the OS is half baked at best. I have a Gear S3 Frontier and not only is the watch itself miles ahead of any Wear OS watch but Tizen is better too. Sure the apps are lacking but MOST people don't use apps on a watch. The ones they do tend to use are either supported or there is a good Samsung alternative. I read that someone said they wanted the Gear LTE model and couldn't use it on their Pixel 2? That is patently wrong; it'll work with basically any phone made within the last few years. Regardless, the article is about comparing Wear OS to apple's watch and I agree that Apple's watch is miles ahead. It makes me want to bounce to an iPhone for it. But I won't change ecosystems just to have a nice watch; that is just lunacy in my opinion.

My statement that the Gear LTE cannot be activated on a Pixel 2 XL is accurate. If you go to Samsungs' site at:
https://www.androidcentral.com/e?link=https2F2Flink... you can read the 2nd footnote that states:
"24G LTE standalone connectivity only available on Samsung Galaxy Watch LTE version. Standalone voice calling on LTE version requires initial pairing with eligible Samsung Galaxy device and separate qualifying wireless plan. Your carrier may not support standalone voice calling, or support may be available only in certain areas. Please check with your carrier for more information. Standalone functionality limited if paired phone is not powered on or connected to a wireless network."

Not sure this statement is true that MOST people don't use apps on a watch. MOST Tizen uses may not use apps because there aren't many high quality ones. The crappy assistant and missing app selection is what made me switch from Tizen to Wear OS. And Wear OS has had the ability to make calls and to work truly stand alone mode on LTE for years, thanks to user replaceable sim cards.

Well, a light year is a unit of distance. Why journalists can't just write "years ahead" I don't know. Apart from anything else, if the Apple Watch was light years ahead it would have to be travelling at superluminal velocity which means you wouldn't be able to read the face.

this was the ONLY reason I even considered possibly leaving the Note Series behind for

Everyone is different, but I just can't believe anyone wants to wear any smart watch. I quit wearing a watch decades ago because I always carry a cell phone anyway. Now it's not just a cell phone, it's a smart phone. Even less reason to wear a watch. Some of the ones I've seen do look nice, but I couldn't justify the price just for something that looks nice. I honestly thought smart watches were considered a joke, by everyone, including the Apple watch. When did that change?

Shove something in people's face for long enough, they'll start to accept it. Happens all the time

When phones got humongous, smartwatches gained more of an appeal to me. If you are a runner and otherwise physically active, the last thing you want is a fanny pack around your waist to carry your huge phone.

Light years ahead of Wear
Light years behind Tizen

Two features that forced my hand; the series 4 watch and Messages.

What have we come to, when people are dropping 2k plus on a phone and a watch and do the same thing next year... I could buy a real watch that I could actually pass down and somewhat retain it's value. That being said Google needs to get their act together.... Seriously!!

I think really the point is that smart watches are a waste of effort. Apple can sell them because its users buy into the entire system - some of them - but there just are not that many people with so much disposable income, and most of them buy Apple because that's what the others have. Expensive watches nowadays are a niche market - my grandfather needed a Rolex to do his job (well, an Omega would have done) but nowadays that accuracy is exceeded by a cheap quartz watch so what's the point other than bragging?
I might buy an Amazfit Bip because it's cheap watch price but does the monitoring I want. But why do I want a watch from a pen company that will be obsolete in two years?

Not sure if the author understands they want $460 in 🇨🇦 for a preordered Galaxy Watch... 🤔That's an expensive way to count steps and squint at tiny notifications. 🤣

But... I just preordered one... 46mm. 😁✌️

I've used an LG G Watch R for almost 4 years, and Google's Wear OS updates have been lackluster at best. I just bought a Samsung Galaxy Watch (46") and while I was reluctant to give up Google Fit integration, I must say Samsung's Watch is a much better wearable (amazing battery life, great navigation and UI in general). The only downside is the lack of apps which unfortunately won't be an easy thing for Samsung to rectify. That being said, I'm using this Samsung watch a lot more on a day to day basis than I ever did my LG watch. I don't like Apple's phones or iOS in general, and don't like their watch designs (small square) at all so going back to Apple devices isn't an option for me at this time (moved to Android since iPhone 4). It's sad to see Google dropping the ball so badly on this and it doesn't seem like they care about wearables any more.

Honestly, if Samsung could just get an app store then their smartwatches would thrive. My S3 Frontier is probably going to be the last smartwatch I will buy for a long time. Samsung has Hardware, but no app support. I stopped paying attention to Android Wear after the 2.0 launch mess. Apple is not even an option, mostly because I am not a fan of chiclets.

Beauty lies in the eye of the beholder. Wear OS over this Apple digital mad cow disease anytime.
Android Central Newsletter
Get the best of Android Central in in your inbox, every day!