Android Wear's massive update: Official watch face API, new display modes, app features and more!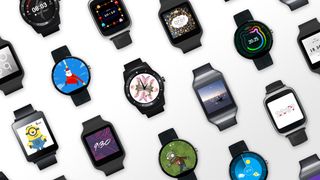 Android 5.0 will hit watches in an OTA update
Google today has announced a major update to Android Wear, bringing some long-awaited official functionality to its smartwatches — and a host of new features to go along with them.
Oh, and Android 5.0 is coming soon to your watch.
There's a lot going on here, folks, and updates will arrive in their usual staggered fashion. The big strokes are official support for third-party watch faces, a new Android Wear app, and software all around.
Let's break it down.
First up are watch faces. We've been awaiting an official watch face API for months — you'll recall how Google basically suggested folks hold off on making custom watch faces as standalone apps, which of course loads of developers ignored. Today marks the announcement of the official Android Wear watch face API. And along with it comes a new section of the Google Play Store dedicated to Android Wear watch faces. (Which, lo and behold, you'll download "just like you do with apps," Google says. Go figure.)
Google has a bunch of watch faces ready to go at launch, including some from RedBull, Pac Man, Plants vs. Zombies, Santa Racker, The Hundreds, Despicable Me, Craig Ward, Porsche, Rebecca Minkoff and more.
See all of the new Android Wear watch faces in Google Play (opens in new tab)
A new Android Wear app also is on the way along with the update to the Android Wear platform itself. And that's going to bring a number of new features. It'll make browsing, installing and switching watch faces "really easy," Google says. Noted improvements include:
The ability to bring a card back when you accidentally dismiss it. (We've all been there.)
Recently used actions will float to the top of the list when you tap on the watch face. That should help alleviate the need for third-party app launchers on a watch.
A new mode that lets you change some of the settings by swiping down from the top of the screen. (Currently that lets you mute the watch and see the date and battery percentage.)
A theater mode for turning the screen off and muting vibrations.
A sunlight mode for maximum brightness. (And probably minimal battery life.)
It'll be easier to block app notifications — you'll now be able to do so from your watch.
See how apps affect battery usage and storage from within the Android Wear app.
And that's just for starters, of course. We'll break things down feature by feature as the updates roll out, so stay tuned!
More: Google blog
Just got my watch and love it! Now I love it even more! Go Wear!!

Good thing Google provides the updates and NOT the manufacturer We don't need no stinking android wear fragmentation.

This is all going to be really great to get. I've been using the Facer app with it's companion repository at facerepo.com for custom watch faces which has actually been really nice. I've contemplated trying to create a watch face but it just seems fairly tedious having to do it from within the Facer app. It is nice that it has a WYSIWYG editor but it's still kind of tough. Plus there isn't a lot of documentation/examples on how to use the various codes. All that to say, I'm excited for the official watch face API most of all and being able to build faces from the computer.

Good stuff! Can't wait to see all the changes Posted via the Android Central App

Would really like to be able to adjust length of time the display stays on.

The app "Android Wear WatchFaces" lets you do this. It makes it real easy to design your own custom watch faces as well. Hope it gets updated to use the new official API.

Yes you can. I us Intelli watch face app to do this. It's perfect.

It's called intellicom watch faces. Sorry about that.

I prefer intelliwatch because (1) it is easier than Facer to design your own custom watches and (2) the graphics are higher quality than Facer IMO.

Is there some setting or app that enables me to mute my phone when I pull down on my watch to mute vibration?

Ringtone Remote let's you do that,but not from a swipe from the top, in the way you're asking.

Wear Mini Launcher has this ability, LOVE LOVE LOVE this app: https://www.androidcentral.com/e?link=https2F2F...

Yes. Try this mini luncher. It is perfect and does what you're asking about.
https://www.androidcentral.com/e?link=https2F2F...

I hope my 360 gets it. Inb4AppleWatchsells30millionfirst2months. Posted via the Android Central App

You have a typo. Santa Racker instead of Tracker Posted via the Android Central App

What about better music download management. That's what I'm most concerned with right now.

This is all I care about also

YAY, my wife and I literally just got the Moto 360 over the weekend. She told me last night that she has found it more useful than she thought it would be and loves it. She messes with the Facer app and has downloaded more faces than I have. I am looking forward to the Google API for the watch faces and seeing some more official and better watch faces. Some on FaceRepo do not work with Facer, but overall I am very satisfied with the customization and texting from the watch while driving is a dream come true. Excited to be getting an update so quickly!

These sound like great updates! I love my ZenWatch, but it was clear from the start that some ease-of-use software updates were sorely needed.

Impressive. Now I miss my Moto 360.

Knew you would. ;) Posted via the Android Central App

Muzei has a watchface in their updated app today too. Can't wait to see it.

Yes WE CAN FINALLY BRING CARDS BACK Posted via the Android Central App

So I clicked on the link to for the watch faces and it have me the option to download them. Are they able to be used yet? Posted via the Android Central App

They won't do anything until you get the OTA to your watch, but if you have it installed already, then it should become available automatically.

Looks like I jumped on this train at the right time with my G Watch. And now that's got a sexy black metal band, things should get more interesting. Post Approved by Nexus 5

looking forward to this, I've had my lg g watch for a few months now and its getting better all the time, and i work in a engineering factory and it's survived surprisingly well.
And yes i've looked at the 360 and i thought it looked far too chunky and thick to me so i'm glad all the wear's are getting this update at the same time.

I agree that the 360 is a little bulky. You should have gotten the gear lIve. It has a more premium feel than the LG. I love it.

based off what some people with the update have been posting the "mute your phone from your watch" feature that I've been wanting is in the update

Still no way to initiate a hangouts message? Or reply by saying "reply" rather than tapping the icon? Still no bug fix for your reply getting cancelled when you get another message simultaneously? Pathetic

Calm down ksc6000. I just got the update and it's great not pathetic. No one but you have these problems so just relax. And who needs that type of voice feature to reply. I love my gear live even more now.

It is pathetic that you cannot initiate a message from a GOOGLE app like hangouts. It's also pathetic that you can try to reply to a hangouts message and as you're doing the voice reply, if another message comes in RIGHT then, your reply does not go through. This is a documented bug that's been around since the beginning of android wear's release. It's also pathetic that there is no consistency with what you can tell the watch to do by voice (like send emails, texts, set timers, reminders...), and you can't simply tell it to reply to a message. I LOVE my Moto 360. But these are serious problems and i'm frustrated that Google is showing no progress towards fixing them.

As an early adopter and owner of a first gen product running software still in its infancy, it is not uncommon to experience some bugs. If it is too much for you to handle, maybe you should return/sell it and wait for the next wave of products to be released. Personally, I'm just fine with it. I love my 360. It is miles ahead of the Sony Smartwatch and Smartwatch 2 I own. As far as I can tell, it does everything as advertised. Yes, there are some features on my wish list, but there is no reason to call Android Wear pathetic just because Google hasn't implement them yet. Posted via the Android Central App

Did you not read the part I wrote that I love my 360? You and the other poster have to remember that you paid money for these watches. They didn't give them to you for free. That means its totally fair for me to criticize an update for not having what I think are crucial features or fixes. I didn't call android wear pathetic, but this and other updates. It's also not like I'm asking for unreasonable things for the watch to be able to do. I'm not asking it to make my dinner. I'm asking for it to be able to interact with a NATIVE Google app like hangouts the same way it can interact with email or sms. And for them to remove a bug that makes the reply functionality an absolute chore. I think it's ridiculous that you and the other poster are defending your purchases so much. It's okay to like it and still be able to be annoyed and find pathetic the updates. I love my 360. But I am annoyed that I have to use tasker, auto apps and the xposed framework to be able to initiate a hangouts message from the watch. (and that also helps me get around the reply bug). But since xposed doesn't work on Lollipop and may never work on it, I have to keep my phone on Kitkat for the foreseeable future.

Sorry, I accidentally "reported" this comment while trying to hit the up arrow. Even though I don't use hangouts and I'm not experiencing that particular annoyance, I fully agree that you have the right to be irked. And I think people need to stop being so protective over products that may have shortcomings just because they own said product. I also love my Moto 360 but there are definitely some things that I feel should have been added/fixed in an update by now. Sorry again for accidentally reporting this comment.

I just got the update and it's perfect. Movie mode is nice. I like all of the new features actually. I don't know about the sunlight mode though. G wear just keeps getting better and better. Makes my gear live that much more valuable to me.

Anybody else having decentered default watch-faces on Moto 360?

Off centered happens when you don't use English as default Posted via the Android Central App

How to use custom watchfaces on LG G Watch R http://youtu.be/V1sz_tTOVPQ

For all catlovers: https://www.androidcentral.com/e?link=https2F2F... Every hour you'll have a new cat on your wrist! :D

My watch face is good too. https://www.androidcentral.com/e?link=https2F2F...
Android Central Newsletter
Get the best of Android Central in in your inbox, every day!
Thank you for signing up to Android Central. You will receive a verification email shortly.
There was a problem. Please refresh the page and try again.