Google unveils Android Wear beta program, but it only supports one model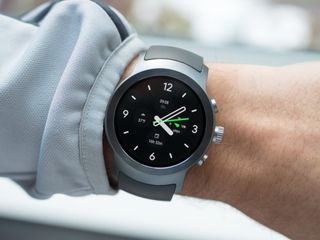 Google has announced a very limited beta program for Android Wear, allowing its flagship smartwatch, the LG Watch Sport, to test out some upcoming features based on Android 8.0 Oreo.
The update is not significant from a consumer perspective at this point, since it doesn't change the Android Wear 2.0 user interface that started rolling out earlier this year. Instead, it updates the core AW code to Oreo, giving it access to two important features phone users have been enjoying for some time: notification channels, and background limits.
The former lets apps on the watch follow the same rules as apps on the phone; if you limit a particular app from sending specific notifications, that behavior will be imitated on the watch.
Given that Android Wear is becoming more phone-independent, notification channels will likely benefit those who rely on apps that generate their own notifications rather than just forwarding them from the phone.
Background limits are battery-saving properties that should extend the battery life of some watches.
There's no word on when Google will make the Android Wear beta program available to more watches, but it's good to see the company sticking with its development path nonetheless. You can sign up for the beta if you have the LG Watch Sport.
Daniel Bader was a former Android Central Editor-in-Chief and Executive Editor for iMore and Windows Central.
Everything about AW feels beta.

Gone are the days where things would be in beta for...5 years or so, like Gmail.

Android Wear 2.0 is great.

I like it for the most part, and better than the previous version

I like Android Wear 2.0 quite a bit. it is underrated but at the same time there is room for improvement.

AW manufacturers need to go back to rectangular screens. The round screen is just functionally awful.

I think there should be options for BOTH.
The nice thing about a round screen is it doesn't have to look like a technology device all the time.

I agree. I have a Fossil Explorist and it's a great watch with AW 2.0. The trick is to understand what it can do really well.
For me, that's notify me of text messages, calendar appointments, etc. and be a caller ID screen for my phone. Oh and be a watch. It's a nice looking watch. I hope Google will expand the beta program.

I hate the new aw os. I liked being able to edit my watch faces on my phone, not on my watch. It's like going backwards in features.

Yeah I'm not a fan either. I think if this is all that's coming I'm either going back to Samsung or going to the dark side with my next upgrade.

Yeah I agree with that. They moved too much off the the phone and onto the watch. Why can't you do things both ways? There are so many apps that were developed for Android Wear that the watch won't let you download directly, including watch faces. It's a pain

I'm digging it, just signed up my watch for the beta. I like 2.0, although some don't.

There is no reason why the Urbane 2 can't support 8.0.

Aw 2.0 is one big cluster. I flashed back to 1.5 and couldn't be happier. I don't know where to begin where google has gotten 2.0 so wrong. It takes more swipes and actions to delete a message that I might as well just pull out my phone at that point. The performance is horrendous on my zenwatch 3. Watch functions should be simple not harder from what google has does with 2.0

THe fact that major updates only work on select models has been my biggest problem with AW. 2.0 completely ruined my Moto 360. It was only 11 months old... NO WHERE near old enough to be obsolete.

... if they could figure out a way to update to new AW versions, without clobbering the down revisions and the respective devices they, might be on to something. As it is now I can't recommend AW there are better supported options.
https://youtu.be/4xb6ZtJgk0I

The last Moto 360 was released in 2015. It was 2 years old by the time AW 2.0 was made available for it.

So 2 years is all the consumer gets for their $350+ ?... or in my case 11 months? Thats the biggest part of what is wrong with AW. I bought mine in Mar 2016, only 6 months after its release in Sept 2015. WELL WITHIN its production life span. It was dead after 11 months when they rolled out 2.0 and KILLED 1.5 devices. When Google beta'd 2.0, they only made it available on 1-2 watches (just like now).... only to unsuspectingly kill the majority of the rest that were still running 1.5. Hopefully history does not repeat itself. There is no reason to deactivate the older devices when a new OS rolls out. Not for the prices they are asking. DONT BUY ANDROID WEAR!! (at least not at these prices) put simply there are better options.

I bought the Sony SW3 long before AW2 came out because it has NFC and all the review sites said it would be one of the first to get AW2 with it having NFC, therefore enabling me to use android pay on the watch. That is what made my mind up to buy it as I didn't want to buy another watch in a year or so.
So it turns out I won't be getting AW2 or android pay on my watch because Sony have decided, in their ultimate wisdom, not to update the OS on the SW3, even though they have had AW2 running fine on the SW3. You could perhaps understand that decision if they was bringing a newer watch out with AW2 and didn't want to loose sales, but they're not making another AW watch.
So I'll never know first hand about how good/bad AW2 is or ever will be, because I'll never buy another Smartwatch from any company.
Neither do I ever believe any site anymore when they say a product will be able to do x, y or z in the future with an update.
Because of Sony's decision not to update the SW3, I will never buy a Sony product again. So Sony has lost a loyal customer (and I'm not the only one who refuses to buy anything from them again) as my last 3 phones were the compact Z1-5, I have 3 of their TVs which when they die I'll upgrade with LG models, and I'm going to be totally gutted when my Z2 Tablet dies as I use it more than anything else I own, and I'm not aware of any other company that makes a waterproof tablet.
Fool me once , shame on you, fool me twice, shame on me!
I like the scamscum (Samsung) watch and tablet but I can't ever buy anything from them because of their corrupt business practices and can't understand why anyone would reward a corrupt company by buying their products.
It's a strange, mad world we live in!
Android Central Newsletter
Get the best of Android Central in in your inbox, every day!
Thank you for signing up to Android Central. You will receive a verification email shortly.
There was a problem. Please refresh the page and try again.