As an Android user, have you ever been tempted by an iPhone?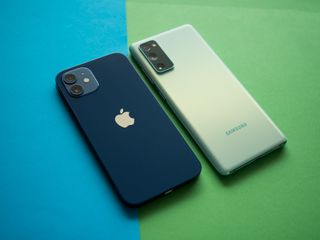 (Image credit: Apoorva Bhardwaj / Android Central)
There are so many reasons to love Android. Whether it's the variety of hardware among the best Android phones, the customization and theming options with the software, or just the ability to "be together, not the same." With over 70% market share worldwide, Android is obviously doing something right!
But in all fairness, Apple's iOS is a very strong, secure, and stable operating system with a lot of great user features. Its iPhones are undisputedly some of the best-made devices around, with great cameras and good displays. As tech lovers, it's only natural to be tempted by what's on the other side of the fence. That happened to one of our AC forums members, with a not-so-surprising conclusion...
We want to hear from you — As an Android user, have you ever been tempted by an iPhone? Let us know!
Join the conversation in the forums!
Get the Android Central Newsletter
Instant access to breaking news, the hottest reviews, great deals and helpful tips.
Jeramy is the Editor-in-Chief of Android Central. He is proud to help *Keep Austin Weird* and loves hiking in the hill country of central Texas with a breakfast taco in each hand. You can follow him on Twitter at @jeramyutgw.
As someone who despises Apple and has never given them a single penny (knowingly), yes. I find their (accidental) stance on privacy compelling, and it is feeling more and more like every company is just a smaller Apple anyway.

Your comment is comment of the day. I was a die hard Apple fanboy until all the stupid things and decisions they've been making and I'm just generally bored of Aplle's controlling and restrictive OS and inflexibility with anything that's not Apple produced. I know we've had our ups and downs on here fuzzy but seriously I can see why you stuck with Samsung for so long, nobody ca touch or compete with then and I'm loving my S20 FE 5G and Galaxy Tab S7+.

Three different posts all saying the same thing, I think we get your point.

As an Android user I did give 🍎 a chance. I had the iPhone 7plus 128gb model? Actually I hated it, IOS & SIRI, always found myself repeating myself with SIRI? It's just not my cup of tea. IOS Is fine but again the walled garden, nah? Android is much more flexible especially with mutitasking. Much more customizable!

I switched from the S21 Ultra to iPhone 12 Pro Max and I'll never look back.

Talk about downgrading going from the best, most feature packed phone in the S21 Ultra to a useless, limited, locked down and inflexible phone that can't even handle intensive games and throttles like crazy, good luck with that overbearing walled garden. I'm done with all that overhyped from Apple as a former Apple die hard fan. I switched to Samsung and my 11 Pro Max mostly collects dust and love the customisation, features and flexibility that Android and Samsung offers, my 11 Pro Max will be my last iPhone and switching to Samsung completely, already have a Galaxy Tab S7 plus to go with my S20 FE 5G.

Well that was a massive downgrade move. I've been using the s21 Ultra since release day and it's a beast of a phone.

As a newly converted Android user, iPhones no longer interest me, I'm tired of the restrictive, limited and locked down OS that struggles to do the basics right like notifications and iPhones are overpriced, overrated and overhyped for what you get for that money with software being so inflexible and with barely any choices of customisation and features, I still have my 11 Pro Max but once its paid off, I'm getting rid of it, deletingmy Apple ID I'm done with the Apple hype train and switching over to Samsung, already have and love my S20 FE 5G and Galaxy Tab S7 plus and will never buy another Apple device. In fact I hate using my iPhone now and always miss using my Samsung devices.

I always carry an android phone and an iphone. Currently have an S21 and an iphone 12

Tried an iPhone because folks kept saying they easy to use and 'just work' but hated using it and found Android way more intuitive and easy to use so stuck with Android. Some folks get on better with iOS which is fine, sometimes when you read some comments you would think an android phone can't communicate with an iPhone, well to be honest I wouldn't know if I'm talking or messaging someone on another Android or an iPhone so just use whatever suits you best and chill with other folks choices. Peace ✌️

I'm tempted every year when the new iPhones launch. I read all about them and admire all the photos of them but eventually lose interest.

I had the iPhone 3 and then the 4. Left it for Windows Phone and won't go back. I have a work issued iPad so I know Apple's game plan. Not for me.

Yep I did it couple of years ago and I'll never do it again 🤣

No way! It would never happen.

I don't own anything Apple and likely never will. I've been "Android" since the G1. Now I'm using Pixels (a Pixel 3 which my husband now uses, and my Pixel 4). I have no desire to switch to anything else.

I just moved back to a S21 from an iPhone 12. I have always owned android prior and I doubt I will ever go back, I truly missed this android experience.

I have "looked" with interest at the smaller offerings, but the lack of removable storage, the lack of customizability which Android offers, and the fact that two of my most important apps don't have iOS versions (besides the fact that Apple just does things that infuriate me from a "keep your hands off my device" standpoint), pretty much prevent me from ever using an iPhone.

No. I had an iPhone issued to me by my employer and used it for almost three years. I hated it. Not as intuitive when performing basic tasks. I would never buy one.

No, not been tempted one bit, I don't like IOS and the phones are over priced.

I have never been tempted to go to Apple by choice. Mostly for the obvious reasons, the OS being too restrictive is the main one and the fact you have to have the Apple charge cable. The one thing I will give Apple credit for is they make some nice hardware and you can get quite a few system updates. I also find iOS isn't quite as good for multi-tasking. My LG G6 was due for an upgrade last month and it was a no brainer to stick with Android and got a Pixel 4a 5G.

Tempted - and switched to iPhone Xr, and now have an iPhone 12 mini. Google services on iOS are great. Chrome is my default browser. I use Google Keyboard too. And with the iPhone 12 mini, I'm back to a "small" phone again.

Each year I'm more and more tempted because brands like Samsung have taken Android and ruined it with bloatware, ads, and a sluggish overall experience. Samsung won't even let you unlock your phone's bootloader to root or flash custom ROMs if you live in the US. OnePlus is still making some good Android phones but have made some design mistakes on several models (OnePlus 9 (non-pro) has a plastic frame and no OIS, for example) and have gotten slower with updates in recent times. As for Google, they're making all of their phones out of plastic now and with midrange specs. I bought the original Pixel XL in 2016 and used it for years, loved the phone. I wouldn't touch the Pixel 5 with a 10 foot pole though.

Nope never. The only iDevice I own is an old Apple TV3.

Android is a superb choice if you live in countries where Android has unsupported services. Chances are that Apple has. It's the reason why I consider again moving back to Apple once I though I was never going back.

You're downgrading from an OS that gives you the freedom to do whatever you want to a restrictive OS that doesn't even do the basic tasks well.

I have never been tempted by an iPhone until Samsung removed the SD card and MST from the S21 line. Now, I'm thinking if I can't use those features (which I used regularly), I might as well go with something different and Apple seems to be the next logical choice.

Apple has always made good products; however, their walled garden approach has always been the deal breaker for me. The irony is Android and iOS inch closer and closer to each other with every new generation, but the walled garden is still there. That is why I'll probably never switch to an Apple product.

I never used an apple product as I'm a Windows phone convert and later shifted to android. IPhone SE looks enticing but it has small battery and smaller screen than its android counterparts. Flagship iPhones are way too expensive in my country. So there's that.

I never thought I would have an iPhone or would be interested in an iPhone, yet here I am typing this from my iPhone 12 mini. I came over from a Pixel 3 and I chose the mini simply because of its size. I just love the size, I have no regrets and honestly I don't want a bigger phone. The trend these days are mini tablets with phone/camera capabilities and I just want a phone with smart features. That's it.

I have never be tempted to move to iOS. I hate closed systems as one that was into porting different custom ROMs and customizing the hell out of my HTC and Samsung phones an I phone would be jail for me.

Tried using an ipad once. Then, my daughter changed the password and forgot what she changed it to. So I had to reset the ipad, and I forgot my itunes password, but Apples own website would not work on the iPad. No matter what I did, it wouldn't load the itunes password reset website. I had to use my Android phone to change my Apple password. Then once I got it working, I could no longer add certain apps onto the tablet, cause it was an outdated iOS. It was 4 or 5 years old and I couldn't even load pandora, netflix, nothing. I didn't have another apple product with legacy apps on it to download.
Gave up and got a Fire tablet hd8 for $50. I'll never get another Apple product.