Android tablet market share now up to 62%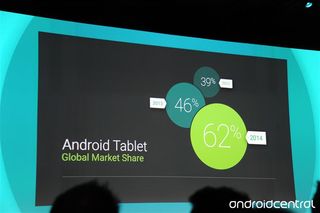 In the early stages of the Google I/O 2014 keynote, Google's Sundar Pichai, updated us on a few facts and figures on how well Android devices are doing around the world. Of particular note, Android tablets continue to be on the up-and-up and now account for 62 percent of the total tablet marketshare.
That's up from 46 percent 12 months ago and 39 percent at the same point back in 2012 and illustrates the continued growth of the Android tablet. YouTube tablet usage is now also up to a new high, with 42 percent of it coming from Android tablets. Tablet app usage has increased 236 percent year-on-year to date. Impressive.
The Google I/O keynote continues so be sure to join us in the liveblog!
62%. That's a killer number of the market. Posted from Google Nexus 5

Unfortunately let's not forget who still gets most of the profits in the tablet market. Posted via Android Central App

Right, but see the bigger picture. The game is no longer in devices sold nor even straight profit made from sale of those devices. The profit is in capturing users into your cloud, getting those users to be centers of continuing profit, either through ad revenue or services sold by subscription. For that, Google gains even on Apple devices because their apps work there too.

I love the dig at Amazon, "This did not include [them], they add a few more points".

My next tablet will be a Sony Xperia running Android. Posted via Android Central App

Good info. Glad to have two Android tablets in my home. AC App via Nexus 5
Android Central Newsletter
Get the best of Android Central in in your inbox, every day!
Thank you for signing up to Android Central. You will receive a verification email shortly.
There was a problem. Please refresh the page and try again.