Android Quick App: Robo Defense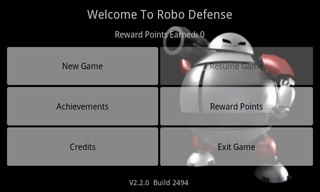 Robo Defense is one of those staples of the Android Market. It's been around since very early on in Android's life, and has been consistently updated to keep the game up-to-date graphically and in gameplay.
Robo Defense is a tower defense game where you're repelling hordes of robots. Defending against robots, ergo, Robo Defense ... everyone clear?
The gameplay is straightforward. You start off on an empty canvas with one hole on one side, another hole on the other, and you need to strategically set up your towers to stop the baddies as they march through. Different levels are set up differently, but Level 0 is a no-frills, easy-to-grasp starter level.
You have a pretty wide range of towers to choose from. Your main three that you'll be picking from are the regular gun tower, missile tower, and slow tower. Over time, as the enemies get stronger and you accumulate more money, you can upgrade your towers. For example, the missile tower can be upgraded to anti-air missiles, a mortar tower, or a medium strength missile tower. Even subclasses of tower you choose, like mortars, have an upgrade (artillery). It's this wide swath of options that affords you the opportunity to avoid repetitious and boring gameplay. Do I want the flame tower (yes, there is one) or anti-air cannons?
Because achievements are all the rage, Robo Defense tracks certain achievements, like beating your first map, playing 25 levels or more all in "fast" mode, or completing a map without losing any life. If you're a completionist, there's enough achievements to keep you occupied for a while. There's also a "reward points" system, where you're awarded points at the end of a game based on how much life you had remaining, how much cash you had, and what your score was. You can spend these points on upgrades to towers you have or you can buy new towers altogether, like the famed teleport tower.
There's both a free and a paid version (with more levels) in the Market, but if you have any love for tower defense games, Robo Defense is like their Android-based grandpa. Do it a favor, respect your elders, and give it a try.
More pictures and download links are after the break.
Get the Android Central Newsletter
Instant access to breaking news, the hottest reviews, great deals and helpful tips.