Google announces Android O, Developer Preview image now available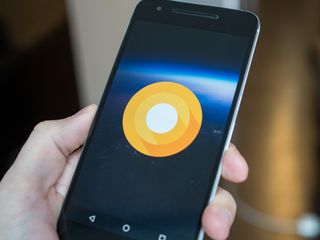 Google is continuing its transparency of pre-releasing early builds of new versions of Android with the announcement of the Android O Developer Preview. As always, the Developer Preview is designed to give developers an early look at what's coming in Android O so they can start to make their apps compatible with the new APIs and design guidelines. It does, of course, give all of us fans of Android an early look at what Google has up its sleeve in terms of new features as well.
Android O, as it stands right now with what Google is showing us, doesn't have a ton of eye-popping features. Just like previous Developer Previews, you get a little taste of new features and more importantly overall structural changes, but future builds of the Developer Preview can and will add more as Google develops it.
Here are a few of the high points in Android O Developer Preview 1:
Background limits: Additional automatic limits will be put on apps running in the background, particularly in terms of background services and location updates. These changes will let developers create apps that have less impact on performance and battery.
Notifications: With Android O, users will be able to manage which kinds of notifications come from each app, rather than controlling all notifications for that app the same way. How granular the controls are will be defined by the app developer. There are also new visual changes to grouping of similar notifications that make it "easier for users to see what's going on" when receiving messages or glancing at the shade.
Autofill APIs: Users can choose an "autofill" app similarly to how you currently choose a default keyboard. Password managers will be able to work with this autofill setting to surface usernames and passwords that you can enter into apps without switching to the password manager.
Adaptive icons: Developers can create adaptive icons that can change based on how the system wants to display them, so they fit in on different phones with different interface looks. New icons can be animated in various parts of the interface when interacted with.
Bluetooth audio: Android O supports high-quality Bluetooth audio codecs, including Sony's LDAC codec.
These are the changes that are most likely to get users excited and ready for the new version to come to their phones, but still require lots of work from developers to support the new changes. At least in this first Developer Preview, there's very little to "show" here — it's mostly framework and API changes that let developers create better experiences when running apps on Android O.
More: How to install the Android O Developer Preview
The first Android O Developer Preview is available today in the form of a factory image file, and is in no way designed to be used on a primary phone or by regular consumers. It's available for the Pixel, Pixel XL, Nexus 6P, Nexus 5X, Pixel C and Nexus Player. Coinciding with that decision, Android O is not yet part of the Android Beta Program — you'll have to wait for a later release that's considered more stable.
According to Google's Android Developers website, the Android O Dev Preview is not expected to be bumped to revision 2 until mid-May, with Dev Preview 3 landing in mid-June and a fourth preview landing shortly before final release in Q3 2017.
Get the Android Central Newsletter
Instant access to breaking news, the hottest reviews, great deals and helpful tips.
Andrew was an Executive Editor, U.S. at Android Central between 2012 and 2020.
I wonder if it will make us go oh! Oooh! Ahhh ! Lol interesting to see new features for a new version of Android!

It's the same thing every year. Battery improvements to apps, blah, blah, blah. I've heard this since ICS. It's not the apps that are sucking battery, it's the useless Google "features" which you can't turn off that suck your battery. All in the pursuit of driving more ad revenue. When I look at battery usage, it's Google system or Android OS that takes my battery, not any app I might install. Google should start prioritizing the user, not their top line.

I don't think you know how Alphabet works.

I disagree. Since ICS we keep seeing more powerful CPUs, GPUs, larger screens, slimmer devices, and while battery capacity has went up it hasn't kept up with what we're getting. I'm not sure what things you want to turn off that suck your battery though. You can turn off location services and turn off auto synchronization when you don't want it... it seems like you're talking about something bigger than those things though. If you are so unhappy with google services and devices just don't use google products. There are other things you can try besides Android.

Disappointing​ that there was so much scope for making the OS easier to use with one hand but google chose not do it. Nothing to address fragmentation too.

If that's anything as awesome as Karen O then oh yeah!

O will be Orangejello lol

Wow already. Well tbh I don't feel hyped for the first time. Everything is feeling the same. Improvements here and there. What I really want to see is something different. A new invention. Or like a remastered OS.

The O logo makes me think it's going to be called Orangesicle and not Oreo.

Considering that most devices never ever get upgraded, I wonder why they even bother to create new versions of the OS as frequently as they do. I have a Note 4 that is more than capable of handling Nougat but there is a slim chance that it will ever be updated. I know this is all contrived to sell more devices but it still doesn't sit well.

Getting closer and closer to iOS stability! :D

So it has "background limits" and "notification limits", but ONLY if the dimwitted developer has managed to (or even thought about) enabling the capability. It needs a way to FORCE apps to save data to the microSD card, because the developers are obviously incapable of it. They need a way to prevent disabled apps from showing up in your app-updates list. They need a way to *SORT* your app list in the play store. And they *absolutely* need to kill the abomination that is "Material Design"
Of course, I'm sure Google don't *WANT* you making full use of your SD card because it might interfere with their mega-cloud dreams.