Is Android more boring than it used to be?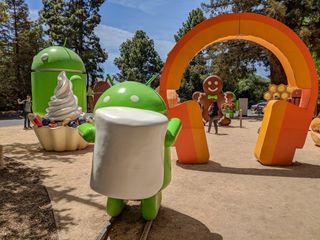 (Image credit: Android Central)
Taking a look at Android as a whole, there's no denying the platform has dramatically changed over the last few years.
Things like modding and rooting used to be extremely popular, but as devices become more powerful and feature-rich, we've seen that community die down considerably.
Some would argue that this has resulted in Android being boring or less exciting than it was in years past, and recently, this was brought up in the AC forums.
Now, we want to know what you think — Is Android more boring than it used to be?
Joe Maring was a Senior Editor for Android Central between 2017 and 2021. You can reach him on Twitter at @JoeMaring1.
Phones are now boring. The usefulness of them plateaued years ago. Google didn't put that much effort into making Android work for other devices so it became boring by default. It would be good to see some niche phones instead of all-in-one generalists. I personally am not that bothered about a best in class camera but I do want a phone with very high quality audio. My colleague at work has eyesight problems so would like a phone with top class ease of access functionality. My old android tablet (and probably many others) is now wheezing with very sad battery life so maybe now is the time for another push with android tablets. I know they're unfashionable right now but honestly, a tablet doesn't need to be amazing to do the job it does best. I have a Surface Pro so that takes care of my high end needs but I still want something for my low end stuff. The iPad Pro is stuck in the middle so I'm never going to go there but I really still need something to mooch around the house with. I think Google lost interest in tablets because they wanted Chromebook to fill that gap. They could have done so much better.

Boring just means that it works. It's a phone after all.
Beyond that, mine has now become my homes broadband delivery device. Looking forward to Android 10 with it's "Desktop Mode." I'll add a Bluetooth keyboard/mouse with USB-C to HDMI cable. Then it'll be my phone/broadband/computer in my pocket.

There's no reason for Android or iOS to innovate. Let's go back to when Windows Mobile was trying to establish itself. Phone cameras were passable, but Microsoft and Nokia decided to do better. Image quality went up A LOT, and Nokia invented OIS for mobile phones. National Geographic was taking Windows phones on photo shoots because of their small size, image quality, and because they shot in RAW image format as well. Apple and Google were going for realistic icons until Windows Mobile came out with a more simplified design. Now all of these features are common. There are several other Windows Mobile examples, but I'm pointing this out to say we need more competition in the market or it'll continue to stagnate.

Yes. Boring. But it just means it's working better than ever. I remember my Motorola dext and how many custom ROMs i used to put on my phone's. Looking for anything that would make it more snappy add a feature. Give me theme options. Etc. Half of the fun with android was trying to make it work better. I don't need it to work better anymore. It's really good . And i am not trying to change it any more than the update provides.

I don't need excitement from Android. I need functionality and it has steadily improved from the days of my first Android phone, the Galaxy S2, which came out in 2011 with Android Gingerbread. Those needing excitement should try mountain climbing, hang gliding or drag racing 🙂

Android SHOULD be boring as should iOS be boring. They should just work and enable others to bring solutions and innovations that run on them. Mobile OSs should be so stable and fluid that one doesn't even think about it as an average consumer. We shouldn't have to GTMF to fix this or that. The OS should get out of the way and let users expand.

I think it is inevitable as the platform ages. I'd rather they not try to spice it up with glory hole cameras and curved displays though. Just go with boring and secure.

Now that the platform has matured, we take it for grated.

Neither iOS or Android are as smooth or communication integrated as BlackBerry 10 still is today. Damn devs F'd the best mobile platform created.

Android has always been boring as an OS. But in the absence of BlackBerry 10 and Windows Mobile, I'd rather have this kind of boring than the jumbled mess and mind-numbingly idiotic IOS...
Android Central Newsletter
Thank you for signing up to Android Central. You will receive a verification email shortly.
There was a problem. Please refresh the page and try again.