Amazon Fire HD 8: Finally, a tablet worthy of your kids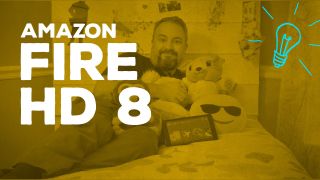 Fun fact: Kids like stealing their parents' tablets. Maybe they're just watching videos. Maybe Pokémoning. (That's a verb, right?) Maybe they're just catching up on emails and building new slide decks. (My kids are weird. Don't ask.)
Thing is, I've never really found a tablet I actually want to let my kids use. High-end tablets like the Pixel are too big and too expensive. Same goes for iPads, really. At some point they're going to drop it. They're going to leave it on the floor to be stepped on. That's just the way it is.
And I've got a real aversion for cheap tablets. You know — those off-brand things that go for $50, never get updates and have zero in the way of support. But what if you could spend just a little bit more for something decent. And, as it turns out, something that has a little bit of kiddie controls already built in.
And that's why I've been pleasantly surprised with the latest from Amazon — the Fire HD 8. It starts at just $89 for the 16GB model, with "special offers." (That means ads, of course.) I ramped things up just a little bit though, going for the 32GB model and no ads, and came out at about $135. That's not nothing, but it's also not horrible for something that's really gotten a lot of use in my house. (Plus, having a range of options is great!)
Get the Android Central Newsletter
Instant access to breaking news, the hottest reviews, great deals and helpful tips.
OK. I am a long-time AC reader, and I know you guys have to make your dime, but 7 of the last 20 posts are basically ads, either directly or for discounted merch. I find myself more and more drifting over to Android Police (2 of the last 20) and Android Authority (1 of the last 20) in frustration.

Android Police is honesty so much better in terms of Android content...

Watch out. You are about to be reminded that you don't matter since only 1% of their traffic is from people like us.

Really wish some of you would stop acting so whiny. Honestly I have idea how the staff of this website puts up with this constant ********. It's amazing really, this website gets the most unjustified amount of here any website I've ever seen, and I've been a reader here since 2011.

Do you want to pay for a monthly subscription? I don't complain because this app is free. The website is free.

Love it...whiny for voicing an opinion. I've been a AC reader since 2011, respect the quality of the writing, and have often purchased accessories through the discount offers found here, in support of what has been my go-to source for Android news. Having more than one-third of the content basically advertising is just too much in my opinion. Would you be happy if there were nine ads for every one news post? 18 ads for every two news posts? What's YOUR limit? I think everyone has one if you are honest with yourself. Ad revenue is the holy Grail, and if no one expresses concern AC could end up being just collection of advertisements with a few stories sprinkled in, just like those click-bait websites that we all profess to hate. I would hate to see that happen. AC can do what they want, no one is making me read them. Facebook went through the same thing, pushing the limit on sponsored posts until the backlash forced them to dial it back a bit. I left FB for a while until this happened. I might leave AC for the same reason and come back in the future and see how things look. AC's choice, my choice.

That title pic is creepy, lol. We have a Fire Kids Edition for my son. Waaaaay better than the junk Nabi2 he had before. And it's easy to set restrictions in "Free Time". He's 4, gets an hour of "educational apps", then another 30 min of whatever he wants. He gets so engrossed in the educational apps, he spends 90 minutes a day on those, when he plays. Well worth it.

Kids or old people who don't know how to use tech.

Stay off my virtual lawn!

I bought two of the Fire 8 32gig tablets for my kids (7 and 9) to use on an upcoming cross country trip. Going to download some movies and tv shows on them so they can watch offline. Really nice tablets.

I've been surprisingly pleased with it. Not bad at all for the price.

I'd have a hard time buying something without Google Play support. Apps aren't updated as frequently (if at all sometimes) on the Amazon store. Plus, I use a "family" gmail address for the Play Store which allows me to install all my paid apps on all of the devices my family uses (3 phones and 3 tablets).

I side loaded google play services and store on my fire 7

We got two of these for our kids, In retrospect, I wish we had gotten iPad minis. We got the Kindles for the parental controls. Recently I discovered that you can't use Audible (for audio books) with parental controls enabled! Also, battery life isn't that good, and they take a while to charge.

Wait, what? Yes you can. I have it set that way on my kid's Kindle. I don't have the device in front of me, but you can specify which features are blocked by parental controls. In fact, the thing was driving me crazy for a while by autodownloading audiobooks--then telling me that the storage was full--until I could find the setting to turn off the automatic downloads of any purchased audiobook where my kid is reading the Kindle version.

"Important: Personal documents, music, audiobooks, Amazon Video rentals, and titles from the Prime Video catalog can't be added to a profile." - from Amazon Device Support › Fire Tablet 3rd Generation Help › Fire Tablet Apps › Amazon FreeTime on Fire Tablet›
Add Your Content to a Profile in Amazon FreeTime
[If I try to add the actual link, the comments system marks the post as spam.]

The Audible app doesn't work in FreeTime.

What do you use to download and read audio books?

Don't they also sell a kids version designed for drop protection? Thought they had one with foam wrapped around it.

It's the same version as the standard Kindle Fire (not the Fire HD 8), but it comes with the foam case and an enhanced warranty with full replacement for drops.

I got 2 for my 5&7yr old. I'm curious to see how they like and use them after Christmas Day. If you have them, how'd you like them?

We have one for my 4-1/2 yr old, and he loves it. No worries about breaking it, and parental controls ("Free Time") are easy to use. His Nabi 2 was junk, ALWAYS needed reset, froze constantly. The Kids version of the Fire always runs good, battery lasts, lots of good apps. Again, parental controls are a breeze. You can choose the apps they can use, and also set time restrictions. My son can't watch his 1/2 hr of Mario Bros on YouTube until he has 1 hr on educational apps. Love that thing!

Thanks, sounds like you and your child enjoy it. My children are overdue to upgrade from Leap Pads.

I got one for some games. Play store is easy to install.

I tried on mine but Play Store wouldn't start...it kept saying the Google Play Services need updating and they were updated.

Do a google search. I found several how to videos. It was simpler that i thought.

Modern dad. Nice. Love the maniacal kid laugh at the end. Still at the preschool and daycare(preschool next year) stage myself.

Phil, I have it on good authority it's known as `moning. Thanks for the great piece.

Had one and returned it. No YouTube Kids (or YouTube at all), my daughter was not happy coming from a Samsung Tab 3 kids edition.

That thumbnail looks like a paedophile sitting in a kids bed

If that's what you truly believe then you have serious issues. Have some respect for Phil.

My 6 year old has one coming from his grandparents to replace the older Fire he lost this summer. You are right, you simply cannot beat the Kindle Fire for a child. In fact, i may replace my old Nexus 7 with one later next year (I only use the table to play the "Clash" games right now).

Excellent tablet. No need to spend anymore for one. with Amazon Prime it's a no brainer. Battery life has been outstanding on our 32GB ad free version. And the support so far for updates has been very good. Posted via the Android Central App