Alcatel Idol 4 + 4S hands-on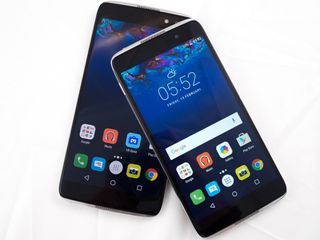 One of the major trends of the past year in smartphones has been the move towards increasingly affordable phones with high-end features. Alcatel was part of that conversation in the last year, with the Idol 3 delivering surprisingly capable hardware for not a whole lot of cash.
So where next? In 2016, the company is looking to build quality, materials and performance to set itself apart in an increasingly crowded space. In essence, the leading mid-tier manufacturers are repeating the actions of the high-end players a few years ago — once a phone works well enough, smooth out the performance kinks, add premium features and make it look pretty. And at Mobile World Congress, the new Alcatel — with its new logo and branding — has unveiled the Idol 4 and 4S, two seriously sleek handsets that look set to shake up the mid-range Android space.
Picking up Alcatel's two new phones for the first time is a surprisingly familiar experience. If you've held any of Samsung's Galaxy S6 series phones, the cross-pollination is fairly obvious. From the right angle, the glass-fronted, glass-backed handsets look a lot like Samsung's latest — but that's not a bad thing. The solid aluminum trim has a premium feel to it, while the slightly curved glass of the front and back — framed by a sliver of plastic — completes the look.
Had these phones been released just a year or two ago, they'd have been instantly heralded as one of the best-looking devices around.
But of course things are more competitive these days, especially in the mid-range space, and so the technology inside is more important than ever. For starters, you're looking at two really great displays across both devices. The smaller and cheaper of the two, the plain old Idol 4, has a good-looking 5.2-inch 1080p IPS display, while the larger and speccier Idoll 4S steps up to a really spectacular 5.5-inch QHD (1440p) AMOLED panel.
Audio has also improved considerably in the Idol 4 series, with dual speakers on the front and rear of both handsets — the phone's orientation sensors let it know which set to use depending on whether it's face-up or face-down. And the audio quality from both is shockingly good, helped out in part by audio tuning from Waves. The Idol 4's speakers strike the same great balance between bass and volume as high-end devices like the Nexus 6P and HTC One M9.
On the inside, the Idol 4S is the more interesting of the two, running Qualcomm's new Snapdragon 652 processor. The 652 features a new Adreno 510 GPU, which helps it handle that high-res screen, along with an octa-core CPU. The CPU features four low-powered A53 cores for less demanding tasks, paired with four new A72 cores for more performance punch. Meanwhile the Idol 4 packs a Snapdragon 617 processor — a chip we've seen in a few handsets in 2015, with varying results in terms of performance.
Image 1 of 5
That said, both phones performed admirably in our brief time with them. Alcatel's latest UI, which is a very lightly skinned version of Android 6.0.1 Marshmallow, absolutely flies. And it's close enough to Google's vision of Android that purists won't find too much to complain about. For their part, the company's own apps, including a stylized music player, gallery and security hub, fit pretty well within the frame of Material Design
Alcatel's also introducing a new programmable button in its latest devices. The "Boom" key, located on the right edge, can perform a variety of tasks depending on what the phone's currently doing. With the screen off, a quick press launches you directly into the camera app. At the launcher, the Boom key fires up an animation reflecting current weather conditions. And within Alcatel's video app, you can press the key to trigger special video effects.
The key's features range from neat to relatively useless, but its placement could cause issues — being at thumb height for right-handed users, it's pretty easy to mistakenly hit it to wake the phone up thinking it's a power key.
Image 1 of 3
The company has also continued to improve its camera capabilities, with the Idol 4S packing an impressive 16-megapixel rear camera (with a Galaxy S6-like protrusion). The camera app is quick to shoot, with plenty of detail and clarity in the daylight images we took. With no OIS (optical image stabilization) included, you're likely to lose a fair bit of detail in low light, however this isn't necessarily a feature you'd expect from a mid-level handset.
In the Idol 4, you'll step down to a less trailblazing 13-megapixel shooter, while retaining most of the camera functionality. Elsewhere, both phones feature a fairly impressive 8-megapixel front-facing camera — though the real test of this will be low-light selfies, which we weren't able to demo during our brief time with the phone.
Image 1 of 4
Pricing is set to range from €279 to €449 depending on configuration, with the higher-specced Idol 4S, complete with VR headset box, likely falling towards the high end of that spectrum. And even at this price the phone has a lot to offer — quick performance, near-vanilla Android and some neat differentiating features — including a Google cardboard viewer that doubles as the device's box.
The Idol 4 will launch in 50 countries in its first three months, starting in April 2016 — and we're look forward to spending more time with Alcatel's latest in the near future.
Android Central Newsletter
Get instant access to breaking news, the hottest reviews, great deals and helpful tips
Alex was with Android Central for over a decade, producing written and video content for the site, and served as global Executive Editor from 2016 to 2022.
So these looking like the S6 is OK, but the A9 looking like an iPhone isn't. Hmm.... Posted via the Android Central App

These have some design similarities (like the camera and slightly curved glass) with the s6, but they look vastly different for the most part. I can't say the same for the A9 compared to the iPhone. Posted via the Android Central App

This looks like an Xperia and a Galaxy had a baby. That's a great combination in my book. The A9 was like a copy and paste iPhone. Posted via the Android Central App

So because they used the same materials, it looks like the S6? Where's the physical home button? Then it'd look like an S6.

Apparently Samsung has a monopoly on curved glass. Posted via the Android Central App

The article pointed it out. I was commenting on the fact that HTC copying Apple was generally frowned upon, but Alcatel copying Samsung is OK, and even considered a good thing. Personally I'm OK with any phone looking like any other phone. Good design is good design. Posted via the Android Central App

The bezels look similar but it has it has dual front rear speakers and that dedicated button. Good Job Alcatel.

Yeah, because Alcatel is kinda trying to make breakthrough and HTC was the first Android. VZW Moto X DE/N7

Geebus.... who cares!!! How many different variations of a flat rectangle can there be without some similarities!

Awesome!! My thoughts too. Hypocrite s.. I love both Posted via the Android Central App

Those who complain about the a9 are but hurt over iPhone s. They really do want one but either can't afford it or afraid of the idea of them owning it. I love the a9 and the 4s. I will own the m10 and this new 4s Posted via the Android Central App

Wow the 4S is a gorgeous phone. If this thing has NFC, sign me up. Posted via the Android Central App

Yes, it has NFC.
But no band 12, which is a bummer if you're on T-Mo.

Where did you see the radio info? Posted via the Android Central App

0: Really? I must have evidence. To not include Band 12 is a travesty on Alcatel's part. It most likely has it but not enabled? Posted via the Android Central App on my Frost Nexus 6P

So the original Idol 3 has band 12 as I am using it right now, but all of a sudden they take it away for the Idol 4 and 4s? As a great man once said... " I ain't buying it" Posted via the Android Central App

Looks like there are a few different SKUs. The "6055H (LTE Cat6)" has these LTE bands*: 2(1900), 3(1800), 4(1700/2100), 5(850), 7(2600), 12(700), 17(700), 27(800), 28(700) *source: GSM Arena
http://www.gsmarena.com/alcatel_idol_4-7897.php

So, it's basically a cheaper Galaxy S6 with nearly-stock Android? I'm interested!

and sans hardware buttons.. : )

And no lag .....hopefully

Looks pretty good. Hope the price in the US is reasonable. $500 for the top-end 4S looks steep, but if that 652 has the power, then I might be interested.

Direct rip off cosmetically if the S6 and I'm sure nobody will moan like they did about HTC but... I like it a lot! I'm with a Note 5 right now, don't game or use the S Pen, it's the screen I love.... If the 4s has a screen that is close to or as good I really would consider cashing in on my Note 5 Posted via the Android Central App

Does Samsung make the screens for the Alcatel? I'm not really aware of anyone else making AMOLED. Posted via the Android Central App

I'm not sure to be honest, you could be right Posted via the Android Central App

I could be mistaken but I believe Sharp makes AMOLED panels. Posted via the Android Central App

Super AMOLED is Samsung's version or take on AMOLED. AMOLED is general Sent from my all-so-temporary idol 3

Amen Posted via the Android Central App

I like the idea of both dual front and rear firing speakers. Color me intrigued by the 4s Posted via the Android Central App

$310-$500! Honor 5x definitely wins... I could get moto x pure edition too for that price. Posted via Android Central App on 1+1

I dont think the USD price should be extrapolated from Pounds. It's never as simple as using the exchange rate. It's likely that the price in USD will be cheaper. Posted via the Android Central App

It won't be that price. The Idol 4 will likely be closer to $199 in the US and the Idol 4S around $249. Different variations/configurations will cost more obviously. Prices in Europe don't translate to the US via currency exchange rates.

****** Huawei software never wins Pat Posted from my Nexus 6/Nexus 7 2013/Surface Pro 3

I'll guess $249 for the Idol 4 and $320 for the Idol 4S. Comments! Posted via the Android Central App

$320 for the 4S would be a steal. Posted via the Android Central App

Definitely think 249 is likely for the 4. Remember pre orders on the 3 were 199 last year so maybe we'll see something similar. Posted via the Android Central App

$199 for the 4 would be incredible. You might have a point just to get them out there. Posted via the Android Central App

I'm guessing much higher for the 4S

That's perfect truth be told. Posted via the Android Central App on my Frost Nexus 6P

Looks like a great device especially 4s..
Waiting for it to launch in India Posted via the Android Central App

Not happening , but redmi note 3 is coming

That's cool. The four speakers should be ungodly for those Netflix or CBS binges. They just have to convince me and plenty of other folks to actually consider them as a true tier one manufacturer like Samsung or LG. Y'know, kind of like how Kia wants you to buy their K900 luxury car and not the cheap Forte... This Android with the AC App is On Fleek.

I got the Idol3 for $140 (the 5.5) so I got a deal, but if the Idol3 does not get 6.0, I am done with Alcatel. I purchased Alcatel once, but I will now know they do not update their phones. I will probably go back to Nexus this year.

I paid 250 for my Idol 3 so I'm extra upset at not getting Marshmallow. I'm not interested in phones that won't get updates. I dealt with that enough in the past. I'll go back to Nexus. Posted via the Android Central App

They update Alcatel one touch XL on t-mobile after only 2 weeks after release. O wait that's windows 10 mobile not android :')

Heard nothing about JBL or custom speakers. I'm hoping they're still included. Really nice devices. Possible Nexus manufacturer in the very near future Sent from my all-so-temporary idol 3

JBL is there. Posted via the Android Central App

Thanks Sent from my all-so-temporary idol 3

Most of the time that is only a custom EQ anyway Posted via the Android Central App

How do u mean? Sent from my all-so-temporary idol 3

Well like the Harmon Kardon M8, it was an EQ, like beats was in the M7 Posted via the Android Central App

Got it. But Alcatel included JBL earphones to go with the custom EQ. And it's quite good. Sent from my all-so-temporary idol 3

I would love to see Alcatel make the Nexus 5 (2016)

I'm really curious about the dual front and rear speakers. That's a first among any manufacturer at this point isnt it? I got the idol 3 for my parents and they loved it. Great to see Alcatel continuing to put out good phones at amazing prices! Posted via the Android Central App

These look niiice. Posted via the Android Central App

Interesting. Monthly Android Security Updates? via LG Flex2 with BlackBerry VKB

Does the 652 support DDR4? Posted via the Android Central App on my Frost Nexus 6P

No. 933MHz dual channel LPDDR3. It still outperforms the 808 and 810 in daily usage though. Due to the amount of throttling experienced by the 808/810 in normal use, the 652 with its far newer a72 cores will beat the 808/810 in everything except single core benchmarks with a cold phone.

Doesn't also have a better Adreno 520/30 graphics as well? Posted via the Android Central App on my Frost Nexus 6P

The 652 has an Adreno 510, which is pretty comparable to the 418 in the 808, albeit with the 510 consuming slightly less power. The 510 isn't quite as powerful as the 430 in the 810 though the 652 has much better thermal properties compared to the 810 due to the lower clockspeed and more efficient a72 cores, leading to less GPU and CPU thermal throttling. The Adreno 530 is what will be in the 820.

Thanks for that info. Looks like a solid chip

Unfortunately going forward there isn't going to be too many differences in phone designs. With things being perfected like camera placement, button placement, speaker placement etc we are in a time where companies are going to have to 'copy' each other for the best functionality (how many variations of a candy bar shape can you have?) get over the fact that this phone looks like that phone, and stop discrediting a phone bc it has a metal frame, charging port on the bottom, glass back, all metal build etc when someone did it first.
Cars all have four wheels, two headlights, a radio in the middle of the console etc. When the first car came out with a rear view camera, it became standard on cars, not because they wanted to rip off the original idea, but bc it was a good idea.
We should be grateful that a midrange company can release a similar design as an iPhone or flagship Android at 1/3rd of the price!

Who cares what it looks like. I want a decent phone that doesn't cost $600+. Posted via the Android Central App

I've been waiting for this phone for a year and it doesn't have a fingerprints reader bull honky Posted via the Android Central App

Does anyone know the memory size of the Idol 4 and 4S? I want to upgrade my Idol 3 and want a phone with at least 32GB to start. Even with a micro SD card Installed it was a pain to move apps to the card all time because the main memory was full. Posted via the Android Central App

That shouldn't be a problem with Marshmallow's adoptable storage, no? Posted via the Android Central App

If Alcatel implements Adoptable storage, that won't be a problem. The Idol 4S comes with 32GB memory (I saw it on another review after I posted my original comment), so now I know I will have the storage I need. Posted via the Android Central App

Thumbs up from me. Posted via the Android Central App on my Galaxy S3 Neo Dual Sim which thankfully doesn't have S-pen and does not have a horrible metal body.

Fingerprint reader? Posted via the Android Central App

Out of all the phone out of MWC. These phones are the most intriguing! I have the idol 3, so I'm really hyped about these!

I don't understand why people convert price from pounds to USD. The rumoured price is 260 pound for the Idol 4 and 380 pound for the Idol 4s. That means the price will be 260 USD and 380 USD respectively. The Idol 3 debuted at $250 and costed 250 euro in Europe.

Euros (€) quoted, not sterling (£) Posted via the Android Central App

Looks decent to me. Would be disappointed with no upgrades considering almost stock It's on my watch list Posted via the Android Central App

So over $500 USD for a phone with a midrange cpu. This was a hands-on but no mention of ram capacity or speed, no mention of storage options. Nothing about the LTE categories, etc. Was this a review or an advertisement? I'm leaning towards the latter.
Android Central Newsletter
Get instant access to breaking news, the hottest reviews, great deals and helpful tips
Thank you for signing up to Android Central. You will receive a verification email shortly.
There was a problem. Please refresh the page and try again.