Anker makes a good case that the Soundcore Space Q45 is worth a strong look as a serious alternative when looking at over-ear headphones in the same price range, thanks to a quality fit and performance.
Pros
+

Solid audio quality with EQ

+

Good, custom ANC performance

+

Comfortable fit

+

Excellent app support

+

Reliable button controls

+

Outstanding battery life
Cons
-

No aptX codec available

-

Headband cushioning thinner than before
Why you can trust Android Central Our expert reviewers spend hours testing and comparing products and services so you can choose the best for you. Find out more about how we test.
Anker's value proposition often leans toward being the alternative when you want to get quality performance at a lower price. That includes the Soundcore lineup of headphones, which deliver compelling features and playback options that generally come in more expensive pairs.
The Soundcore Space Q45 comes with a little bit of everything, all of which combines for a package that's worth considering if you're looking for something that feels like it gives you more than you paid for.
Anker Soundcore Space Q45: Price and availability
Anker launched the Soundcore Space Q45 in August 2022, and they are easy to find online and retail. They started at $150 and have come down a few bucks at various times, so you could luck out during a sale. They come in black, blue, and white.
Anker Soundcore Space Q45: What's good
If you've used previous Anker headphones, you will notice some design similarities with the Soundcore Life Q30 or Life Q35, both of which the Space Q45 replace as a more refined pair. While the same materials largely apply here, these headphones just have more quality craftsmanship to them, right down to the faux leather used for the ear cups.
They also fold in to fit in the included carrying case, much like the others did. Personally, I found the fabric-lined cases of the Life headphones more appealing than the rubberized one included with the Space Q45, but it's a personal quibble that doesn't really change much as far as protection goes.
As I expected, the Space Q45 were comfortable to wear for long stretches, given their predecessors succeeded in doing the same. The ear cups are soft enough to not feel like they squeeze your head, though the cushioning on the headband is shallower this time.
On paper, the Space Q45 has a lot going for them. You get active noise cancelation (ANC) that's both adaptive and customizable, plus a number of other options within the Soundcore app. Starting with the ANC, the headphones utilize a four-mic array split on either side to cancel out background noise — either in an adaptive form that raises and lowers the effect relative to what's around you, or at a steady level you set yourself.
The adaptive option tends to work well, pushing the headphones to drown out as much of the ambience in the background as possible, though it hits an operational limit. They effectively handle low-frequency sounds, like the droning sounds of an airplane, train, or bus, except struggle with high-pitched sounds that pierce through. You end up with mixed ANC performance that's pretty much on par with what you can expect at this price.
The Transparency mode works well enough to pipe in outside sounds, enabling you to hear what's happening or to quickly chat with someone without taking the headphones off. There is a Normal mode that turns both ANC and Transparency off, but I only used it sparingly, even if it was the best option to preserve battery life.
As for sound, the Space Q45 is an interesting mix. They support the SBC, AAC, and LDAC Bluetooth codecs, yet miss out on aptX. Despite the omission, Anker built these headphones to please most ears without skewing too far one way or another. It's obvious regardless of what genre you're playing, where bass comes out with enough thickness to complement the modest mids and airy highs.
The Soundcore plays a key role in letting you use the EQ to tune the sound how you want. There are more than 20 presets to choose from, with Anker's own Signature EQ mode among the best (and on by default). Create your own with the eight-band EQ to fine-tune the sound, which can deliver pretty good results.
That you can play hi-res audio is a nice plus, and that works in both wireless and wired configurations. That's not a perk you always get in headphones at this price, but it speaks to the versatility at hand here.
Call quality is quite good, with a wind reduction mode you can toggle on in the app. The onboard controls allocate volume and playback to the right cup and the power and mode toggle button on the left, where you can cycle between ANC, Transparency, and Normal. Hold down volume up to skip a track, and volume down to repeat one.
And finally, there's battery life, which is excellent by any measure. You can expect over 50 hours per charge with ANC on at moderate volume. Leave it off and you go north of 60 hours. Plug in via USB-C and a fast charge of just five minutes can crank out up to four hours for you in a pinch.
Anker Soundcore Space Q45: What's not good
If you prefer thicker headband cushioning, you may find the Space Q45 gets perilously close to the actual plastic. It has the benefit of lowering the overall profile for a nice aesthetic but could be physically noticeable if your head is more sensitive to a lack of cushion. This is a highly subjective point, though, so you may not notice anything at all.
Most of the other potential issues follow a similar path but there will likely be ways to remedy them. If the sound isn't great off the bat, you can try your hand with the EQ in the app. The same goes for the ANC, which you can play around with a little until you inevitably hit a wall in how much it can block out. The controls are effective, but don't be surprised if you accidentally change volume when you only try to skip or go back a track.
Anker Soundcore Space Q45: Competition
The best wireless headphones are only a small number in a market saturated with so many choices that appeal to every budget. In this case, the Audio-Technica ATH-M50xBT2 is a mouthful as far as their name goes, and will cost you a little more, but offer features and performance that stand out.
If more bass is on your mind, then you can always consider the Skullcandy Crusher Wireless, which has its own bass slider to adjust how much of a boom you want on the fly. Don't rule out the Treblab Z7 Pro, which may look like Sony clones, but play far better than you might otherwise expect.
Anker Soundcore Space Q45: Should you buy it?
You should buy this if...
You want good sound with ANC support.
You want a comfortable fit with physical buttons.
You want an EQ with plenty of options.
You're looking for good value for your money.
You shouldn't buy this if...
You prefer a thicker headband cushion.
You want aptX codec support.
You prefer to have heavier bass.
Anker makes it hard not to like the Soundcore Space Q45 simply because they do the key things well, and don't charge a premium for it. Are they better than headphones twice the price? Definitely not, but they will play well enough to make you feel like the gap between them isn't as significant.
They're mid-range over-ear headphones that neither cost a fortune nor force you to compromise too much on what you get out of the box. Based on everything you get here, you're not likely to come away disappointed with how they fit and sound.
Anker Soundcore Sport Q45
The Anker Soundcore Space Q45 are mid-range over-ear headphones with active noise cancelation (ANC) and excellent app support to access additional features you can customize for yourself.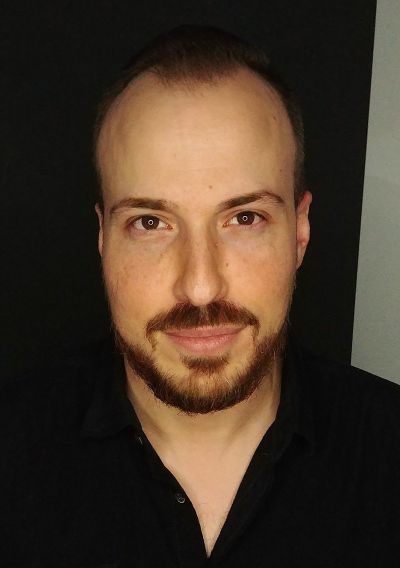 Contributor, Audio Reviewer
Ted Kritsonis loves taking photos when the opportunity arises, be it on a camera or smartphone. Beyond sports and world history, you can find him tinkering with gadgets or enjoying a cigar. Often times, that will be with a pair of headphones or earbuds playing tunes. When he's not testing something, he's working on the next episode of his podcast, Tednologic.