About those new Adobe Reader permissions ...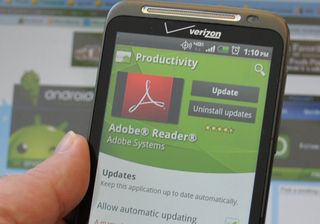 We've gotten a few e-mails from you folks out there worried about why the new Adobe Reader update needs permission to read your gmail. Sounds scary, eh? Not really. Just as we expected, it's so the app can open up PDFs from within gmail. Adobe's gone back and added it into the app description, which now reads:
So the sky is not falling, folks. Oh, and the real reason we care about this update? It now works with Honeycomb. You can update at your leisure.
Phil Phil Phil! This news is pedestrian... Keep those eyes locked! at Google i/o please. And grill some Google Engineers about company secrets... like WHY isn't google selling music...

Here's your answer right here:
http://mediamemo.allthingsd.com/20110509/google-launching-its-cloud-serv... In short, "Unfortunately, a couple of the major labels were less focused on the innovative vision that we put forward, and more interested in an unreasonable and unsustainable set of business terms,"

or why google isn't radically overhauling the market?????????? but yeah does this move to SD yet? the desire bravo has rubbish internal memory and us "old" phone users have to watch our memory usage :(

There's an Android Market focused event tomorrow morning:)

I feel your pain ! this why I stopped using \ uninstalled Adobe Reader from my MILESTONE 1 , since it can't be moved to SD & the QuickOffice can do the same

Or why Google isn't expanding the Paid apps section to the rest of the world ?????????????????????? Or why Google hasn't made the app belling (or whatever it called) an option to the all Android phones & not just limited to a specific carriers ???

Carrier Billing or In-app billing?

Im not sure whats Google calls it Its the Service that lets buy apps from the Market & Pay for it through your Phone bell (Its Available to AT&T only) Sony Ericsson have it to their "Play" service
MicroSoft Also have it in their Windows Phone 7
even Nokia is offering it on their OVI store

That is going to take two to tango. The carrier has to allow it.
Android Central Newsletter
Get the best of Android Central in in your inbox, every day!
Thank you for signing up to Android Central. You will receive a verification email shortly.
There was a problem. Please refresh the page and try again.