7 things Android's Wear OS should steal from watchOS 7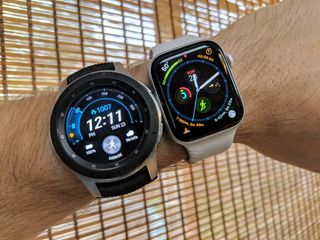 (Image credit: Android Central)
At this year's online-only WWDC conference, Apple unveiled several updates and new features to watchOS, many of which I think would be welcome new additions to or enhancements of existing Wear OS features. I won't rehash everything that was showcased in the two-hour-long keynote, but these are the features that I'd love to see Google steal from Apple to enhance its wearable platform.
Seven watchOS 7 features that Wear OS should adopt
I do want to start by noting that Google put in a bid to purchase fitness wearable company Fitbit in 2019. That acquisition is still going through the regulatory approval process here in the U.S., as well as in the E.U. and other parts of the world. Should the proposed sale go through, I think the general idea is that pairing Fitbit's hardware capabilities and fitness platform with Google's software, machine learning, and artificial intelligence chops, might bring the compelling competitor to the Apple Watch juggernaut that we've all been waiting for.
More (and better) fitness modes
Both Apple Fitness (yep, Apple is changing the name of the Workouts app) and the Google Fit app already have tons of great workouts. In some areas, Google seems to have even more unique ones, but the fact that Apple keeps adding timely and relevant exercise modes is something Google should emulate with Google Fit and Wear OS.
In watchOS 7, Apple is adding support for more types of workouts at more intensity levels than ever before. Options like Core Training, Dance, Functional Strength Training, and Cooldown activities have been added to the first-party Workout app's already impressive list of activities. Google Fit already has some overlap here with options that complement Functional Strength Training (Cross Fit, High-intensity interval training (HIIT), P90x, and Interval training), options for Dancing (Flossing and Zumba), and ways to Cooldown (Meditation, and Yoga). Despite this seeming parity, Google needs to make sure that it is staying on top of the latest fitness trends and crazes.
Of course, both Google and Apple allow you to tie-in third-party apps which may have an even greater level of fitness and exercise mode customization, but the fact is that many people in both camps just opt for the built-in option, so that needs to be as good as it can be.
A more useful fitness app on the phone
Even though Google updated the Google Fit app in April of this year, it is still pretty bare-bones when compared to Apple's Workout and Health apps. Most of the improvements to the Google Fit app were aesthetic and were designed to encourage you to want to open and use it more. As mentioned above, you can, of course, connect third-party apps like Strava and Runkeeper to Google Fit, but there are nowhere near as many integrations here as are available with Apple's apps and the Apple Watch.
With iOS 14 and watchOS 7, Apple has not only tightened up the look and feel of the Fitness app, but it has added a new summary tab for your activity history, workouts, and fitness and health trends. It sounds like a lot to look at, but it's presented in an easy-to-digest manner that Google Fit and Wear OS would surely benefit from emulating a bit.
Integrated, on-device sleep tracking
Many may not think this feature is a big deal, but once you start tracking your sleep, you'll never look back. A big reason why I've never owned an Apple Watch or Wear OS device is that neither of them could monitor and track my sleep over time as well as my Fitbits have. Not only did neither support an integrated and on-device solution, but the devices' battery life just didn't make it a viable option.
Apple's watchOS 7 not only finally brings native sleep tracking to the Apple Watch, but it has made a rich data visualization experience in the iOS Health app. It has also integrated bedtime features between the watch and your iPhone with iOS 14 to do things like start dimming your device screens and prompting you to run nighttime automations or Shortcuts to get your smart home ready for the night.
Wear OS also does not have a first-party, on-device sleep tracking solution, though the Google Fit Android app can pull in data from other third-party Wear OS apps that can do sleep tracking. A next-generation Wear OS watch (perhaps a Pixel or Google/Fitbit device) could not only bring sleep tracking capability directly to the watch, but it could learn from Fitbit's fantastic battery management to allow you to go several days, if not a full week, on a single charge. This is something that even the latest Apple Watch with watchOS 7 cannot yet do.
With Google's control over Android, there is plenty of reason to think that the company could tie together sleep insights from the watch to trigger nighttime modes on the phone, help automate your smart home, and compile all of your sleep information in the Google Fit app. Heck, they've already got a great start with Fitbit's app, which does a fantastic job of capturing your sleep data and giving you useful data on your sleep insights.
Better handwashing guidance
Ok, this is another area where Google (and Fitbit, and Samsung) beat Apple to the punch with hand washing reminders and notifications. Still, here it looks like watchOS has taken that idea a step further with automatic handwashing detection and monitoring. That's right, watchOS can tell when you're washing your hands and will initiate a 20-second timer with an onscreen animation to encourage you to do a thorough job of it. And after you're done, you're rewarded with a cute splash screen (pun intended). Your handwashing habits are tracked in the Apple Health app, so you can see how well you're doing to combat the spread of germs and viruses over time.
Wear OS's current implementation of handwashing will notify you every three hours to wash your hands, and will give you an onscreen timer (for 40 seconds) with a more basic animation than Apple's. Where it could really improve is in the area of detection. Of course, the way the Apple Watch does this is by listening to the water/soap sloshing noises through its speaker, so this is something Google would have to build in a future Pixel, or Google/Fitbit watch or encourage other OEMs like Fossil to do on their end. But Google could still build in the software support for handwashing detection. Maybe it could even catch up to watchOS 5 with useful health and safety features like fall detection, or leapfrog Apple with some other kind of advanced features like temperature detection or blood sugar monitoring.
It's complicated
While Wear OS has been miles ahead of watchOS in offering customizable and third-party watch faces, Apple's platform has still provided some great customizations within its first-party watch faces. The ability for users to customize complications (those little widget-like bits of information in different corners of a watch face) has been a strength of watchOS for years, and now Apple has taken that a step further. Now Apple Watch wearers can use multiple complications from the same app on their preferred watch face. This means that you could potentially see different metrics from your favorite weather or fitness app, get different touch controls to your home automation apps, or see your baby's feeding and sleep schedule, all on the same watch face.
While watch faces are very customizable in terms of aesthetics on Wear OS, the ability to pull in and customize that kind of data from third-party apps at a glance hasn't really existed before on the platform. It would take Google creating some of its own first-party watch faces to then pull third-party app data into for this to work, but it is certainly something that the company is capable of doing. Will they?
Shortcuts on your wrist
This one may have gone by too fast for you to notice during the keynote, and it might not even get a ton of press coverage initially, but Apple announced that it is bringing its powerful Shortcuts app to the Apple Watch, which can be accessed as a complication in watchOS 7. Shortcuts is Apple's tool for users to create automations on their Apple devices (up until now only iOS/iPadOS) to trigger various actions on-device or with other devices or services.
With Google announcing Google Assistant Action Blocks, it stands to reason that the company could empower Wear OS devices to invoke the routines created in the Action Block app to trigger simple automations, much in the same way that Apple is doing here with Shortcuts on the Apple Watch. Giving Wear OS users the ability to quickly call a loved one or trigger a home automation routine from a complication on their watch would be a compelling feature indeed.
Face Swapping
Apple Watch fans and critics alike have long been frustrated that there are no third-party watch faces available like there are on virtually every other smartwatch platform (including Wear OS and Fitbit OS). Apple has skirted a lot of this criticism by making its first-party faces extremely customizable in terms of colors, layouts, and complications, but that hasn't satisfied everyone.
With watchOS 7, Apple Watch users will now be able to share their favorite watch faces with friends and family, or they can share their creations over social media. Also, watchOS 7 app developers can create pseudo-custom watch faces with their complications, which users can download from the app or the developer's website. If any shared watch face has apps that you don't currently have, you'll get the opportunity to download and install them once you've downloaded the watch face.
On Android Wear, the only way to do something like this currently is through a third-party app like Facer. Even though Google has been notoriously bad at social media and messaging, it's very, very good at supporting third-party watch face developers and has hooks into your networks through services like Gmail, Calendar, and Duo, so there isn't really anything holding it back from creating and enabling this kind of feature natively as well. Let's hope it does so soon.
So Wear does all of this leave Google's watch platform?
There is no question that in 2020, as in every year since 2014, when the Apple Watch debuted, Google's wearable platform is behind watchOS in many areas, but that doesn't mean it has to stay that way.
Many of the advantages that Apple's watchOS 7 has over Google's Wear OS might equal out (or disappear entirely) if and when Google can complete its acquisition of Fitbit and bring that company's intellectual property and hardware chops to the Wear OS team. Features like on-device, integrated sleep tracking, and improvements to its exercise modes and apps would undoubtedly bring a Fitbit-enabled Google much closer to developing a real Apple Watch competitor. But even if bringing Fitbit into the fold doesn't happen soon (or at all), Google can still learn from these watchOS 7 features to improve and enhance Wear OS for its OEM partners. Let's hope the folks at Mountain View (or wherever they're remotely distributed right now) were watching and taking copious notes like the rest of us.
Best Wear OS Smartwatch
Classic out, future in
The Carlyle is easily the best Fossil smartwatch for most users. It can go anywhere while getting you through the day in style. Swap the bands to switch between business and workout wear.
Best Fitbit
The best Fitbit you can get
Overall, the Fitbit Versa 2 is the best Fitbit you can buy now. It's lightweight, has a ton of features, and a great price. Now that it's getting Google Assistant support, it's even better!
Get the Android Central Newsletter
Instant access to breaking news, the hottest reviews, great deals and helpful tips.
Jeramy is the Editor-in-Chief of Android Central. He is proud to help *Keep Austin Weird* and loves hiking in the hill country of central Texas with a breakfast taco in each hand. You can follow him on Twitter at @jeramyutgw.