5 things Android phones should borrow from the iPhone 11 Pro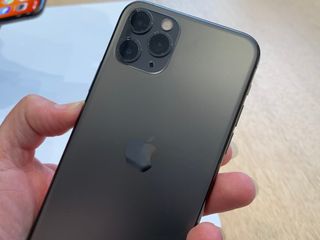 On September 10, Apple took the wraps off of its latest and greatest iPhone offerings. We're getting three iPhones once again, this time taking the form of the iPhone 11, 11 Pro, and 11 Pro Max.
I've already talked about why I think the baseline $699 iPhone 11 is the most interesting from an Android perspective, but now, I want to take some time to focus on the Pro models.
The iPhone 11 Pro and Pro Max are relatively modest upgrades from 2018's XS series, and while neither phone is all that impressive when compared to the plethora of Android flagships that are currently available, they do come with a few standout features that I'd love to see become more prevalent in the Android space.
Retained image quality across all three cameras
The big draw to the iPhone 11 Pro is its triple rear camera system, consisting of 12MP wide, ultra wide, and telephoto lenses. Apple is far from from the first company to have a three-camera array on a phone, but the way it's implementing everything is something that Android makers should take note of.
On most Android phones with multiple cameras, each sensor has a noticeable difference in quality — ranging from weak lowlight performance for a telephoto camera or a worse resolution for ultra wide cameras. On the iPhone 11 Pro, Apple's using a 12MP sensor for all three lenses.
The idea here is that you can expect nearly identical image quality no matter which lens you're using, meaning pictures you take with the telephoto and ultra wide sensors should look just as good as the primary wide one.
A big focus on video
Similarly, the 11 Pro and Pro Max offer a lot of exciting developments when it comes to video. Along with consistent still images across the three cameras, you can also use all three to capture 4K video at 60fps and slow-motion clips in 1080p up to 240fps.
That retained crispiness for video is impressive enough on its own, but what's really captivating is the fact that you'll be able to switch back and forth between the three lenses seamlessly in a single video capture.
You can switch between different lenses for video recording on some Android phones already, such as the Galaxy Note 10, but doing so is quite janky and interrupts the flow of your video. On the iPhone 11, the idea is that you'll be able to go back and forth between the different cameras as smooth as butter without any interruptions to what you're trying to capture.
Hayato recently went into even greater detail about the iPhone 11 Pro's video capabilities, so I suggest reading his editorial if you want to learn more.
Making a phone thicker for better battery life
For years and years now, the smartphone industry has had this craze to make devices as thin as possible at the expense of offering substantial improvements to battery life. This idea is something Apple completely ignores with the 11 Pro series.
The 11 Pro and 11 Pro Max are both thicker and heavier than their predecessors. Although Apple (annoyingly) doesn't reveal specific battery specs, it's widely expected that the additional heft and thickness is a result of larger battery capacities.
Apple's claiming that the iPhone 11 lasts "up to 4 hours longer than iPhone XS" and that the 11 Pro Max "lasts up to 5 hours longer than iPhone XS Max" — resulting in the "longest battery life in an iPhone."
Those are substantial upgrades, to say the least, and in a world where most Android companies don't seem overly eager to push the boundaries of battery life, I'd love it if Apple's commitment to this area urges brands like Samsung, Google, and OnePlus to follow suit.
Apple U1 chip
Apple spent a lot of time talking about the iPhone 11 Pro's cameras during the announcement keynote, and as such, some of the phone's other upgrades didn't get much stage time. In fact, the 11 Pro's U1 chip wasn't mentioned at all. That's a shame, because it has the potential to be rather incredible.
Apple does a good job explaining how this works on its website, so I'll let it do the talking:
AirDrop is already one of the more envious iPhone features us Android mortals have to drool over, so the fact that it's getting even more precise is exciting. If you and your friend both have iPhone 11 Pro's and you want to share a photo with them, all you'd need to do is point your phone towards theirs, and they'd quickly have access to it.
It's hard to imagine a future in which something like this exists in the Android space considering the open-source nature of the operating system, but it does look like Google is working on something similar.
Back in June, something called "Fast Share" was spotted — a feature that would allow you to share files between Android phones by holding them close together. It's essentially a spiritual successor to Android Beam that was killed off with Android 10, and if Google's able to make it even faster and more seamless, it could alleviate some of the jealousness of not having the U1 chip.
Fast and secure facial recognition
Ever since its introduction in 2017 with the iPhone X, Face ID has been the de facto standard for facial recognition on smartphones. It's fast and highly accurate, and it's only getting better with the 11 Pro and Pro Max.
Apple's touting a 30% speed increase for Face ID on the new phones, along with support for working at more angles and from farther away. Some Android phones like the OnePlus 7 Pro and Note 10 offer face unlock, but it's only secure enough for the lock screen and pales in comparison to what Apple's doing.
Thankfully, we shouldn't have to wait too much longer for something similar to come to Android. We're expecting the Google Pixel 4 to ship with a face unlock system that's similar in speed, accuracy, and security to Face ID. This is one of the features I'm looking forward to the most with Google's new flagship, and assuming it works well, I'm hoping it acts as a catalyst for other Android phone makers to implement in their phones, too.
There's nothing inherently wrong with fingerprint sensors, but as someone that's experienced the magic that is Face ID, I cannot wait for something similar to make its way to the Android space.
What would you like to see?
With that said, I now want to hear from you — what features from the iPhone 11 Pro would you like to see come to Android phones?
Maybe it's the new A13 Bionic chip or Apple's improved AMOLED display? Whatever it may be, leave a comment below and let me know!
Android phone makers should be nervous about the $699 iPhone 11
Joe Maring was a Senior Editor for Android Central between 2017 and 2021. You can reach him on Twitter at @JoeMaring1.
I would like to see a better OS update system from Google ala Apple where all iPhones get the update from day 1 it's pathetic that even when you own a Pixel device you have to wait in some cases up to 5 days for the update to hit your phone, and yeah I know the bs " you can do it yourself" excuse.

This will always be a problem due to many companies making Android phones, all phones with iOS are made by Apple.

It's not pathetic, it's safe. Android OS updates go out in a staged rollout. As a developer, I've experienced numerous instances where everything performs as expected through QA testing then, when released, we see an issue on 15 of devices. You do staged rollouts so when surprises like that happen, you can halt the rollout and only a subset of users are negatively affected rather than 100% of them. I'm surprised apple doesn't do this, especially after iOS 11.

On a Pixel if you go to check for update the update will appear straight away if it's available, that's widely known. If you don't press the button then yeah you'll probably be waiting a few days.

There is, it's called Android One...

I only envy 2 things that Apple does right:
1. Direct software updates (this one is a tough fix because of the number of different devices)
2. iMessage.

imessaage is the only thing I like in any apple product lol

I would add Watches and Tablets. I just bought an Ipad Pro and Ipad OS is great. The only thing that I miss is Nova Launcher. I still have every Google app and some even work better on the iPad. Google Maps is blazing fast on the iPad.

There are tons of iMessage alternatives that work on Android, iPhone, tablets, Windows, Mac, Linux, ChromeOS, you name it. FB Messenger, WhatsApp, WeChat, Telegram, Kik, and Line just to name a few of them. Most of these can be used in a browser so you wouldn't really even have to download an app which makes them very universal. iMessage is garbage because it is very limited in its scope.

The option to walk into an Apple store, pay a set price to replace the phone that your significant other reversed over with their car for a brand new unit (or due to a much less dramatic incident) is a great option.

Thicker for better battery life wtf? But the iPhone 11 maxi pro plus whatever only has an 3500mAh battery. You have phones with bigger battery than that and are thinner and lighter. The 11 maxi pro plus even weighs as much as a brick at a half pound. I don't want a half pound brick 💩 with an apple logo.

The 11 Pro Max weighs a half pound? Pretty sure you're either making a terrible joke or majorly mistaken. Maybe a better point is that a 3500 battery in an iPhone can outlast larger batteries in pretty much any Android phone.

Have you forgotten the controversy Apple went through admitting to throttling performance to try to preserve the meager battery life their phones have?

I'm not joking at all. It really is a half pound brick of a device. So magical lol Business insider headline even says how it is the heaviest iPhone ever. Look it up.. And how does anyone know it will out last Android phones. Cause Timmy crook says so? He says that every year and iPhones are never the best at battery life. Standby time yes, but real world usage absolutely not.

If you hold two or 3 M&Ms candies in your hand thats the difference between a half pound and what that iPhone weighs.

The iPhone 11 Pro Max weighs 226 grams, or 7.97 ounces. For it's physical size, it's heavy. I wonder if they put lead weights in it like Beats put in their headphones...

The iPhone Tungsten Edition 😁

The best thing they do is take things from Android put their spin on it and convince people it's newest latest thing
"Innovation" yeah right

While this article may be true for other Android devices, it does not correctly reflect on the soon to be released Pixel 4 phones. Retained image quality across all three cameras: Previous Google Pixels only had one rear camera and will do this same thing with two cameras for the Pixel 4, not to mention, even with one rear camera, photos on the Pixel were better than the iPhone with two cameras, so I don't expect this to change. A big focus on video: Pixel 4 Video Camera will be greatly updated from the Pixel 3 with special effects that won't be on the iPhone, and increased video and sound recording quality, and the ability to "zoom in for SOUND". I call this one a draw. Making a phone thicker for better battery life: Pixel 4 XL will already have an increased battery to 4000mah. Apple U1 chip: Pixel phones already have a similar feature called "Files" sharing. Fast and Secure facial recognition: Pixel 4 will utilize newer technology of soli radar to enhance security for Face Unlock so it will have the fastest and most secure facial recognition of any phone, including the iPhone. As some have stated, really the only thing iPhone has on Android would be iMessage, but even that gap is narrowing with the coming use of RCS for Chat. Once the carriers get on board with RCS, Google Chat and iMessage will be very similar.

I like the way you talk, more inclined to upgrade my Pixel 2 to 4 XL. The 4 is nice but reports of smaller battery have me thinking to go with the XL.

1. I really would like to know the source of your knowledge (if it is at all) about the video camera
2. the Soli hast absolutely nothing to do with security, it's a radar chip for gesture detection
3. Aside from that, just because it's "newer" it doesn't mean the face unlock will be "more secure" and "fastest". That's pure speculation without providing any facts.
4. Aside from that, face unlock became even faster with the iPhone 11 and iOS 13 - that's a fact paired with zero speculation. Your story looks to me like an euphoric compilation of "that's what I just googled" and "that's what I wish it will be".

Things Google shouldn't copy from Apple... Face unlock and getting rid of the fingerprint sensor. I won't get a pixel 4 for that reason. Also if they want to distinguish themselves, then make the phones smaller not bigger. I'm not taking thickness here either.

Agreed....... For one I don't find Face unlock any faster, let alone being a hassle having to put it up in front of me. And secondly I'm all for new things or adding feature, but wth sense does it make to take away a security option that is fast and works Everytime with issue. And lastly I just dont buy into the fact face ID/unlock is more secure or safer in the long run.

It would be nice for Android to have a real iMessage alternative. I agree w/ the camera & video upgrades. Having more RAM is better for overall performance IMO so latest & greatest CPU is not an absolute requirement as long as it's not too lagging in performance.

A modest increase in thickness to get 5 hours of additional battery life is well worth it. Most phones are too thin to actually comfortably hold in your hand anyway these days. The facial recognition on the last gen iPhones was so much more reliable and faster than Samsung's best offering, I'd take that on an Android phone over fingerprints any day.

How about the ability to control which apps run in the background (without having to offload an app). I find nothing more annoying than having apps that no business running in the background doing just that and draining the battery. With iOs you can stop apps from running in the background.

You can stop apps from running in the background in Android. And on HTC devices for example, you can have the system monitor apps and stop them for you.

So HTC has a system app that runs in the background and monitors apps running in the background?
I am able to decide which apps run in the background on Android and iOS.

Yes! Chrome, the Android Central app, and the Android Authority app were the first ones I put a leash on, lol.

iOS has amazing standby time - something I wish Android would do better.
iMessage of course.
Better app quality. The experience you get from an iOS app to a Google Play app is sometimes shocking.

I wish there was a way to put a fingerprint unlock on the front screen. I tend to use my phone in my car, mounted in a holder and having a fingerprint unlock on the front would be very useful. I don't like punching in numbers or using the pattern recog. Also an app that is good and easy to use like "Find my Friends" should be built into the OS.
The contacts structure needs improvement. When you enter a new contact it should be listed as name or work, then the address, then the phone numbers. The address is too far down the bottom. That way if you are driving it's more intuitive. Why? because you can always use the google to find the phone number via voice command easier than the address.

Google Maps already offers a Find Friends alternative called Location Sharing. You'll find it in the Maps app

I love the way Huawei and LG's face unlock are completely overlooked in the list. I can't speak for LG's system but Huawei's is easily as secure as Apple's using the same 3d dot array sensors but works even faster and consistently than on the iPhone. But hey... Android won't have it until the Pixel 4 is released 🙄

Thanks for mentioning that. You'd think people that write for an android site would know that. Then again I guess they focus on the US only available phones that don't have those features.
Since the Huawei Mate 20 pro has said "magical face ID" and you can set it as authentication for accessing any app.

Yeah bec Huawei's face unlock is an exact clone with the same kind of sensors and setup like Apple's face id.

But it's on Android yeah?

LG is working on video improvement for years. It's the only brand giving a Pro/manual mode for video with 3D/5.1 Surround audio record even though they don't update really often or rapidly their phones. I say that, I say nothing 🙄

Let's see,
1) Android already takes better pictures than iOS
2) Android already does video better than iOS
3) There are plenty of phones both thicker and thinner than iPhones.
4) "The Apple U1 chip is so great, I don't understand it! Here, read Apple's marketing nonsense!"
5) A features Apple stole from Android. Yeah, I think the most successful operating system in the history of mankind has been doing fine leading the way for Apple.

The most successful operating system in the history of mankind is Windows, not Android. But apart from that, I agree. I see nothing the iPhone does that I couldn't find first or dome better on Android.

1. Image quality across cameras: Not a big deal except for specific models that are terrible at it. Samsung is pretty good at it, with the exception of edge artifacts on the telephoto images. On my own device, I can't tell the difference between telephoto and wide, and I have to look at the image data to see which one it used. By the way, how do you set color temperature and ISO on an iPhone again? 2. A big focus on video: Filmic Pro erases the differences, and LG had more features way before this. But you know what? I was the FOH engineer for a live concert last night, and threw an HTC U12 Plus on a tripod. The event had a film crew that used two full size cameras and three iPhones on gimbals. None of their recordings came close to the sound quality of HTC's Sonic Zoom, and the director came and asked in person if they could extract the audio from my videos to use in their production. Apple is still an amateur when it comes to audio. 3. Making a phone thicker for better battery life: Other phones are thicker and have as big or bigger batteries. I'm only using a U12 in the comparison because Android Central says the battery life is poor.
iPhone 11: 3110 mAh, 17 hours talk time.
iPhone 11 Pro: 3190 mAh, 18 hours talk time.
iPhone 11 Pro Max: 3500 mAh, 20 hours talk time.
HTC U12 Plus: 3500 mAh, 24 hours talk time. Battery life is the reason we stopped using Apple for critical devices... specifically the way they give out near the bottom of the tank. Do you know how long an iPhone 8 with the battery at 7% lasts? 5 minutes. Do you know how long some Androids last at 7%? 3 hours. Yes, we actually tested that. iPhones do not report accurate percentages when the battery is near full (so you get that perception that they are good at holding a charge), and it catches up with them in the end. 4. Apple U1 chip: Directional wireless detection. Cool but not earth shattering, especially if they just use it for transfers. Wi-Fi Direct anyone? And didn't Samsung have the ability to touch each other's phones for transfers? I guess this is more important for Apple, since they can't use their gimped NFC. 5. Fast and secure facial recognition: Where have you been?
Security research testing has shown that Apple's Face ID and HTC's 3D face mapping BOTH require an accurate full face mask to get around. And Apple does not have the added benefit of being able to securely unlock your phone in your pocket. Samsung's iris scanning was pretty secure, so it's too bad they chose aesthetics over security.

The U1 is also going to be used in Apple's Tile-like feature in iOS 13 so that, if you lose a device that you've tagged, it will piggyback off of other peoples' iPhones to find it. Tile already has a large network but the amount of new iPhones that will be out there, over the next couple of years, is going to easily surpass that. That's the big deal with their U1. Samsung had a feature where you could touch two phones together and they would transfer whatever you wanted but it was painfully slow, so slow that I stopped using it and just relied on either e-mailing the file or using a Google Drive/OneDrive share link. There's something wrong when it takes 15 minutes to transfer a 2MB Word document. As for your #5, does Samsung have the ability to unlock your phone in your pocket? No, it's impossible to feel around to find the under screen fingerprint reader. You have to take most phones out of your pocket to unlock them. Apple's FaceID and HTC's tech might require the same things but Apple's is faster. It was faster than Samsung's Iris scanning, it's faster than LG's and HTC's face unlock, and it's more secure than Samsung's face unlock. Like it or not, there are some things that Apple does right. Not all of them but there are some.

15 minutes to transfer a file that small? Yikes! No wonder it never caught on. I was not saying Apple does not do things right, and Face ID is cool... I was just taking issue with this article stating that Android had nothing that was secure. HTC's FP sensor is easy to find in your pocket. I'll confirm tonight, but Face ID takes 1.48 seconds to unlock, HTC face unlock takes 0.68. I just bought the iPhone XS a few weeks ago, but one of the kids is out with it. I would suspect the iPhone 11 is faster than the iPhone 10 though, so you are probably right.

How about a list on five things Android handset makers should avoid like the plague from Apple...

Most of this list is a joke tbh. Thicker phones for bigger battery? I thought most Android flagships comes with 3700mh and higher? The note10plus, p30 pro and a host of Chinese devices have a capacity of 4000mh and above, what am I missing here?

Man. The exciting part of the U1 chip isn't the fact that it can MUCH more accurate with things like Find My down centimeters supposedly instead of meters. Say you leave your phone somewhere—you'll know in ridiculously close proximity where it is instead of a vague idea.

It always kills me the territoriality shown by phone owners, you'd think by some of the comments here someone was threatening them with a knife. It's just a phone folks, they all do basically the same thing, I find Apple products to be quite good, it's just their phones don't seem to be very intuitive for my likes.

I wish Android could get either an improved random pattern unlock like my old BlackBerry Z10 or the proposed eye tracking pattern unlock. Heck maybe facial recognition and a simple pin at the same time. The facial recognition could just be used to recognize the user and the pin allows access. My kid likes to shove my wife's iPhone in our face to unlock it.

the only thing I want from Apple is for the Watch to work with Android, I missed it so much I went back to Apple, just not sure how long I can take it.

"and while neither phone is all that impressive when compared to the plethora of Android flagships that are currently available" This quote right here is absolutely laughable, especially when the article is about what Android should steal from Apple.

I kinda want to get the iPhone 11 Pro Max just for the battery life alone.

contrary to internet beliefs iPhones have been getting thicker since iPhone 6. this huge leap in battery might actually be a combination of all aspects, monster efficient a13, dropping 3d touch (iPhone 7 was the last big increase from 6s by dropping the jack), a better Samsung screen, slight increase in depth from 8.1mm to 8.3mm I think (the 6 was 7.7mm I think). I read Rene piece where he says there is this auto adjustment for reframing the shot, they are shooting with at times 2 cameras to get extra edges stitched in. I thought that was super useful, especially now that the default camera app does perspective correction, extra nice for architecture shots, also he says something in Quicktake that does the same, using a wider lens to increase your chance at subject tracking. His take on iPhones doing the live preview for portrait mode and night mode is quite nice also, I read somewhere you can open the camera app to find things in the dark with the just preview, in case you don't want to blast your flashlight. That's something right. Hope Hayato can get his hands on the 11pro to play with. Not sure about the whole night mode execution and speed compared to other phones, Huawei typically takes a long time to do it, I guess the a13 does heaps to help now, especially now that they are also doing multi camera work for their stitching and tracking. With the next filmic pro update, I can imagine vloggers just using that, recording 3 streams for later edits.

iPhones getting thicker? Hmmm... Yep!
iPhone 6: 6.9mm
iPhone 7: 7.1mm
iPhone 8: 7.3mm
iPhone 10: 7.7mm
iPhone 11: 8.3mm The thinnest one to date was the iPhone 9 which was zero mm ;)

The only thing I like about the new iPhone is that matt green. Imagine the pixel 4 in that...

Have a high resale value.

Face recognition and thicker device for the battery I agree with. The video; nah Samsung and LG have them beat. The camera smoothness while switching between the different lenses; I do this all the time on my Note 10 and it isn't janky or jarring at all. Having the same sensors for all three lenses is a nice touch but honestly who needs to be able to take perfectly well lit wide-angle shot in the dark? I mean, we are talking really REALLY edge case here.

Android OEMs, Huawei and LG, already have facial recognition that is as secure as (and in most cases more secure than) Apple's FaceID. The Mate 20 pro and the LG G8 have this but I it doesn't matter since it's not the Pixel 🤦🏿‍♂️

« The 11 Pro and 11 Pro Max are both thicker and heavier than their predecessors. Although Apple (annoyingly) doesn't reveal specific battery specs« Because it just doesn't matter. It is just a number and say almost nothing about battery life is the software is not optimized
Android Central Newsletter
Get the best of Android Central in in your inbox, every day!
Thank you for signing up to Android Central. You will receive a verification email shortly.
There was a problem. Please refresh the page and try again.