4 things that'd make the Lenovo Smart Display even better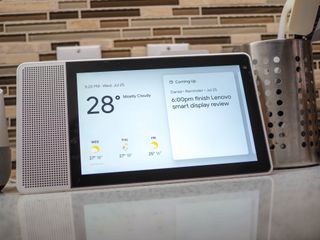 I've been living with the Lenovo Smart Display for a few weeks now, and during that time, it's quickly become one of my favorite gadgets of 2018. As a huge fan of the Google Home, it's been a dream come true to have that same functionality brought over to a form factor with a large, crisp 10-1-inch screen.
I genuinely love using the Smart Display, but for all the things it gets right, there are a few pain points that I'd like to see get worked out sooner rather than later.
Without further ado, here are 4 things that'd make the Lenovo Smart Display better!
Portrait orientation for the entire UI
One of the most unique aspects of the Lenovo Smart Display is its wedge design on the back. Because of this, you have the option of standing it either horizontally or vertically on your kitchen counter, table, etc. Unfortunately, at the time of publishing this editorial, the vast majority of the interface can only be used in that horizontal orientation.
You can set the Smart Display vertically during Google Duo calls and have the interface rotate as it should, but outside of these calls, everything is set to the standard horizontal layout no matter how the Smart Display is sitting.
Lenovo's already said that this will be fixed in a future software update, but for the time being, it makes the wedge aspect of the Smart Display feel underutilized.
Support for audio groups
If you've got a Google Home, Home Mini, or any other smart speakers that are powered by the Google Assistant, you can add them to audio groups and play music on all of them simultaneously — allowing you to hear your music or podcast no matter which room you're in.
It's an incredibly handy feature and one that I use daily, but for whatever reason, the Lenovo Smart Display can't be added to these groups.
Although the form factor is different due to the display, there shouldn't be anything holding it back from playing music with other Assistant speakers. The Lenovo Smart Display lives in the Google Home app along with your other speakers, uses the Assistant, and has access to all of the same voice commands/features.
Yet, for some unknown reason, Google still doesn't allow it to to be added to audio groups.
That may not sound like a huge deal to some readers, but it makes the Smart Display feel entirely separate from its speaker cousins when it should feel like an extension of them.
Deeper app controls
As it currently stands, the Lenovo Smart Display doesn't run traditional apps. There are UI elements that are designed specifically for Spotify, YouTube, Google Express, and more, but you get to all of these via voice commands rather than tapping on an app icon.
That implementation is fine, but for the interfaces we do get for these services, I'd like to see more controls added at some point down the road.
Being able to pull up recipes is great, but it'd be even better if there was a way to quickly add all of the required ingredients to my shopping list. YouTube videos stream without a hitch, but I'd like to be able to browse through my subscription feed and manually choose what video I want to watch. The Google Express interface that we do have is fine, but there's no way to easily peruse through all of the available products like there is on the Android app.
The idea of Google's Smart Display platform is to have UI elements that complement your voice controls rather than being entirely touch-focused, but some of the experiences that are available right now feel a little too barebones at times.
A more consistent ambient mode
When you aren't actively using the Lenovo Smart Display, you can swipe to the right and set the display to an ambient mode where the screen turns completely back and just shows the time in the bottom-left corner. It's a great mode for when you're sleeping and know you won't be using the Smart Display for a while, but in my experience, the performance of this has been all over the place.
Manually swiping over to this screen works fine, but I've noticed that it occasionally goes to this mode on its own, too.
For example, if I turn off all the lights as I'm heading out of my apartment, the Smart Display will gradually dim its brightness and eventually go to the ambient mode on its own. If I walk by the Smart Display while it's like this, the screen will magically come to life without having to touch it or anything.
Unfortunately, these automatic transitions are incredibly inconsistent.
I've noticed that they properly work maybe 50% of the time, and for the times that it doesn't work, it does this for no rhyme or reason. This certainly isn't a deal-breaker or anything on its own, but the inconsistency can quickly become rather annoying.
What do you want to see?
If you've got a Lenovo Smart Display, what would you like to see added/fixed? Most (if not all) of my complaints can be resolved with software updates, so here's to hoping those make their way to the device in a timely manner!
See at Best Buy (opens in new tab)
Joe Maring was a Senior Editor for Android Central between 2017 and 2021. You can reach him on Twitter at @JoeMaring1.
I'd like to see a 6 to 8 inch bedside model. Something that can travel more easily than the current smaller Lenovo.

There's an 8" model of the Lenovo smart display. That's the one I bought.

It's a tabletop model and not a tablet. Use your tablet or phone for portability. I call it my 8" Android TV on occasion and my Echo Show my 7" Smart TV.

Integration with smart home systems like SmartThings. An ActionTiles like interface would be awesome.

I agree. I'm looking for them to add it so that when someone rings your Nest Hello doorbell/cam, that the video would automatically pop-up on the display and give you the option to speak with person at the door. Right now it will announce them like it does on GH, but you have to manually open the app and go to the correct cam. It doesn't bother me specifically, but my tech illiterate Dad lives with me and I could put this right next to his chair.

I would have liked a portable model. Even if only for a couple hours, a model I can move around would have made for the perfect usable baby monitor for a our newborn. And if it were portable, USB-C charging instead of proprietary would also have been nice...

A battery, even a small one, so you can take it with you when you travel and not have to reset it up again.

Haha I don't think it's meant to be travel-friendly. It's more of a home assistant that helps you around your home. When I travel, I'm just reliant on my smart phone really.

Stereo speakers! Duh.
Please no battery. I have enough mobile screens.

I bought this largely to have the visual display for Google Music & Pandora, etc. I'd read it has bluetooth so was planning to bluetooth it to my Como Audio speakers. According to the Como people it appears that the Lenovo Smart Display only has one-way bluetooth -- in. Not out. Essentially it's useless for my purpose. The onboard speaker is OK, but just OK. I do like the fine art rotating display very much. And it's good as a smart home device of course. But we have Echo Dots all over the house. I had been using Amazon Music & the display on Spot, but now Amazon is stopping allowing uploading of local music....Google does allow it. So frustrating that just one device cannot manage to get everything right at the same time. Just had to rant. I really had my hopes up for this device.

Watch ESPN - I am the primary meal preparer in my home. I don't have a TV in my kitchen, and I love to watch sports (Kentucky Basketball Games). I hate having to cook when a game is on, and would love to be able to watch while im cooking.

Does it act like other 'Chromecast built in' devices? Another 'castrated' Android experience? Why don't they just put regular Android on it and add screen features to the Assistant as an app?

Watch ESPN works fine if you cast from your phone. It works like any other Cast capable device in that regard, save for Netflix for some reason. I'm watching SportsCenter on it right now. Voice control, however, is not yet setup for WatchESPN for Google Assistant.

Never thought about casting it. This is a game changer, thank you!

I think I would rather just use a tablet.

I was looking forward to eventually getting one of these but no group support is a deal breaker, I want my audio synced. I wonder if there would be a hardware issue like how chromecast video can't be in a group.
Android Central Newsletter
Thank you for signing up to Android Central. You will receive a verification email shortly.
There was a problem. Please refresh the page and try again.