Shield Tablet gaming bundle packs in hardware, software for $399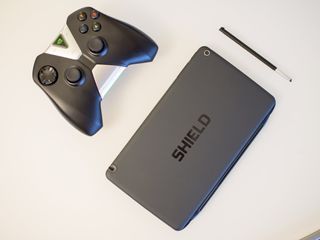 In time for the holidays, NVIDIA is rolling a special Bundle in a Bundle promotion for its Shield Tablet. The $399 bundle combines the gaming hardware and titles you need to get started and enjoy the full capabilities of the NVIDIA Shield Tablet. The promotion goes into effect tomorrow, December 20, and will run through December 24.
On the hardware side, gamers will be treated to the 32 GB LTE-enabled Shield Tablet and the console-grade controller alongside the NVIDIA Grid gaming service. On the software side, NVIDIA will be offering up three great gaming titles for the Shield: Portal, Half-Life 2, and Half-Life 2: Episode One.
If you're interested in the NVIDIA Shield Tablet, be sure to check out our review.
Source: NVIDIA (opens in new tab)
Seriously people, buy this. Best android tablet available.

I'm really considering it. For the gaming, don't you have to have a compatible graphics card in a gaming computer to link with it? Excuse my lack of knowledge. Posted via Android Central App

For streaming, yes. But for any native gaming, the device itself is enough. Posted from my Motorola Moto G

Exactly. In order to do game streaming you need to have a compatible NVIDIA GPU card in your computer. But it still makes a hell of a stand alone gaming tablet and you can always plug it in via HDMI out to your HD TV or computer display.

Or just use the GRID servers. Posted via Bacon on CM11S

Need a compatible nVidia graphic card as well as a dual band router to stream AAA games from your PC.
I tried it with a 30$ Netgear router and it streams AC: Unity well... a few stutters here and there but quite playable. (Of course, nothing else was being streamed on any of my other devices) This is a beast of a tablet... puts even the Nexus 9 to shame. I bought it because I loved the console mode. Streaming games to the tablet which is connected to a 46" TV... awesome! :D
I hope nVidia comes up with a compatible mouse and keyboard... which is what I prefer for FPS games.

I just purchase one 12/16 I wonder if they will send me a controller.

They won't. Terms of the promotion are pretty clear.

If anyone wants to secret Santa me, I'd like one of these lol. ;) Posted from my Motorola Moto G

Same I'll be upgrading from my N7 2013 next year I bet Posted via the Android Central App

I had an Asus memo pad hd7 that I've given to my son. I'm tablet-less right now. Looking for something between 8" ands 10" with better specs and than the Asus. Posted from my Motorola Moto G

I think the nexus 9 is the only choice. And I don't want some cheapo mediatek crap. But once the price goes down or Google fixes quality control then I might buy it Posted via the Android Central App

I'm reluctant to get a Nexus 9 mainly because of the light leaking. That's a big turn off for me at the price they're asking. Posted from my Motorola Moto G

Nexus 9 is a nice tablet, sure it has its cons but if your looking for a gaming & daily driver tablet then the SHIELD Tablet is going to beat the Nexus 9 in terms of all around gaming options.

Your BF might get mad Posted via the Android Central App

Too bad. He can deal. Posted from my Motorola Moto G

The only bad thing about this tablet is battery (and it is strange cause tablet is big and a bit heavy)
5-6 six hours of media (ok in battery safe mode and 30% brightness up to 7-9)
or 2-3 hours of serious gaming... its really not enough.

How's it run on Lollipop?

It has some memory leak issues. Gets kind d of laggy after its been active for a day or two. Hopefully they update to 5.0.1 and fix that. Sent from my Nexus 5, behind six proxies

Thanks, I may just have to return my 2013 7 reburb, Ipega controller to Amazon.

Agreed. That K1 processor is not battery friendly. Sent from my Nexus 5, behind six proxies

Battery life did take a little hit with Lollipop but I'm expecting to see improvements with 5.0.1 when that update rolls out.

Or 5.0.2 lol. Posted from my Motorola Moto G

I would be surprised to see 5.0.2, since that seems to have just rolled out w/ the Nexus 7 (2012). I'm sure NVIDIA has been hard at work on 5.0.1 not long after they dropped 5.0 to the SHIELD Tablet. But given NVIDIA's track record of updates, I'm sure they will follow up when the time is right :)

This is an EXCELLENT deal. The controller is so well done. Sent from my Nexus 5, behind six proxies

Controller is awesome. Battery life on the controller is insane.. Many times I plug it into to charge just for the hell of it but it seems to run forever on a charge. Controller itself is IMO, what I wish my XBOX controller was...

Three games. Including HL2.
Half life 3 confirmed. On a side note, great deal. Posted via the Android Central App

Can someone please provide me the link to an etailer who's actually selling the promotional item?

I'm not referring to the promotional link he provided above. Actual sellers requested.

I'm really kicking myself for buying mine at the start of this month Posted via Android Central App
Android Central Newsletter
Get the best of Android Central in in your inbox, every day!
Thank you for signing up to Android Central. You will receive a verification email shortly.
There was a problem. Please refresh the page and try again.