Zoom users must update the desktop app to continue joining meetings after May 30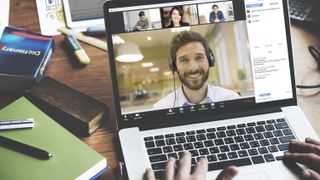 (Image credit: Zoom)
What you need to know
Zoom is rolling out GCM encryption across its platform this weekend.
That means if you want to keep using Zoom and joining meetings, you need to update.
If you can't update the desktop client, you can use the mobile app or the web client instead
Popular video-conferencing app Zoom has announced that users must update their desktop client after this weekend in order to continue joining meetings, as it rolls out GCM encryption for all Zoom meetings.
Zoom announced that it would begin enabling GCM encryption on May 30, at 01:00 PDT. The update is a really welcome boost to Zoom's security, which was found to be lacking following the app's meteoric rise thanks to the COVID-19 pandemic. Whilst not as good as end-to-end encryption, GCM, or (Galois/Counter Mode) is a higher-quality security system, perfect for video conferencing, because it uses a stream cipher, rather than a block cipher. Zoom's update note states:
Zoom's support page confirms that all users must upgrade to version 5.0+ from May 30 "in order to join any meeting" as GCM encryption will be fully enabled for all Zoom meetings.
There are two ways to do this via Zoom's Download Center, or when prompted the next time you join a meeting, just follow the instructions on the screen. If you can't update your app, you can still join a meeting from Zoom's web client, or on mobile. Zoom has confirmed users cannot opt-out of GMC stating:
For a full brief on the update and answers to more support questions, visit Zoom's website.
I really like that zoom aren't giving users a choice about these new security features. Although it's still a bit confusing they weren't in place to begin with. You have to give them credit. They seem to be actually making their product more secure rather than just doing the normal paper shuffling and obfuscation until they can sell to Zuckerberg or their house of cards collapses.
Android Central Newsletter
Get the best of Android Central in in your inbox, every day!
Thank you for signing up to Android Central. You will receive a verification email shortly.
There was a problem. Please refresh the page and try again.