ASUS ZenFone AR hands-on: It will probably be great once it works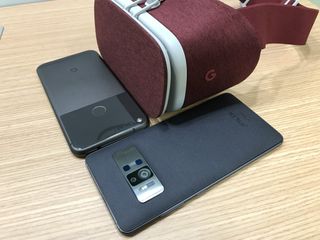 ASUS hopped on stage and announced two thin, light, and beautiful new phones for everyone to enjoy. We've spent some time with the ZenFone Zoom and look forward to seeing what that new camera and snappy new software can do in the real world, but the ZenFone AR isn't quite as ready to be used as its sibling. That makes some sense when you consider this phone isn't coming to market until much later than the ZenFone Zoom, but it also means most of the really cool things this phone is supposed to be capable of aren't quite ready for evaluation.
We've got some photos for you to look at, and some thoughts on the design of the exterior, but it'll be a little while before we can fully appreciate everything this phone is capable of.
The outside
A lot of the exterior of this phone is not exactly standard for ASUS. The back of the phone is a textured material that feels somewhere in between faux leather and plastic, which is a good thing. It doesn't seem likely to get scuffed up like Moto leather, and there's no squish to take away from how solid the phone feels. The aluminum band around the outside is polished smooth and helps the phone feel thinner than it is, with a plastic rim in between the glass front and the bezel so you're not setting the phone on anything that could scratch the display when you set it face down.
The things that are most interesting about this phone, as the name suggests, are on the inside. This is the first phone with a Snapdragon 821 processor that has been optimized to handle Google Tango, complete with a camera array that differs wildly from Google's first Tango partner, Lenovo. As the first phone that can handle both Daydream and Tango, there's a lot of testing to be done to see how well all of this comes together. Unfortunately, none of the Tango stuff is available to try out yet. ASUS built all of the Tango functionality on Android 6.0, and when the upgrade to 7.0 happened none of those AR-related features survived. It'll be a while before that changes.
Image 1 of 5
The potential
While Tango isn't ready to be tested, there are some interesting software decisions being made that are worth talking about. For example, ASUS has a separate notification setting for when you're using VR that switches over immediately when Daydream is launched. This is a huge deal if you've ever had a standard Android notification drop down and totally disorient you when you're in the middle of a Daydream app, and like any other notification setting it can be set to allow specific users to interrupt if they're really needed.
It'll be a little while before we're able to see if a phone really needs 8GB of RAM and how well a phone so much thinner than the Lenovo PHAB 2 Pro handles Tango before things like heat become a problem. Despite that, ASUS set out to make a Tango phone you'd actually want to carry around and use as your personal phone, and that's a massive step forward for Tango. Where other Tango have been clearly purpose built for specific use cases, the ZenFone AR is shaping up to be a decent phone that also does cool VR and AR things. Assuming the performance really does work out, this could be a fantastic phone to own.