YouTube Music vs. Google Play Music: Which should you use?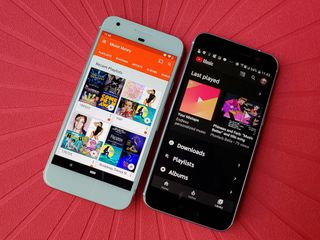 When we compare music services, we're usually trying to help you figure out which one you should give your money to. After all, it's somewhat rare for a company to offer two completely different music services with completely different feature sets and catalogs, but Google has always been somewhat rare when it comes to music.
If you pay for Google Play Music, you get a Premium subscription to YouTube Music with YouTube Red. If you pay for YouTube Red, you get a premium subscription to Google Play Music. Because you get both of these services when you subscribe to one, this comparison is going to be a little bit different.
Google also keeps slipping out details of plans for YouTube Music eventually replacing Google Play Music, and while that is a long, long ways off, it is definitely something to keep in mind as you consider both platforms and which one it worth your time right now.
Old-school versus bleeding edge
Google Play Music has been around since 2011, and its last big overhaul was five years ago, at Google I/O 2013, when it announced All Access, the name of their streaming subscription, and a complete app overhaul. As you can imagine, an app that hasn't seen any real UI changes in five years feels long in the tooth, but at the very least, everyone knows where everything is and we're all very familiar with Google Play Music's bugs and quirks.
YouTube Music has technically been around since 2015, but the app received a major overhaul with the announcement of YouTube Premium, YouTube Music Premium, and "a new music streaming service" YouTube Music. The app's UI was almost completely redone, especially in how albums and songs from labels were presented. While stations reigned supreme in the old YouTube Music, Playlists have taken over the Home tab and many of its recommendations.
YouTube Music is "brand new" and currently in "Early Access", which is a very nice of way of saying it's still a beta. It's really buggy and there are a lot of basic things like library management and audio quality settings that are currently sub-par or outright missing in YouTube Music.
Read more: YouTube Music review: a mixtape full of promise
Google Play Music is the beat-up, old pickup that needed body work three years ago and YouTube Music is a kit car that is going to be really cool and unique once Google finishes building. It's got four wheels, a chassis, and a motor, but the gear-shift is sticking out of a hole in the floor and it needs lights and doors before it's ready to drive on more than a driveway.
Pasty, white, and bloated versus Tall, dark, and basic
YouTube Music has much of the UI I've wished Google Play Music would bring us after five years of orange/white Material Design 1.0 and hamburger menus. YouTube Music's app is wonderfully dark — the same dark theme I've begged YouTube and Google Play Music to get for years — and it uses the same bottom tab format that YouTube, Spotify, and many, many apps have switched to in the age of the extra-tall smartphone display.
Google Play Music has felt bloated for years, with a hamburger drawer stuffed full of menus and features, but at least it has features. YouTube Music is rather lacking in that department right now. YouTube's algorithm-based Your Mixtape beats the pants off Google Play Music's I'm Feeling Lucky — wow, that name is a throwback — but otherwise, Play Music has everything YouTube Music needs:
Robust library management (especially on desktop)
Proper queue management and queue saving
Larger official, label-based catalog
Music locker for filling gaps in the available catalog
Gapless playback
Genre browsing
Station/radio browsing
Top charts by album, song, and genre
New releases by album, genre
Android Auto support
Wear OS support
YouTube Music has three tabs on its app: Home, Hotlist, and Library, and Hotlist is for the most part useless, since it shows trending and popular music videos and only music videos. A "New releases" carousel can appear for users in the Home tab, but it shows less than a dozen albums and the albums shown are based on what YouTube thinks you like.
Also, say what you will about casting personal music or lengthy tracks from Google Play Music — and I can say plenty — but at least when you cast from Google Play Music it doesn't rearrange your play order or disable shuffle and repeat. Chromecast audio is also reserved for YouTube Music Premium users only, which is just weird for a music service, even if it is built around video.
The biggest collection of music videos on the planet versus the golden key
We asked YouTube Music about the size of its music catalog and some of the gaps users have been finding in the official album/songs it offers compared to their predecessor, such as all Beatles albums and most Disney Records albums from the last two years. Their response sums the selection differences up quite nicely:
They're right about having content you won't find anywhere else. YouTube is the most-used video platform in the world, and as such is a treasure trove of remixes, mashups, and covers. YouTube is also one of the easiest places to find illegal music, so if you can't find an album you like in the Albums search results, start digging in the video results and you'll usually find it.
YouTube Music has a larger total selection of music, and Google Play Music has a larger selection of official albums and singles, but in the rare instance that you can't find a piece of music on either platform, that's when Google Play Music's premiere feature comes in: its music locker.
Google Play Music offers a free, 50,000-song personal music locker, letting you upload songs from your private collection to listen to anywhere you stream Play Music. The songs can be as long as you want — I have two-hour concerts uploaded as a single song — so long as each one is under 300MB in size, though you have to upload them from a computer rather than directly from your Android phone.
Google Play Music's music locker was their original feature, and remains one of their best assets. Now that Amazon Music has pulled their music locker function, Play Music is the only service left that will lets you mix uploaded and subscription music on all devices and platforms. For someone who has a collection of music that can't be found on any legal platform — except maybe YouTube — Google Play Music was the only music streaming choice for me.
This is why the news that Google Play Music's locker feature migrating to YouTube Music fills me with such hope. YouTube is already the biggest collection of music content in the world — legal and not-so-much — and with a personal locker, there will literally be nothing that you can't listen to there. If you can't find it, you can add it yourself.
Good artists copy; great artists steal
Google Play Music's long-term future is unclear, but its short-term future is assured by YouTube Music's current, half-finished state and very limited availability. YouTube Music might replace Google Play Music one day, but only after it has achieved feature parity, stability, and wide availability. YouTube Music is currently an "Early Access" beta that's available in five countries — Australia, South Korea, New Zealand, Mexico, and the United States — and has more bugs than a Texas garden.
Google Play Music may be old, and it may be a little bit boring, but you can depend on it for a while longer, and when it comes time for it to finally fade into the sunset, your library will migrate to YouTube Music, which will have to have taken on most if not all of Google Play Music features. So I'm playing with YouTube Music because it's new, shiny, and comes with my Google Play Music subscription, but Google Play Music is the music I come back to every morning when I wake up and every night when I wind down. Google Play Music still has my music locker and it has my back; I can trust it to behave the same way it has for the last six years that I've used it.
Everything you need to know about Google Play Music
Sign up for Google Play Music ($9.99/month individual, $14.99/month family)
Be an expert in 5 minutes
Get the latest news from Android Central, your trusted companion in the world of Android
Ara Wagoner was a staff writer at Android Central. She themes phones and pokes YouTube Music with a stick. When she's not writing about cases, Chromebooks, or customization, she's wandering around Walt Disney World. If you see her without headphones, RUN. You can follow her on Twitter at @arawagco.