Xiaomi Mi Note 2 unveiled with curved display, Snapdragon 821, 6GB RAM, and global LTE bands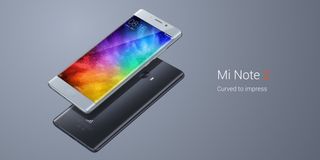 Xiaomi has announced the successor to last year's Mi Note, the Mi Note 2. As expected, the Mi Note 2 has everything you'd imagine from a high-end phone, including a 5.7-inch dual curved QHD display with a flexible OLED panel, 2.35GHz Snapdragon 821, 6GB of RAM, 128GB UFS 2.0 storage, 22.56MP rear camera (Sony IMX 318) with EIS and 4K video stabilization, 8MP front shooter with autofocus, NFC, a DAC that enables 24bit/192kHz audio, and a 4070mAh battery with Quick Charge 3.0.
The Mi Note 2 has a 3D curved back that match the curved edges at the front, resulting in a symmetric design similar to that of the Note 7. A notable addition is support for global LTE bands, with the phone offering 37 bands in total:
GSM: 2/3/5/8
CDMA 1X: 0/1/10/15
WCDMA: 1/2/4/5/8
TD-SCDMA: 34/39
LTE-TDD: 38/39/40/41
LTE-FDD: 1/2/3/4/5/7/8/12/13/17/18/19/20/25/26/28/29/30
The phone comes in Piano Black and Glacier Silver options, and will be going up for sale in China shortly. Xiaomi is selling two variants of the Mi Note 2: a base model with 4GB of RAM and 64GB storage for ¥2,799 ($415), and a version with 6GB of RAM and 128GB storage for ¥3,299 ($485). Then there's a global version with 6GB of RAM and 128GB storage that retails for ¥3,499 ($515).
No mention of international availability as of now, but thanks to the wide LTE support, you'll be able to use the Mi Note 2 in the U.S. That's a big deal for Xiaomi as it tries to make its way to Western markets.
What do you guys think of the Mi Note 2?
Android Central Newsletter
Get instant access to breaking news, the hottest reviews, great deals and helpful tips
Harish Jonnalagadda is a Senior Editor overseeing Asia at Android Central. He leads the site's coverage of Chinese phone brands, contributing to reviews, features, and buying guides. He also writes about storage servers, audio products, and the semiconductor industry. Contact him on Twitter at @chunkynerd.
I think Xiaomi just punked the Pixel.

Looks a lot nicer than the Pixel.

But but no waterproofing, wireless charging, and OIS in 2016!

Sounds pretty good to me!!

Waterproofing isn't necessary at all.

What if you work around pools or live on a house boat?

a lot of things in our phones today are not "necessary"... but a lot of phones are killed by water every day so while it may not be a bog deal to you, it is a pretty useful feature to a lot of people.

The pixel punked itself with that price tag.

They copied the Note 7 design

Silly question maybe but how do you change the background on the app so that's it's a true black??

Setting, and enable night mode.

So basically the note 7...minus the exploding battery? Too soon?

If anything, this thing has an even larger battery.

Bigger battery = Bigger explosion!

Minus digitiser screen sensitivity. And if it's not proof, wireless charging etc...

Will the Global Version have Google Apps?

All Xiaomi phones sold outside China has Google Apps, they sell in many countries: China, India , Malaysia, Singapore, Indonesia, Philippines, South Africa and Brazil.

But what about the color options??

Impressive spec's..
does this come with Qualcomm's ultrasonic sense Id..?

Not just wide LTE support, but I see all CDMA as well.... CDMA bands 0/1 I believe is Verizon and 1/10 is Sprint. Question is whether those bands will be enabled out of the box.. Are they even still used/needed? .... Personally, I'm not at all interested in a Note 7 clone with half the features and missing the one glaring feature of why it was called a Note.... Specs are nice, but I prefer features to go with those specs. That's why my Note 4 is still my daily.

A lot of Chinese brands are using the Note moniker for their phablets. I'm with you on this one though - why call it Note, if it doesn't come with a digitizer?

Because of its size? From all the other Notes (that are not Galaxy Notes) I've seen, the reason for the Note moniker being used is simply the size.

Bah.. You can't "Note" anything on them though... Samsung should have trademarked the Note name. They're really only called "Note" just to draw attention to the name, nothing more. It's like "look we're "Note" too"..

I don't think you can trademark a commonly used word like "Note" since it's also counted as an action.

If the term Note is deemed descriptive by the U.S. Trademark Office, there is a path to trademark registration in the U.S. without a disclaimer on the Principle Trademark Register. If the term Note is not a generic term in the context in which it is used, it could potentially become a registered trademark if acquired distinctiveness in U.S. commerce could be proven under Trademark Act Section 2(f).

The name "Note" doesn't seem like it's a very good one to use right now.

They allow other companies to use the bended screen tech and they have trademarked it. Samsung are aware of this phone as they were aware of another China phone bran Vivo do the same thing.

Nice budget Phone for sure. I'm sure it ticks all the boxes for somebody just wanting a big screen and nice camera for travel to watch netflix/cartoon HD/ play games etc.

They could raise the price and the only thing that would change is your use of the word "budget". It has the top specs etc. Instead of budget you should have said bargain.

How can we pick one up here in the U. S. ? I'll cancel my pixel order.

It'll go on sale in a few weeks in China, and after that you'll be able to pick one up from sites like GearBest or HonorBuy.

GearBest and HonorBuy should merge

Looks like a winner, but how many beer tokens and when?

the specs are redickulous. but I wonder in real use terms how the hardware /software combo runs compared to pixel. I'm guessing not as efficient or optimized enough to actually notice.

Yeah, all that and a terrible, just terrible UI.

I use it daily and like it. Its my second fav as I do like stock. Its much better than touchwhizz crap

The most irritating thing about MIUI 8 is that you need two fingers to expand the notifications iirc. Other than that, I don't mind it much.

Holy Jesus those prices are heavenly for those specs! I don't really like Xaomi's UI though. But there's always Cyanogenmod!

What? No waterproofing? Wireless charging? Sd card support? Stereo speakers? OIS? Cmon Samsung fans....start bashing this like you bashed the Pixel

other than pixel being a 'google' phone (its only real value) its really a mediocre device for the cost...I have one and compared to the 6p its meh You dont need to be a samsung fanboi to not be a supporter of the pixel

Wireless Charging is useless

I'll never understand why wireless charging is said to be "useless". I use it in the car, my office desk and nightstand. It's super convenient. Started with Palm Pre...then Note 2, Note 3 and Note 5. I've been mostly wireless for over 5 years!

wireless charging is a convenient feature, especially if you can get a good working one in the car. it is, however, quite inefficient (takes a long time to charge and wasting more than half of the energy). the fact that the charging dock always has a light on even when not charging is another form of energy waste (vampire plug). unplugging and plugging the dock defeats the convenient factor.

Samsung fast wireless charger isn't slow at all, compared to regular wireless chargers

Yet the Pixel will still outsell this phone. Non techie people care about brand recognition and this phone doesn't have it.

Non "US" techie. Asian/Europe/Middle East recognize this brand for sure. Since US seems to love to alienate themselves.

Looks greats and amazing price for this specs...one of the best mobiles of this year on paper till now...will surely get one as will release in india soon...this will be my 2nd phone...so s7 edge and note 2 will decide what to do will lumia 950 which i love

Looks greats and amazing price for this specs...one of the best mobiles of this year on paper till now...will surely get one as will release in india soon...this will be my 2nd phone...so s7 edge and note 2 will decide what to do with lumia 950 which i love

I just bought mi5 and it is great. Great build and great performance and I'm going to sell it now and I'll buy mi note 2 :)

I'm not just going mad here - but the shape of the call speaker above the screen, the button below the screen and the overall look of the phone...Note 7? Is that you?

You did realize it's literally called the "Note", right? If this had a pen I'd actually consider it.

Yeah but there's copying a design and then there's...this!

Compatibility with US carriers on their LTE networks is really good news for those wanting to import one. Personally, still not big on MIUI, but the phone looks like a really damn good piece of hardware especially for the price.

Will the global version work on Google's Project Fi?

No only Google/Nexus support Project Fi

That's an interesting question, since it has the required bands for Sprint, T-Mobile, US cellular and more.

You ask this question for every phone.

Looks a lot like the NOTE 7 minus the S-pen with beefed up specs a bit. Like it though.

Looks like Samsung sold the leftover parts to this company to make up for all the money they lost from the note 7.

The phone looks great and i love Mi UI but ugh that no SD card support is killing me :( that was the main reason for me not getting the pixel

Well I was interested until I read curved screen. I know some people like it but I don't think it has mass appeal and I perusing like it. Oh well, seems like a beast of a phone.

I could be wrong but Samsung S7 edge way more than the standard S7

Good stuff here -- I'm eager to know which US carriers this phone will work on. I look forward to Xiaomi's growing presence in the US marketplace.

Will this phone work on Verizon?

I wonder how many Chinese are working for slave wages to produce this phone at this price. Not to mention what Chinese imports are doing to the American economy. Perhaps when you get laid off because your job was outsourced you'll consider these things as well.

Which phone do you prefer that was made in the USA? Which phone is employing manufacturing workers at high wages?

Just like Apple uses Chinese workers at slave wages and still have the nerve to ask a mint for there products.
Sad part is that so many people are willing to fork there hard earned cash over for Apple products.

Apple is one of many U.S. companies that stash their money in overseas tax havens. If American corporations don't pay their fair share of taxes who do you think ends up getting to pay it? That's right. We do! So you can buy an Apple product made via slave wages by people less fortunate than us and the profits won't be taxed. I will NEVER buy an Apple product because of this. And if other people in this country had an balls, they would join me and force these companies to repatriate their funds and pay their fair share of taxes on these profits.

Hey, that's irrelevant to the topic

Most smartphones and other tech are built in Chinese factories. Yes, for very low wages. But wages in China are rising too. The manufacturers are already looking for the next lower wage countries. On the other hand, it means US consumers have a wide choice of stuff to buy at affordable prices (or companies like Apple make fat profits for their shareholders). But yeah, it's horribly painful to lose your job through delocalisation.

Looks amazing but it will never get a European release. Such a shame.

No OIS in late 2016? After having the Note 7 and an amazing camera it will be hard to take a phone without one. I'm going to wait for some reviews but it looks promising. I just can't figure why no OIS?! Also for a Chinese phone its expensive!?

iPhone is made in China and expensive. I'm not sure why people think Chinese products are supposed to be cheap. It's all about the QC.

Exactly, Chinese companies usually don't care about QC and they market to the lower bidder. Samsung and Apple are "name" brands and have amazing QC, design and specs. Also, Xiaoimi's phones should be cheaper for the same reason that Mercedes car costs more than a Hyundai when every spec is the same. Maybe, once they build a name, then they can charge more. But until then they are an overpriced Samsung.

Samsung is a South Korean company. Apple is a North American (U.S) company. Xiaomi is a Chinese company. All three manufacture phones in China. Other than how Samsung and Apple market their products, please explain your logic on why Xiaomi's phones should be cheaper?

If this phone had an spen with spen functionality and was sold in the US I would definitely give it a try.

Pls be on verizon. Pls gaben pls

Oh wow, that looks like a contender for my money.

I think i just fell in love.. lawd have mercy.

Me too, & the price fits my pocketbook! Beats the hell out of the pixal XL for 900.00 buckaroos!

Xiaomi really out done themselves with this device. It is awesome and great. http://naijnaira.com/xiaomi-mi-note-2-specifications-features-and-price-...

Is it that people don't read the entire article and just jump to the comments? Guys, there are several versions of this phone. The global version with 128GB storage and 6GB of RAM has over 35 bands including those that support CDMA networks like Sprint and Verizon. Yet, there are still questions (especially from us Americans) like, will this work with T-Mobile? Will this work with Verizon? Will this work with Sprint? smh

It's more than just a matter of will they work with T-Mobile, etc. Will the phone work on ALL FREQUENCIES that T-Mobile uses. There are several international phones that work on T-Mobile but not all of their frequency bands.

The phone does support all bands and frequencies T-Mobile uses at the moment with the exception of the newest Band 66 (AWS-3) which deployment will start this year and should be fully implemented by the end of 2018. In other words this phone should work perfectly fine until T-Mobile decides that Band 66 will be the only band to be used for LTE but by then you'll already moved on to newer fancier phone perhaps! http://www.tmonews.com/2016/08/t-mobile-aws-3-spectrum-deployments-2016/ http://www.phonearena.com/news/Cheat-sheet-which-4G-LTE-bands-do-AT-T-Ve... https://www.frequencycheck.com/carriers/t-mobile-united-states

Same hardware and cheaper... Um yes please.

Wow, this is quite the package! Waaaay better than the Pixel, and it's wrapped in the gorgeous body of a Note 7. The lack of an SD slot kills the deal for me though.

Rip note 7 and Samsung, hopefully other companies take more market share out of Samsung.

Wow, if this is isn't available in the US, might look around for an overseas retailer and buy it!

The pixle is Beyer then it looks but I could have van clocked at 2.35 gz. But its at 1.6

The best way for Xiaomi to "try and make a way into Western markets" is to actually SELL them there. It's annoying how many times the English-version pages for their products have only loads and loads of specs with the Buy button replaced with "Coming Soon"...

Xiaomi always waits for the samsung model to come out and then copies it and releases later. They use to do with iphones but moved on to samsung

Or - seems like samsung manufactures their flagship for xiomi as a rebrand, like companies do with TVs. This looks like a note 7 to me, so hopefully they didn't copy steal everything about it.

Curved display? Does it have bunny ear antennas and a bakelite on/off knob too?

So it's an updated GS6E+ with no touchwiz

Holy crap! This destroys any kind of deal on any other phone available in the market right now. This makes just about every other phone seem overpriced.

If you want to sell to me then have the batteries removable ...otherwise I am quite happy to look but I will never be buying a phone with a sealed up back ... .I will never be blind to my basic need for removable batteries in things I buy even if the rest of the world falls for that type of a ....COMPROMISE ....
Android Central Newsletter
Get instant access to breaking news, the hottest reviews, great deals and helpful tips
Thank you for signing up to Android Central. You will receive a verification email shortly.
There was a problem. Please refresh the page and try again.