The Witcher Battle Arena to battle on all mobile platforms later this year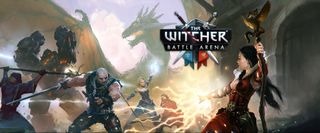 The Witcher is a popular series of PC and console games based on the novels of Polish author Andrzej Sapkowski. In the medieval fantasy world of The Witcher, powerful humans with mutant traits called Witchers seek out and destroy the monsters that threaten humanity's survival. Polish gaming studio CD Projekt RED is currently hard at work developing The Witcher 3: Wild Hunt for PC, Xbox One, and Playstation 4.
As the Witcher console games become more well-known and poised to take on the Elder Scrolls series in a fight for role-playing gamers' hearts, the series will also be venturing onto smartphones for the first time. CD Projekt RED has just announced that The Witcher Battle Arena will be coming to iOS, Android, and even Windows Phone and Windows 8 in the fourth quarter of this year. Battle Arena will be a free-to-play MOBA with emphasis on RPG-style progression and fairness to players.
League of Witchers
MOBA stands for Multiplayer Online Battle Arena. The genre is extremely popular on PC, with mobile games like Heroes of Order & Chaos and Aerena: Clash of Champions commanding sizable audiences as well. In general, these games consist of two teams of characters (either human-controlled or AI) engaging in fast-paced strategic battles until one side emerges victorious.
The Witcher Battle Arena will adapt the Witcher universe into that mold. Two teams of three characters will do battle in the Arena (not sure whether there will be multiple arenas just yet), fighting to capture and hold three conquest points. CD Projekt RED describes the battles as fast paced and specifically tuned for mobile, with matches lasting ten minutes on average. Players can team up in 3 vs. 3 matches, humans vs. bots, or play solo with and against the AI.
CD Projekt RED has been outspoken against unappealing downloadable content prices in console and PC games. The company has a track record of releasing massive free updates to its Witcher games on PC. And that same ethos of fairness and value will transfer to The Witcher Battle Arena on mobile as well.
"Battle Arena is all about skill and dedication, and we've spent hundreds of hours planning to make it a paragon of fairness in mobile gaming," explains Tadek Zieliński, Creative Analyst at CD Projekt RED.
All content will be unlockable through actual game play (read: grinding), with nothing restricted purely to in-app purchase. MOBAs traditionally allow players access to a rotating cast of characters but charge money to permanently unlock specific characters.
Motley crew of heroes
Seeing as how Battle Arena won't be an action-RPG like previous Witcher games, it falls on the lineup of playable heroes to solidify connection to the series. The Witcher Battle Arena will launch with eight distinctive heroes drawn from Witcher lore:
Eithne of Brokilon, a Dryad queen
Philippa Eilhart, a blind sorceress
The Golem, a golem :)
Iorveth, elf and leader of the nonhuman terrorist group the Scoia'tael
Letho of Gulet, a rogue Witcher and the Assassin of Kings
The Operator, a mysterious masked mage
Saskia of Aedirn, a dragon who takes the form of a human
Zoltan Chivay, a dwarven adventurer and friend of Geralt of Rivia
Notably absent from the lineup is Geralt himself, the protagonist of the Witcher novels and role-playing games. But the lineup certainly reflects the variety of characters within the series' world. More characters (and even game modes) will be added in the future.
The Witcher Battle Arena comes from Fuero Games, a new Polish development house. This will be their first game. But with a strong game design, an increasingly beloved franchise, and the support of CD Projekt RED, Battle Arena seems poised to carve a niche of its own in the mobile MOBA arena. The game will arrive on iOS, Android, Windows Phone, and Windows 8 (tablet and PCs) sometime in the fourth quarter of 2014.
Get the Android Central Newsletter
Instant access to breaking news, the hottest reviews, great deals and helpful tips.