Winning Kick review: Kick some soccer balls for charity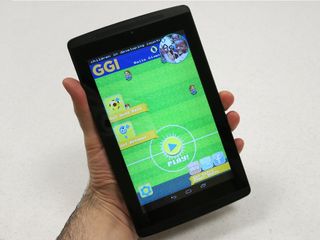 This year's World Cup ignited an unprecedented love of soccer/football in normally apathetic places like the USA. If you're a lapsed or casual fan of the sport, then serious soccer games like FIFA and Pro Evolution Soccer might be too complex to pick up and play. Luckily, Global Gaming Initiative and React Games have a footie game that anyone can learn in seconds: Winning Kick.
Winning Kick is a free arcade soccer game that can be played with just one finger. Besides the simple and approachable gameplay, it features a great retro pixel art style that evokes memories of NES games like Nintendo World Cup. And best of all, in-app purchases support a charity called Charity Ball that provides soccer balls to children in developing nations.
Tap to play
Winning Kick is basically a score shoot-out that takes place entirely on one half of the soccer field. As a member of the blue team, you have five teammates on the field. The opposing red team brings a single normal player and one goalie to stop you.
The object is to score as many points as possible within 30 seconds. To do so, you'll pass the ball from player to player until you can make a shot at the goal. Score a point and the process starts again from the middle of the field. The game ends when time runs out, the player misses a shot (by failing to kick the ball to a teammate or in the goal), or an opposing player gets the ball.
The firing mechanism is deceptively simple. A yellow arrow constantly rotates around the player with the ball. All you have to do is tap the ball when the arrow points towards one of your mates or into the net. It really is simple, but with the pressure of the clock ticking down you'll be surprised at how tough it is to score more than a couple of goals without missing a shot.
Power-up!
To make things a little easier, players can purchase or collect powerups on the field. Since you don't actually control player movement, grabbing an item means passing to a player in close proximity to it. The clock powerup can only be collected in this way. Naturally it provides a timer extension.
Retakes allow players to continue a game even after losing the ball. You can watch a video to get a free retake, or buy a pack of 25 for $1.99.
PowerShots will fly right past enemy players towards their intended targets. Use one and the goalie won't be able to stop the ball. Buying a 20 pack of PowerShots for $4.99 gets you a Golden Ball, making your ball look that much cooler in-game.
Good cause but short-lived
This is the second Global Gaming Initiative game we've covered, following April's release of Sidekick Cycle. That title offered a more substantial amount of content, as it was basically a normal 2D stunt cycle game. It also supported a charity, one that donates bikes to impoverished kids.
Between the two titles, Winning Kick is the much prettier game. You just can't go wrong with a good, clean pixel art style. Winning Kick would easily be the better game if not for its brevity. It just doesn't provide anything else to do than try to outperform your last 30-second game. Facebook leaderboards help, but the game could still more content.
Maybe give players the option of playing longer games or multiple difficulty levels or something. What's here is definitely fun, but players would certainly feel more compelled to make an in-app purchase (and thus support Charity Ball) if the game had a longer built-in lifespan. Still, if you fancy soccer/football at all (or just want to pitch in and help a kid get a soccer ball), Winning Kick is a quick download and gets you onto the field even more quickly.
Get the Android Central Newsletter
Instant access to breaking news, the hottest reviews, great deals and helpful tips.