What's your favorite phone/dialer app?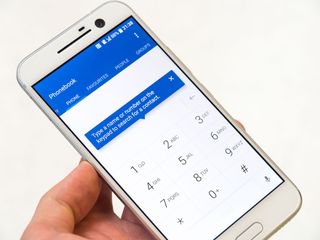 As much time as we spend tweeting, streaming Netflix, and wasting the day away on Reddit, our smartphones were originally designed to make — you guessed it — phone calls.
Phone calls may not be a huge part of how you use your phone anymore, but even so, there are a number of apps out there that try to make the phone call experience as awesome as possible.
One user on the AC forums is looking for a third-party app to replace the default dialer app on their Samsung Galaxy S9, and these are just a few of the apps the community suggested they check out.
Now, we'd love to hear from you! What phone/dialer app do you use?
Joe Maring was a Senior Editor for Android Central between 2017 and 2021. You can reach him on Twitter at @JoeMaring1.
Google Hangouts Dialer is what I use I've not used another Dialer in 2-3 years Google Voice numbers are great

I'm a Google Voice user, but I use the stock Google dialer because the dialers available in the GV app and Hangouts are just miserable.

I don't have any problems with Hangouts/Dialer when I setup phone or tablet of course the apps are installed I go to settings/accounts and add my 2 other Google accounts as I have 3 gv numbers and I'm good to go so on any device I get calls can make calls and receive/send SMS or mms

I use a free GV number as well over WiFi. Apparently you've not used a period or comma in 2-3 years either. Sorry, I couldn't resist.

GV numbers are all I use, I use out and about on LTE, 3g and have on 2g besides wifi at home, I work from home for most part so my phone number has to be dependable

Tried True Phone. Never go back

Saw your comment. Installed the app. I really like it. Thanks for your comment.

My favourite phone/dialer app is the default dialer app that's on my Pixel 2 XL

Well there's a shock! nobody seen that one coming!

Well of care I'm going to prefer the stock disk on my Pixel 2 XL duh.

Beno we know you literally don't criticise anything Pixel related or Google related, to you they can do no wrong, they could release a horrible dialer and you'd still be here singing it's praises

Well thankfully Google's didn't release a horrible dialer app for Pixels and while I love my Pixel 2 XL I know it isn't perfect. No phone is and neither is Google perfect.

Whatever the stock app on the phone I am using is fine with me. I use the dialer so infrequently I don't think about it much.

Yes, as long as it has caller id from unknown numbers and call blocking I'm good.

Same here. It's bad enough getting duplicate apps on your phone without adding any yourself.

I use Drupe once my dailer started to act up and I didn't want to reset my phone.

Samsung Galaxy phones already have the best phone Dialer with spam protection

Even though AC complains about it looking dated, I still like HTC's stock dialer and the way it lets you easily use it as a conference call hub. I spent as much as 4 hours or more on the phone, and I really enjoy the dialer and the call quality.

I donno, I still like the Google dialer better, especially the blue and white combo.

I just use the stock dialer on the Samsung Note 8. No need to download additional bloatware

Nope. Samsung phones have enough duplicate apps installed already.

I use the xda Google dialer. The Samsung dialer has been a mess since the got rid of the quick dial screen

I love Drupe, how you have a floating bubble after a missed call and just how customisable it is. I use it alongside "Should I Answer?" for all my call ID and blocking needs.

I've tried other dialer apps but I've used TruePhone, available on the Play Store, for years now and have been really pleased if anything because of its level of customization. There's nothing less pleasant than theming your phone, leaning towards the darker colors and having a glaring bright white dialer with seeming every color of the rainbow every time you want to make a call... TruePhone is stocked to the brim with features, which most every dialer has I know, but what really sold me was the customization. I can color this thing darn near most every color, and individual parts can be different colors. I'm able to choose fonts, size, even the shapes of the arrows it uses to denote what happened to a call. Picture, avatar or no picture at all it's your choice. Got blank fields you'll never fill out when you're looking at individual contacts? Just customize the contact form and they're gone...

Just downloaded True phone and it is pretty awesome.

I use the contacts list built into square launcher, incoming calls are handled by Xiaomis delivered app. But my real mobile calls are so view (8 Calls since mid of April!), that i don't really care.
Everything else is coming in via Skype / Skype4Business.
Android Central Newsletter
Get the best of Android Central in in your inbox, every day!
Thank you for signing up to Android Central. You will receive a verification email shortly.
There was a problem. Please refresh the page and try again.