What to do when an app freezes on Android watches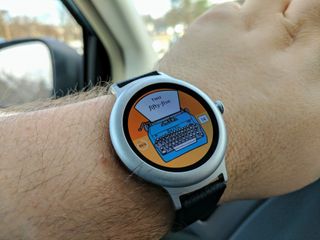 Google's Developer Preview program makes it easy for active developers to make sure their apps work great with new software updates before users get to touch them. Unfortunately, not every app in the Google Play Store is maintained by an active developer. That means sometimes your favorite app might misbehave on an Android Wear 2.0 watch.
The most common frustration with old apps on the new Android Wear is an occasional freeze. The app locks up, and the whole watch UI stops for a little while in order to sort things out. Most of the time this app freeze is temporary, not more than a second or two of inactivity. If you find yourself stuck for longer, here's how to break free and get back to enjoying your watch.
Tap that power button
Every Android Wear watch has a crown button on the bezel of the watch, and in Android Wear 2.0 it's called the Power Button. Pressing this button in from just about any screen in the OS should immediately return you to the watch face, basically closing the app you were just in and leaving you to either try again or move on to something else.
Android Wear doesn't have an app switcher or system activity monitor — thank goodness — so you mostly have to trust that this power button has closed the app you were in instead of returning you to a frozen activity. In our testing, the apps are almost always closed.
Set your watch on its charger
The Android Wear charging screen often works as a decent bedside clock, because it's basically a separate watch face that only exists when the watch is being charged. This charging UI interrupts anything currently happening on the watch, which means if you're nearby your charger and an app misbehaves you can quickly drop the watch on the charger and reset the activity.
This should only ever be necessary if the power button reset didn't work, which is extremely rare from our testing, but if you do need this reset it will work every time.
Reboot the watch
Some apps just weren't meant to be installed on Android Wear 2.0, but before you can uninstall those unsightly creations you need to restore your watch to working order. That may mean a full reboot of your watch, and fortunately that doesn't usually take long.
Press and hold the power button on your watch for five continuous seconds. You'll feel an extended vibration, the screen will go dark, and as you remove your finger from the button the display will light back up and the Android Wear boot animation will begin. Once the watch has restarted, you can go eliminate the apps that weren't behaving and leave a review for the next person eager to give this a try.
Get the Android Central Newsletter
Instant access to breaking news, the hottest reviews, great deals and helpful tips.