What apps and services are bundled with Amazon Alexa Built-in Phones?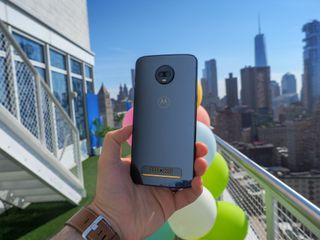 (Image credit: Android Central)
Best answer: Roughly a dozen Amazon services come pre-installed on Alexa Built-In Phones, including Kindle, Prime Video, Audible, and of course, Alexa. In most cases, though, these apps can be disabled or completely uninstalled.
What is Alexa Built-In?
Amazon's Alexa Built-In program, originally called Prime Exclusive, allows you to buy an unlocked phone directly from Amazon, typically for a bit cheaper than its carrier-branded counterparts, in exchange for a few Amazon services coming pre-installed.
In the beginning, Prime Exclusive phones would come loaded with tons of non-removable Amazon apps, along with annoying lock screen ads for other products sold through Amazon. You could pay to have the lock screen ads removed months after buying the phone, but the apps would remain.
Luckily, those days are long gone. With the Alexa Built-In program, Amazon no longer fills your lock screen with ads, meaning there's no more need to pay extra down the line. Instead, as the name implies, each participating device comes with Amazon's Alexa voice assistant integrated into the software — though it's important to note that it doesn't replace Google Assistant, so much as it gives you another option.
On the Moto Z3 Play, for example, you get a dedicated Moto Alexa app, which can be quickly launched by double-tapping the power button (this replaces the camera quick launch shortcut, which is instead handled through Moto Actions). For times when you'd rather use Google Assistant, it's still easily accessed by long-pressing the home button.
What apps come pre-installed?
The Moto Z3 Play runs an extremely close-to-stock build of Android, making it easy to spot non-Google apps. Even before opening the app drawer for the first time, the default home screen is littered with Amazon apps; Amazon Shopping, Prime Video, Amazon Kindle, Amazon Music, and a folder containing even more branded apps — not to mention a shortcut to Moto Alexa in the dock.
Swiping up into the app drawer reveals, unsurprisingly, more Amazon apps. In alphabetical order, the Alexa Built-In Moto Z3 Play ships with Amazon Alexa, Amazon Drive, Amazon Kindle, Amazon Music, Amazon Shopping, Audible, Goodreads, IMDb, Moto Alexa, Prime Now, Prime Photos, and Prime Video. Yep, that's a whole lot, but don't panic just yet. There's good news ahead.
Every single Amazon-related app that comes on the Moto Z3 Play can be either disabled or uninstalled entirely. Specifically, you won't be able to completely uninstall Amazon Alexa, Amazon Kindle, Amazon Music, Audible, Prime Photos, or Prime Video — you'll have to settle for disabling those instead. But the fact of the matter is that even on an Alexa Built-In phone, you can entirely rid your home screen of Amazon apps without having to root or switch to a third-party launcher.
The question is — should you? While you might not appreciate the initial clutter, Amazon's services are genuinely useful. Amazon Music is a great alternative to streaming services like YouTube Music or Spotify that doesn't charge an additional monthly fee for Prime members, and Prime Video is the host to plenty of excellent exclusive content. Likewise, Audible (bought by Amazon back in 2008) is the largest distributor of audiobooks online.
In any case, Alexa Built-In phones come with virtually no compromise these days. You'll still need to sign in to your Amazon account during the initial setup, and you need an existing Amazon Prime membership to buy these phones in the first place. But once you're through the initial setup process, how much Amazon interferes with your phone … is really up to you.
Flagship pick
An unlocked flagship for the masses.
The G8 packs solid standard and wide-angle cameras, a high-end Snapdragon 855 processor, and dependable battery life. LG's Quad DAC offers excellent wired audio, and the hardware feels fantastic.
Modular mid-ranger
One of the cheapest ways to gain access to 5G.
The Moto Z4 is an affordable phone with Android 9 Pie and support for Moto Mods — it comes with a 360 Camera Mod in the box, and the 5G Moto Mod allows you to use Verizon's UWB network.
Get the Android Central Newsletter
Instant access to breaking news, the hottest reviews, great deals and helpful tips.
Hayato was a product reviewer and video editor for Android Central.