The U.S. is launching a national security probe into TikTok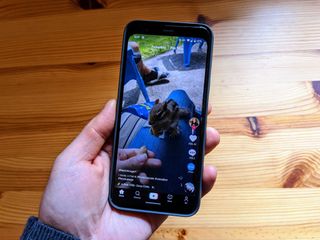 (Image credit: Android Central)
What you need to know
TikTok is a social media video app that allows users to share punchy, short videos with others.
The company is owned by ByteDance, one of the fastest-growing tech startups in China.
The U.S. government is launching an inquiry into its $1 billion acquisition of Musical.ly, citing concerns over national security and censorship.
The U.S. government is seemingly growing more suspicions of Chinese companies, as it has put yet another Chinese tech giant in its crosshairs, citing national security concerns: TikTok. The social media app has become increasingly more popular among teens and tweens in the U.S., though you'd never know the company behind it, ByteDance, is actually Chinese.
And that heritage is starting to land the 'new Vine' in trouble, as the Trump administration launches a probe into the firm's $1 billion acquisition of Musical.ly, a full two years after the transaction took place in November 2017, reports Reuters.
Alongside this, various U.S. officials have raised questions about claims of content censorship by TikTok, some of which our Russell Holly discussed earlier this week. Concerns about where American users' data is stored also fuelled calls for an investigation in recent weeks. TikTok says the data is stored within the U.S. itself. But critics of the company have pointed out that its parent company, ByteDance, abides by Chinese law, which some say requires companies to enable the Chinese government to have full access to data if so requested — a charge that's also been leveled against Huawei in its ongoing struggles with the U.S. government.
TikTok for its part is, as expected, pledging full support to any investigations:
The Committee on Foreign Investment in the United States (CFIUS) typically reviews such deals, and TikTok did not seek approval from the organization before finalizing its acquisition of Musical.ly, giving the CFIUS grounds for impaneling and inquiry into the agreement now. The specifics of CFIUS' investigations are not known at this moment, but the report suggests the regulator is in talks with TikTok over how it can avoid having to undo its purchase.
The U.S should have been more suspicious and blocked Chinese companies a long time ago when investing and buying up American campanies

so you have no problem with Russia buying American companies?

I can't help thinking that the US is worried about china/tiktok because it's doing the exact same thing with Facebook and Google. Could the rest of the world please investigate and put my mind to rest. Thank you
Android Central Newsletter
Get the best of Android Central in in your inbox, every day!
Thank you for signing up to Android Central. You will receive a verification email shortly.
There was a problem. Please refresh the page and try again.