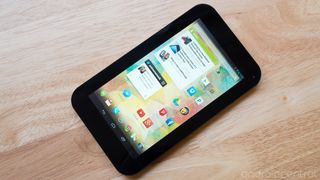 An inexpensive 7-inch tablet with a display and performance worthy of the price tag
Toshiba has a history of keeping a fresh lineup of medium and large Android tablets running alongside its Windows offerings, and the latest in that lineup is the Excite 7. A decidedly lower-end device than the latest refresh of its 10-inch Excite Pro tablet, and not to be confused with the previously-released Excite 7.7, the Excite 7 is a $169 7-inch tablet with one clear vision — sit on store shelves with a great price and a few key specs hoping to sell well.
At this price level you're not going to get any fancy features, bells and whistles or flair, but sometimes that's a good thing. Realizing what you can reasonably do in a tablet for $169, Toshiba has put together a pretty solid package in the Excite 7 that undercuts offerings from other manufacturers by $30 to $80, and that's a big deal for many consumers, especially this holiday season.
Read on past the break and see what the Toshiba Excite 7 has going for it.
For $169 you can't expect too much in the way of specs under the hood, but Toshiba has crammed just enough in the Excite 7 to get the job done. The full list of specs is listed below for your enjoyment.
Swipe to scroll horizontally
| | |
| --- | --- |
| Operating System | Android 4.2.2 Jelly Bean |
| Display | 7-inch LCD1024 x 600 resolution (170 ppi)5-finger multi-touch |
| Processor | Rockchip RK3188Quad-core Cortex A9 at 1.61GHzMali 400 GPU |
| Memory | 1GB RAM8GB internal storage (6GB available)MicroSD expansion |
| Camera | Front: 0.3MP cameraRear: 3MP camera |
| Battery | 14Wh non-removable Lithium-Polymer13hrs of typical usageMicro USB charging |
| Connectivity | Wifi 802.11b/g/nBluetooth 4.0 |
| Miscellaneous | Gravity sensor3-axis accelerometer3.5mm headphone jackMicrophoneStereo speakersSRS audio enhancement |
| Dimensions | 192.12 x 116.84 x 10.92mm349.26g |
Hardware and display
Externally, it's very clear that the Excite 7 and the 10-inch Excite Pro were cut from the same cloth — or pressed from the same plastic, if you prefer. The Excite 7 is adorned with the same solid piece of plastic coating the entire back, taking on a dimpled pattern in a slightly slick and glossy silver finish. When held in portrait mode, you'll find a power button at the top of the right edge, a pair of stereo speakers at the bottom edge (which sound pretty good) and all other ports and buttons at the top. Curiously, Toshiba doesn't seem to have made up its mind whether the Excite 7 is meant to be used in portrait or landscape based on the logo and buttons, but luckily its amorphous enough to be used any way you'd like.
Around front you'll find a 7-inch display surrounded with generous bezels that, however unsightly, actually help you hold onto the tablet without registering unwanted touches. Inside those bezels is a 7-inch display with a painfully low resolution of 1024x600, or 170 ppi. The panel has a noticeable gap between the glass and display, doesn't get all that bright and has an overall washed-out look. Pair that up with the low resolution and even at normal tablet holding distance you can notice the grain. It's an absolutely massive downgrade from what you'll find on a Nexus 7 (2013) and an appreciable downgrade from pretty much any other tablet made throughout this year or last.
Toshiba Excite Pro review
The Excite 7 features a pair of cameras — a 3MP unit on the back and 0.3MP front-facing — neither of which are useful for taking pictures or video of anything you care about. There's no auto focus or settings to speak of, and the resulting pictures even when it does focus are grainy and soft.
If you can get past the way the screen looks, you'll actually be very happy with how the Excite 7 feels in your hand. "Hefty" is probably the best way to describe it, and at 349.2g (0.77lb) — that's about 20 percent heavier than the latest Nexus 7 — you can definitely feel the extra weight. But the tradeoff for that heft is you're getting a device that feels really solid. You can't find a creak, seam or gap in the entire device, and it just feels very well made. Toshiba has been making consumer electronics hardware for years and the experience shows here.
Software and experience
On the software front, things are actually pretty uninteresting, and that's a good thing. Toshiba has chosen on the Excite 7 to go with a nearly "Stock" build of Android 4.2.2, with only a couple of pre-installed apps and barely a tweak to the settings menu. The one change you'll actually be able to notice is an "Audio Enhancement" option in the settings and its accompanying toggle in the quick settings shade.
Although the looks are much the same as you'd see on a Nexus 7, the performance surely isn't of the same caliber. First impressions are actually pretty good — sweeping through home screens, loading casual apps and getting the tablet set up wasn't much of a pain. But as soon as you start multitasking, you'll start to notice the slowdowns. Quickly moving between apps is notably slow, and you'll notice extra load times when opening content-heavy apps. Everything just takes a few more seconds to load than you want it to, and it quickly becomes annoying if you're used to any modern smartphone or tablet.
For what it's worth the combination of a mediocre CPU and GPU is plenty of horsepower to move around games on a 1024x600 display, and aside from the poor screen quality performance was actually quite good. We noticed intense games dropping frames when the tablet received big groups of notifications or went through some intense graphical sections, but overall you won't be disappointed on the gaming front.
Bottom line
When it comes to inexpensive Android tablets, you'll be hard pressed to find something from a major manufacturer that gets too much cheaper than the Toshiba Excite 7. For your $169 you're getting a pretty solid piece of hardware that will undoubtedly hold up for some time, even if the internal components won't keep up to speed quite as long. But make no mistake, you're not getting top-notch performance even today, let alone in a year when the apps and software are even more demanding.
In exchange for a $60 price drop from the Nexus 7 (2013), you're getting a heavier, thicker tablet with less storage, a drastically worse display and last year's budget internals. If at all possible, we implore you to scrounge up a few more dollars and upgrade to the next level of tablets such as the Tegra Note 7 or Nexus 7 (2013).
If price is at the top of your list when making a buying decision and you still want to pull the trigger on a tablet, ASUS has a couple of 7-inch offerings that are even cheaper and offer the same or better experience than you'll get here. Toshiba put together a solid package for the price it was working with, we just think the money could have been better distributed to the display and internals to make this an experience worth recommending.
Tegra Note 7 review
Image 1 of 14
Sign up for Black Friday email alerts!
Get the hottest deals available in your inbox plus news, reviews, opinion, analysis and more from the Android Central team.
Andrew was an Executive Editor, U.S. at Android Central between 2012 and 2020.