7 things to know about the Sony Xperia X Performance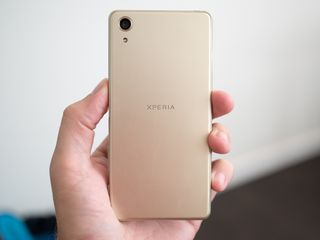 The Sony Xperia X Performance isn't exactly blowing everyone away with its amazing quality or value, but every time a Sony phone comes to the U.S. it's at least an intriguing proposition. This time we're looking at a whole group of Xperia X phones, with the X Performance leading the pack as the super-high-end version, with a price to match.
And while the Xperia X Performance can be better described as a mixed bag than a smash hit, it's still one that people are looking at and trying to learn more about. If you're in that camp, you'll want to see these 7 things to know about the phone. Read on.
Small, but powerful
Most high-end phones nowadays are rather large, but the Xperia X Performance most definitely is not. Coming in at 143 x 70.5 x 8.6 mm and 164 grams with just a 5-inch display, it's downright compact, almost the exact same size as the Galaxy S7.
That doesn't mean that it's come up short in terms of specs, though — you still get a Snapdragon 820 processor, 3GB of RAM and 32GB of storage (plus an SD card slot) inside that nice metal and glass body.
No fingerprint sensor in the U.S.
For some reason we've yet to figure out, Sony has decided to remove the one-touch fingerprint sensor from the Xperia X Performance it's selling in the U.S. Models sold elsewhere around the world have the sensor integrated into the large power button, and even though the power button has kept the same size and placement in the U.S., you'll have to stick to a PIN or pattern on your phone for security.
This is a bit of a throwback, but you'll also want to consider using Smart Lock to keep your phone unlocked when in range of known Bluetooth devices and locations ... otherwise it'll be quite a shock to go back to a phone without a fingerprint sensor if you used one before.
Water resistant
Sony didn't necessarily make as big a deal about it as some other manufacturers, but the Xperia X Performance is actually dust and water resistant. Sony says you can get it dirty and even wash it off in a sink, so long as you don't fully submerge it in water. So whether you happen to have your phone out when a drink is spilled on the table or it takes a splash by the pool, you don't have to worry about it.
And as is the case on most modern phones with water-resistant coatings, there aren't any annoying flaps or covers on the ports here — you get full access to everything, and it still keeps its water resistance.
Small battery, but good battery life
When you first see that the Xperia X Performance has just a 2700 mAh battery it's understandable to be worried about battery life. But fortunately for any possible buyers, the battery life on the phone is actually surprisingly good even with its high-end specs and great display. Sony still offers great performance on the Xperia X Performance, and that'll also last you through the day with double-digit percentage of your battery left.
Now this isn't a "two-day device" like Sony often claims with its phones (any phone can last that long if you ... don't use it), but that's not really an expectation most people have — the important thing is the Xperia X Performance can handle a full day until it hits the charger at night. Speaking of chargers, that small battery gets topped up very quickly thanks to Qualcomm Quick Charge 2.0 speeds with the included charger.
The NFC antenna is... on the front
This is more of a warning for anyone who happens to buy or use an Xperia X Performance: because of the all-metal back, the NFC antenna is actually on the front of the phone instead of the traditional placement around back. The antenna is placed to the left of the front-facing camera above the screen, which makes things a little awkward when you want to tap to someone else's phone for a file transfer, and is particularly odd for using Android Pay.
Either way, you'll get used it — just save yourself the frustration of trying to put the back of the phone on things to use NFC.
Unlocked and good for U.S. GSM networks
If you do want to pull the trigger and buy an unlocked Xperia X Performance in the U.S., you can know that it's ready to go with the right radio bands for the popular GSM networks here. So while Verizon and Sprint are out, you'll be able to use AT&T or T-Mobile, as well as most of the popular prepaid carriers out there, without any extra hoops to jump through. If you're curious, here's the full list of network bands:
LTE: Band 1/2/3/4/5/7/8/12/13/17/19/20/26/28/29/38/39/40/41
HSPA+: 800/850/900/1700/1900/2100 MHz
GSM: 850/900/1800/1900 MHz
The one thing you miss out on, which should come as no surprise to unlocked phone users, is advanced carrier features like Voice over LTE (VoLTE) and Wi-Fi calling. You just get the regular setup of features, without the extras from the carrier.
Expensive
Get ready for some sticker shock: Sony is charging $699 for the Xperia X Performance, which will immediately be cause for a double take for most people. Even if you're used to buying unlocked phones, you may not be up for spending over $700 after tax for a Sony Xperia X Performance. Be sure to read our review first, and see how it stacks up against other high-end phones, before making a decision.
If you like the Sony look and software from the Xperia X Performance but can't swallow the price, you can also consider the lower-end models in the line ... the Xperia X is a solid step down by a couple hundred dollars, and the XA and XA Ultra are further below that as well.
More: Where to buy the Sony Xperia X series in the U.S.
Get the Android Central Newsletter
Instant access to breaking news, the hottest reviews, great deals and helpful tips.
Andrew was an Executive Editor, U.S. at Android Central between 2012 and 2020.