Advertisement Feature
Tello Mobile can get your whole family connected for less than a major carrier's individual plan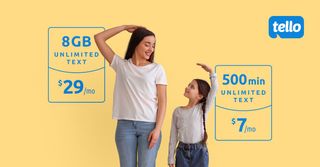 (Image credit: Tello Mobile)
A lot of us probably think of our phone bill as an unavoidable expense that we can do little to change. After all, there are only a few major carriers in the U.S. and they don't offer a lot of different options. It's easy to get roped into those pricey unlimited data plans. When you add up all the phone lines for an entire family, it can result in a pretty steep bill. Tello Mobile lets you take a different approach to your phone lines.
Some carriers charge as much as $70 for a single line, but with Tello, you can cover your whole family for that price. Tello lets you decide how much data and how many minutes you really need, and your plan's price will adjust accordingly — texting doesn't cost anything extra, either.
With this simple customization, you can create a tailored family plan that gives everyone exactly what they need. A heavy plan with 8GB of data and unlimited talk and text will set you back at just $29 a month, making it already quite competitive. Pair that with a lighter plan for your partner with 4GB of data, 500 minutes, and free texting, and you'll add just $18 to the plan. A couple of kids can get 2GB of data, 100 minutes, and unlimited texting for just $11 each. That's four family members covered for just under $70. Each user gets their own data, too, so no one can accidentally leave YouTube running and drain the whole family's data allotment for the month. Each family member can also use their data for Wi-Fi hotspots as well.
The value is still strong even if you have more considerable needs. Unlimited plans cost just $39/month, which you'll find is pretty hard to beat. The service also lets you make international calls to over 60 countries at no extra charge. If your needs change, Tello lets you adjust your plans as you go with no change fees. So if one month you know your family is going to be out and about, needing more data or minutes to keep in touch and connected, you can bump up the plans just for that month and then reduce it again the following month. The plans are flexible, letting you customize up to 10 lines per account with no contracts and no surprise fees.
Tello makes it simple to switch, too. You can bring your own phone and keep your current phone number. You can get set up quickly with Tello's easy, online service.
Just because you haven't heard of a mobile carrier before doesn't mean you can't rely on it. MVNOs (mobile virtual network operators) like Tello offer their services on the same infrastructures as the major networks, so you'll see similar connectivity since you'll end up using the same cellular antennas you've been using all along. MVNOs just tend to make it a lot cheaper by not stuffing a bunch of extras onto the plan that you might not need. Tello is running on a nationwide 4G LTE and 5G network, so you can rest assured about coverage (opens in new tab) and speeds.
If you want to see the difference Tello can make to your phone plan, check out the plan configurator here (opens in new tab).
Android Central Newsletter
Thank you for signing up to Android Central. You will receive a verification email shortly.
There was a problem. Please refresh the page and try again.