Stitcher review - a wonderful bottomless pit of talk show radio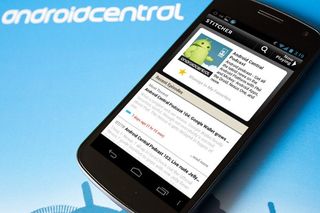 Stitcher recently added Facebook timeline integration to its talk radio app, allowing users to instantly share whatever it is they're listening to, be it live audio streams or podcasts, to their social circle. Of course, the most excellent Android Central Podcast is available on Stitcher, but there's really an unending stream of stuff to listen to.
Style
There's a home screen widget with simple playback controls, which is nice (and for some, necessary). The Top News featured section is very nicely done, with tabs for top soundbytes, what's hot, and what's new. Lists of recent episodes have appropriate thumbnails and short descriptions to get your attention, but that's about as focused on eye candy as Stitcher gets. Switching between screens lacks any decent transition animations
The web component to Stitcher is a smidgen more polished than the app, but complements it nicely. Friends that click through on anything shared to Facebook will be taken to a very polished site with a stream ready and waiting for them.
Function
Stitcher's catalog of content is truly impressive. Stations are first categorized into playback and live streams, then there are distinct categories of content, including technology, sports, entertainment, science, local, and lots of others. Of course, if you're looking for something specific, there's a search bar at the top and sorting by sources. . Once you find that perfect show, you can market it as a favorite and have Stitcher generate a custom station which mixes in other shows. That station is then tweaked based on thumbs-up and thumbs-down ratings, not unlike a Pandora for podcasts.
The new sharing feature to Facebook is nicely customizable, so you can automatically share everything you listen to on Stitcher, everything your Thumbs Up, shows that are added to favorites, or nothing at all if you're not into that kind of thing. Personally, I'm a huge fan of social listening and am a fan of Rdio for exactly that reason. It would be great to see Stitcher go one step further with its own friending system, so you can get suggested listening based on buddies on Stitcher and Facebook.
One real sticking point in my experience is that Stitcher doesn't play nice with wired headset controls. That includes pausing and playing with the in-line mute button, though playback buttons on stereo Bluetooth headsets work just fine. This feature is a must-have for any Android app that hopes to stand a chance as a regular source of listening, so folks without Bluetooth headsets may quickly be turned off from Stitcher.
It would be nice to have Stitcher set up as a more traditional podcatcher (especially now that Google Listen is dead). A simple list of subscriptions sorted by latest update and the option for offline caching would be enough to keep me happy.
Pros
Cons
No playback control with wired headsets
Bottom line
Sitcher is free to use, so there really isn't any reason not to use it, especially if you're having trouble finding talk radio to listen to. It would be nice to see the network opened up to more than talk radio and include music streams, though I imagine things would get tricky with licensing fees.
Generally speaking I like to manually pick and chose the stations I listen to, so the auto-generated station part of Stitcher is mostly lost on me, but it's a great opportunity for those that are tired of listening to the same voices every day.
Android Central Newsletter
Get instant access to breaking news, the hottest reviews, great deals and helpful tips
Simon has been covering mobile since before the first iPhone came out. After producing news articles, podcasts, review videos, and everything in between, he's now helping industry partners get the word about their latest products. Get in touch with him at simon@futurenet.com.
I've been using it for podcast for a long time. There might be a couple of podcast that they dont get, but for the most part its great.

I'm a long time user of Stitcher going back to my personal BlackBerry days. I prefer it for day to day use over Pocket Casts. The only thing I use Pocket Casts for is when I want to listen offline.

I'm loving all these app reviews. Thanks! :-)

Stitcher is alright, but for those of us with 200 MB of data who like to listen to podcasts, I need to be able to actually download files to my phone, rather than stream them. Thus, Pocket Casts for me! But still, good to know there are plenty of good podcast apps out there!

I really,really like this app,the biggest letdown is the refusal to only have an app on ios, and Android. I wish someone would send them a message,to inform them there is another OS, its call Windows 7 or 8.Sad it decide to excude us..Why,Why,Why

Well...until recently I would only have raved about Sticher; but recently, it won't download, and the ads between reports keeps growing. Maybe it's time to look elsewhere.
Android Central Newsletter
Get instant access to breaking news, the hottest reviews, great deals and helpful tips
Thank you for signing up to Android Central. You will receive a verification email shortly.
There was a problem. Please refresh the page and try again.