Songkick [Android App Review]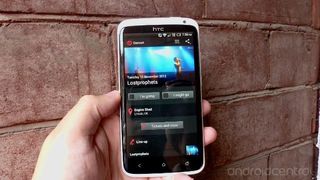 Apps that genuinely fit into your life are always the best. There are those that you genuinely cannot function without, and those which fill a void you never knew you had until it was filled. With the release of Songkick today, a void I never realised I had, has now been filled. Filled to the point I just found out that Lostprophets -- who I happen to adore -- are playing in my home town this November. A good end to the day for sure.
So, what is it? In simple terms, Songkick is a pretty complete live concert tracker, promising "100,000 concerts in your pocket". The way it does it is what sets it apart from anything else which may attempt the same. It's beautiful for one. It's been designed with Android 4.0 in mind, so it looks stunning and there are no unsightly menu buttons when using it on the HTC One phones.
Upon firing up the app for the first time, it scans your Google Play Music library, Pandora and, if you have it, your Last.fm app, to learn what's there and what artists you like. Just like that, the app is filled with artists you like, and wherever possible you will be notified if said artists are on tour. Naturally it doesn't end there, there is the ability to manually search for artists, and you can re-scan your library at anytime, all within the "track more artists" area.
Concerts can be found by artist, or by location. It will find your location -- albeit it seems to generalize a little and offer broad areas. My location was decided as a town about 40 miles away, but no matter, my local venues were still listed along with others within the apparent catchment area. The listings are pretty detailed too, I noticed an incredibly deep listing of bands and venues in my local area that I probably wouldn't have found elsewhere.
Location isn't set to where you live either, there is a simple way to manually add locations for you to keep track on. When you find a show you like, Songkick will show you who is planned to play, and offer links to tickets from a variety of online vendors.
The "Your Calendar" section is exactly what it says, it keeps track of your favorite artists, and your concert plans. So, if you go to a lot of live shows, keeping track of them is real simple. You do need to create an account to make full use of Songkick, but for such effortless functionality it isn't really a great heartache.
There isn't really a lot more that needs to be said. The best apps are often those that simply do what they do, and do it well. Songkick definitely fits into that category. For someone like myself who loves going to live shows, Songkick has filled a need I never realized I had. Even after just a day, it has become one of my favorite applications, and one I urge everyone who likes their concerts to check out.
Download: Songkick (opens in new tab)
Android Central Newsletter
Get instant access to breaking news, the hottest reviews, great deals and helpful tips
Downloading now....looks great for us concert lovers

I have been using the iOS version for months and have been loving it! I have an iPhone 4S(AT&T) as well as an HTC EVO 4G LTE(Sprint). I love how I get email notifications from them before I get notifications from Livenation and Golden Voice. Will get the android version as well. :)

Downloaded it, thanks for the heads up!

Jus downloaded this app and am truly thankful for this post!! Found out about 3 of my favorite artists coming to my area soon, perfect app for the summer

Too bad it doesn't sync with Spotify too :-/

This application is pretty awesome, thanks for the heads up on it.

Thanks for this app, it's definitely becoming one of my favorites!

the app itself is way better than Bandisintown, but it doesnt really have any clubs so its not very useful for me. bandisintown lists all venues for all artists big and small ranging from 300 person clubs to pro football stadiums, but it's GUI sucks, it takes a while to load content (servers dont have enough bandwidth?), and it doesnt group certain cities together. for example Atlantic City gets grouped in with Philadelphia on Live Nation as well as SK but biit makes you search individually for each city and there's no way to add >1 city to your profile/search. SK has all the big venue shows i'd want to see but barely any local clubs so i would be missing probably 75% of the DJs i like if i only went through this app. if they added all venues at which artists (DJs) play then this would be my favorite non-essential app.

How does this compare to Gigbeat, which can pull data from Songkick accounts as well as Last.fm and Rdio?
Android Central Newsletter
Get instant access to breaking news, the hottest reviews, great deals and helpful tips
Thank you for signing up to Android Central. You will receive a verification email shortly.
There was a problem. Please refresh the page and try again.