A smartwatch as a boarding pass is anything but first class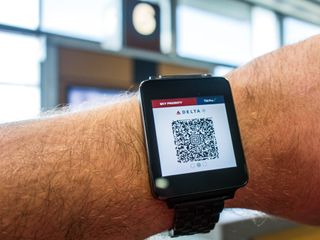 We test out Delta's Android Wear boarding pass — so you don't have to
We were promised the future. This this one square inch of real estate on our wrist (OK, a little more than that) known as Android Wear was promised to be the future of mobile, and the start of the wearables era. But when it comes to using the likes of the Samsung Gear Live, LG G Watch and Moto 360 as your mobile boarding pass for getting through security and onto your flight, I say this:
There are easier ways.
A month into my time with Android Wear, I finally got the opportunity to give Google's smartwatch a go for flying, from Pensacola to Dallas then home from Austin, Texas. As you'll recall, Delta Air Lines was one of the first U.S. carriers to update with support for Android Wear, just as the first watches started shipping.
Here's how it works:
First things first: You'll need the Fly Delta app on your phone. (And if you fly Delta but aren't using the Fly Delta app, now's a good time to try it. It's super handy, though it is still a tad slow on Android.) Once you're checked in to your flight and your boarding pass is available — that'll be within 24 hours of your scheduled departure time — you'll be able to get the info on your watch.
While there's technically a Fly Delta app installed to your watch, there's not actually a menu setting or anything to get to your boarding pass. Instead, you'll need to view the boarding pass on your phone first, and then it'll show on your watch. That is, you'll need to first take your phone out of your pocket and view the thing that you're wanting to instead view on your watch. Then you'll be able to view it on your watch.
Image 1 of 3
The notification comprises three parts. The first shows that you've got the boarding pass available from one city to another. Swipe left, and you'll be asked if you want to actually open the boarding pass on the watch. Do that, and you'll be presented with a Delta logo and your departing and arriving cities for that boarding pass. You have to swipe through that to get to anything really useful.
(An aside: While we get the importance of the branding, such a waste of space and necessitating another swipe is something that should be avoided at all costs.)
Swipe left again and you'll be presented with the actual boarding pass — a QR code that will be scanned first by security, and later at the gate. Swipe left one more time and you get your flight information — flight number, departing and arriving city codes, boarding time, boarding zone and seat number. If you swipe away the top-level boarding pass notification, you'll need to go back to your phone, view the boarding pass again in the Delta app, and then wait for it to reappear on your watch. There's no dedicated Android Wear app to open and find things. That's a shame.
But you know what? All that's the easy part.
As modern as airports have become — and even my not-actually-international Pensacola International Airport has TSA Pre and mobile boarding passes — they're not really ergonomically designed for using a smartwatch — or anything else that stuck on your body. At one TSA checkpoint I had to lean over the lectern and lay my arm on the scanner upside down. At the day's first gate scanner I had to first hope the damn thing would see the QR code on the watch in the first place, then fuss a little bit to position myself (again, me and not just a device) in the right place. It worked, and probably not in any more time than it would have taken me with a phone. (In fact, only the surprised exclamation of the gate attendant was the only thing that slowed me down — but it would have been rude not to explain.)
I didn't bother using the watch for my second flight from Atlanta — it was a bottom-up scanner that would have required some real contortion since I wear my watch as you're supposed to — with the face pointing up, away from the top of my arm.
In Austin, on the return trip, there was no way I was going to be able to use the watch at TSA — the scanner was barely in reach in the first place and awkward enough to use with a phone.
One thing that's worth mentioning: At no point did anyone question my using a watch for any of this. (That's not to say it won't happen to someone at some point, though — it most certainly will.) The woman working TSA in Pensacola thought it was cool, and we talked about it for a second, seeing as there was no one in line behind me. The woman at the gate in Pensacola thought it was neat, too. And they're both right. It is neat. And it is cool.
And it's also not anywhere near as easy as placing your phone or a paper boarding pass down on the scanner. You can do it. You might even be able to do it without inconveniencing someone else. There certainly will be a time and a place for this — anywhere someone's using a handheld scanner should be fine. But airports? They're just not ready for your wrist.
Get the Android Central Newsletter
Instant access to breaking news, the hottest reviews, great deals and helpful tips.