A smartphone user's guide to staying focused throughout the day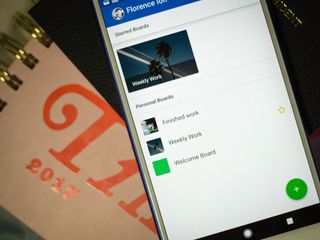 "Get off Instagram and stay off Twitter" has become my mantra as I work in silence at home, with every distraction at my whim and no one around to hold me accountable. Frankly, this is the perfect time for AI to come into play and save me from myself, but until I can command something like Google Home to keep me in check, I'll have to rely on a series of apps.
I see you, those of you placing your smartphone in front of you, right next to the keyboard so that you can glance at notifications throughout the workday. You thought you had everyone in the office fooled by putting it on silent mode. Don't feel bad: I'm the same, which is why I want to share my new routine with those of you who are just as glued to their smartphones as I am.
Employ a to-do list
I start off every morning by peeking at my paper to-do list from the afternoon before. From there, I make any adjustments as I pore through email. Some people like to use Google Keep for its long-running to-do list feature, but I prefer the pen and paper method for the sheer fact that I like to doodle.
Then, I head into Trello, a robust project management tool that helps me organize my tasks for the week and offers satisfying visual feedback when I complete a project. The free version is limited in its functionality and only lets you choose one plug-in, but you can access your boards from a smartphone or browser.
Develop a routine
I respond well to bright colors and positive reinforcement, so Fabulous was a natural fit for ensuring I stuck to a consistent routine of daily check-ins and timely breaks. The app offers coaching based on research conducted at Duke University to help with common habits like drinking water and developing a nighttime routine. You might find you prefer its gamification elements if you're a fan of immediate feedback, though you'll have to pay a monthly membership fee to unlock all of its useful features.
If you like the idea of making a game out of developing a daily habit but would rather not spend any money, try out the personalized RPG called Habitica. Or check out our suggestions for other helpful, habit-forming apps.
Stay on task
Perhaps the most important part of the workday is how much you get done within a set period. My favorite app to use is Forest, which lets me "grow" a tiny forest based on how long I stay productive throughout the day. With every marathon of productivity, the app produces a virtual tree for me to plant in my forest. Each tree also garners me points, which I can then redeem to help plant a tree through Trees for the Future. The app silences my notifications and keeps me from going to the Android home screen, while the accompanying Chrome extension is useful for blocking Twitter and Instagram during peak hours.
For those of you who like more bells and whistles with apps that keep you on task, Brain Focus Productivity Timer has favorable ratings in the Google Play Store and receives consistent updates. The app lets you pause and resume work sessions and color code them as you need, and it disables Wi-Fi and sounds from catching your attention. If you spring for the pro version, you can unlock additional calendar integration, widgets, and compatibility with Android Wear.
There's one other app I use to stay on task — the task of sleeping, that is. I thought I could get away with an app that tracks my progress, but it doesn't penalize enough for me to care. SleepTown does, however, and it's a bit like Forest in that it requires me to do what I've set out to do, with great consequences if I don't.
SleepTown helps with keeping me off my phone after a certain hour. Like Forest, the more often I avoid picking up my phone after I'm supposed to be sleep, the more houses I build to add to the suburb of SleepTown. The app requires that you pay 99 cents to unlock the ability to save the houses to your town, but I'm finding the small price worth the utility.
How do you stay on track?
While researching for this article, I came across a vast number of methods for staying focused, including a helpful explainer from Lifehacker and this list of online tools. Or, you can take Wired's advice, and avoid push notifications entirely.
How do you stay on task? Do you even bother using your smartphone? Leave a comment and let us know.
Get the Android Central Newsletter
Instant access to breaking news, the hottest reviews, great deals and helpful tips.
Florence Ion was formerly an editor and columnist at Android Central. She writes about Android-powered devices of all types and explores their usefulness in her everyday life. You can follow her on Twitter or watch her Tuesday nights on All About Android.