Slices for Android - put your Twitter timeline to the chopping block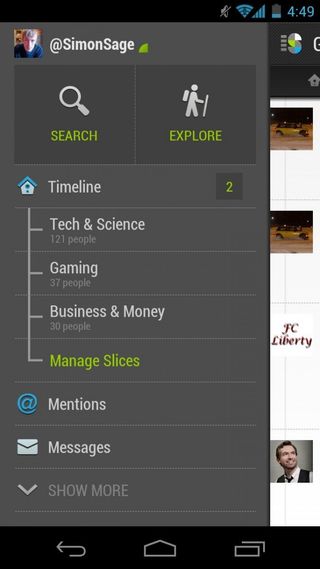 Slices broke onto the scene this week, offering a fresh take on the mobile Twitter experience. In essence, it takes the idea of lists, a core Twitter mechanism for organizing those you follow, and does... something with it. I'm still not quite sure what that's supposed to be.
All of the basic Twitter functions are in the Slices app: replies, DMs, lists, and saved searches (though no trending tweets). Geotagging, Facebook sharing, and photo/video shortcuts are available from the compose Tweet window. Beyond that, there are a few advanced features that make Slices a great Twitter client despite the convoluted feature they're trying to introduce.
Style
Slices earns top marks for its design. It follows very closely to the Android guidelines. Direct messages, @mentions, and latest tweets can all be summoned from a drop-down menu without leaving your current screen on the timeline. Tweets can be filtered to show only images, which show up as nice thumbnails.
There is a banner ad on every single page without any option to get rid of them through in-app purchases (though you can just furiously X them out whenever they rear their ugly head). For now, all of the ads are for other OneLouder apps. I experienced some definite 1.0 wonkiness in Slices. Diving into my Slices initially returned many "@null" usernames. Though there are a lot of slick animations being employed, they don't always perform smoothly. My DM unread count won't clear without going into each message individually, even once they've been read elsewhere. .
Function
The idea of a Slice takes some getting used to. It's not quite a Twitter List, though it does pretty much the exact same thing. The only difference is that you don't necessarily have to follow people to create a list, which actually makes them more useful than Slices (which cuts up your existing timeline). They're pretty much interchangeable for me though, since I follow anybody that I would bother putting onto a list.
Some Slices are automatically generated based on your current follows when you first sign in to the app, but you can ditch them and make new Slices, or add and remove people you follow from the ones the app offers. Slices are given broad categories, such as Science & Technology or Money & Business, but they can really be around whatever topic you like.
There's an Explore section which catalogs a wide variety of Twitter users and lists, but not slices, for some reason. It's a nice layout, and very familiar to some of the featured sections you see in popular news reading apps.
Then there are the more advanced features I mentioned earlier. For one, users can add bookmarks for quick access to lists and individual followers right from the the navigation pane on the left side. There's multiple account support for the real social butterflies. Slices has a stats section which shows your most used hashtags, top mentions, and popular tweeting times, as well as those numbers among those you follow. Individual followers and hashtags can be muted without unfollowing (a featured called Zip It). A web component lets you access all of your slices and expanded data on the desktop as well.
Pros
Polished user interface
Lots of advanced features
Cons
"Slicing" timeline redundant with lists
Some performance hiccups
Conclusion
In the end, I don't quite get what Slices are doing that Lists don't already do. If you could fold in saved searches, hashtags, or image searches into the content that appears in Slices, then it would be something different, but right now the set-up is just confusing and redundant. There isn't even any synergy between Lists and Slices (i.e. you can't add a List to a Slice).
That's not to say that the idea isn't sound - a feature section of awesome Twitter Lists is a great idea, and if the app is able to start suggesting Lists based on what you're tweeting, who you're following, and what you're favoriting, that would be great. Even suggestions for individual follows would be solid - Twitter's suggestion engine could use some help, that's for sure. Or hey, tie in other social networks - maybe some of my favorite Reddits, or go crazy and pull Facebook into the mix.
Even though Slices has a lot of nice features for a Twitter client and has a particularly solid UI, it's hard to simply ignore the feature of managing Slices; the Timeline button taunts "Manage Slices" even when you've deleted all of them. For now, Slices doesn't add anything particularly new that Lists doesn't, but if all you're in the market for is a shiny new Twitter client and don't care so much about group management on your timeline one way or the other, this may do the trick for you.
Sign up for Black Friday email alerts!
Get the hottest deals available in your inbox plus news, reviews, opinion, analysis and more from the Android Central team.
Simon has been covering mobile since before the first iPhone came out. After producing news articles, podcasts, review videos, and everything in between, he's now helping industry partners get the word about their latest products. Get in touch with him at simon@futurenet.com.