Skype 4.0 for Android launches - 'rebuilt from the ground up'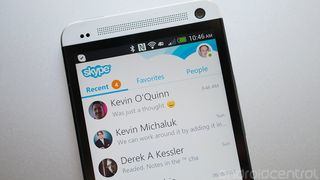 Messaging platform celebrates 100 million Android installs with all-new app
Skype for Android is getting a major update today, bringing the app up to version 4.0 with a major redesign. The app, which Skype says recently passed 100 million installs, has been completely redesigned to be more consistent with other platforms' versions. (That is to say it's looking a lot more Windows 8-like as of this latest update.)
The new app features a cleaner "conversation-first" UI, putting greater emphasis on instant messaging. In addition, you can now tab through different areas of the app, and change tabs using swipe gestures. But the changes are apparently more than skin deep, as Skype says it's been "rebuilt from the ground up" to be faster and more reliable.
The Microsoft-owned messaging platform promises further improvements to the Skype app for Android in the future. In the meantime, you can grab today's update from the Google Play Store.
Update: Skype buried the options to sign out, as well as the settings menu. By popular request, here's where to find them.
Source: Skype (opens in new tab)
Get the Android Central Newsletter
Instant access to breaking news, the hottest reviews, great deals and helpful tips.
Alex was with Android Central for over a decade, producing written and video content for the site, and served as global Executive Editor from 2016 to 2022.
once hangout with voice/SMS integration is released skype is bye bye

And the answer is... never. Consider how they've let Google Voice languish since the day they bought GrandCentral, I'll bet that SMS is dead and gone before Google makes any progress.

Maybe for you, but some people don't want to be that deep into Google's services... even when using Android. Seems a lot of people I know (at least those in the know) seem to do the same thing I do and use alternate services that split up reliance on any one company.

Uuu not bad.
Alot better than before. =)
And that video is kinda awkward without music tho.

And not compatible with HTC Droid DNA...poorly done, Skype...

Yeah, this sucks. Use skype every day and would love to try the new update. Posted from my HTC DNA via Android Central App

You really wouldn't. The only really new things are group video messages and multiline text messages. They also removed the "Away", "Do Not Disturb", and "Offline" status options.

I'd be willing to bet that the only reason Microsoft bought Skype is because the US Government bought it for them so that they could record all the calls, and break all the encryption. I've pretty well lost interest in it. At least with Google they tell you exactly what data they keep and how they use it, and give you a control panel to deal with it.

Does it do push messaging? No? Pass.

Title says Skype for android 4.0, it should say Skype 4.0 or Skype updated To 4.0. At first I thought it was for the ice cream sandwich version of android. Misleading title. Posted via Android Central App

At 23 plus mb it seems kinda bloated . . . . . . Posted via Android Central App

This. Its exactly why its not on my phone.

Its also missing several key features that were present in previous versions, namely the ability to add contacts from the address book on my phone and a SIGN OUT/SHUT DOWN button. Very disappointed in Skype for such a step backward. :(

The sign out function is there just click on your profile then hit the menu button on your phone and there it is sign out. For some silly reason it is not on the home screen with all your contacts. I hope this helps you out.

Do you know how to sign-out and sign-in with a different Skype name? thanks!

Just remove the checkbox from "Sign in automatically" in the settings menu and the next time you sign out, you'll be able to do that!

I hate it when apps make it more difficult or confusing to log out than it was before. Before there was a simple button right on the main screen. Now you have to click the little thing in the upper right corner where Phil's face is that gives no indication it can be interacted with then you have to go into your menu to exit. Very poorly done.

Somebody skipped the new tutorial. :P But you're right, the icon isn't obvious at all since it's designed to blend with the sunshine/cloud-looking graphic in the top corner. Poor UI choice.

Therein lies the problem- I can't find Phil's face to click it!

They finally fixed the bluetooth headset problem.
It was impossible to use Bluetooth headset on the
Samsung Galaxy S3 and Note 2. Now the issue has
been fixed. Nice. Also, they made the fonts bigger in instant
messaging, which is very nice. However, I'm puzzled about the sign-out function.
I can't figure out how to sign-out and sign-in
with another Skype name. Has anyone figured this
out yet? Thanks!

You have to uncheck "Sign in automatically" in the settings.

I can't figure out how to change my online status. I'm signed out of SKype on my PC but nothing is showing up on my phone on how to change it.

Top right-hand corner of the new Skype home screen: there's a circular icon that looks as if it's meant to be a sun in the middle of that ray-of-sunshine/cloud-looking graphic. It's actually your profile icon. Click that and you'll see Available/Invisible toggles smack in the middle of your profile screen. Accessing your profile also gives you the full Settings / Sign Out / Help menu options, which aren't shown in the menus of the other screens.

ahhhh... thanks! I didnt' even notice that. another question: :) after sign-in, is it possible for it to go directly to "People" instead of "Recent" ? Thanks!

Oh nice, I have to test the BT fix later. I was using an app called BTHeadSet to fudge compatibility on the Galaxy Nexus, but it was inconvenient, really unreliable, and a battery drain. I went back to using a wired headset for Skype instead and felt very old-fashioned!

I can confirm that Bluetooth headsets now functions perfectly
on my Verizon Galaxy Nexus and Verizon Galaxy Note 2 and Plantroinc
M50 and Voyager Legend headsets.

Aha, success! Finally there's an easy way to dial a specific phone number for a contact with multiple numbers. The previous version didn't allow that, at least not from the Skype contact list. It even ignored any default number you'd specified for a contact via the desktop client, and the Android client never revealed which phone number it was actually dialling. (It would only say "Calling [Skype Name]" on the call screen.) This made calling phones directly from Skype's contact list unreliable/dangerous/expensive. I only realized the problem after calling a relative in the UK for 20 minutes, only to find my account drained of pay-as-you-go credit because the Android client persisted in defaulting to his mobile number regardless of my desktop defaults! The only way to select an alternate number was to go to the dialpad screen, use it to bring up Android's built-in People list, and navigate to the contact's number that way... that or punch the number manually (*gasp*). I know that sounds petty, but considering the number of international relatives I call using Skype, it became a huge p.i.t.a. The new version has a much more intuitive dropdown list for each contact, per the desktop client. \o/ Also: yeah, lack of Push is still a huge oversight in this day and age. IM with Push is an absolutely vital feature if they want to increase adoption, especially with the younger crowd. They're already so far behind here that they've lost audience to dedicated IM clients like Whatsapp, Line and FB Messenger, and other integrated video/IM services like Hangouts and Tango. Stupid, stupid oversight. They already have a fantastic integration of worldwide VoIP-to-phone services, video calling and conferencing, ubiquitous cross-platform compatibility, and built-in IM. All they needed was Push to make it a premier one-stop-shop service.... doh.

There is no dropdown to set online status. I am eternally offline. also, uses 70mb of RAM and shows an unremovable statusbar icon until you you find out where the sign out button is in the profile settings.
promptly uninstalled. hello, google hangouts!
edit: reinstalled and the availability options became usable. now uses 77mb. uninstalled again.

LMAO Only using 51MB on my Nexus 4 though.

Any info about battery usage improvement?

now the app doesn't stop running @ 77mb of RAM no matter what until you find the sign out button.
--significantly worse.

100 million Android installs is kind of misleading. Considering every Verizon Android Phone sold since 2009 I think has it pre installed as bloatware. As others have said, removing the sign out button from the home screen is just working. Its a back handed way of keeping people signed in so they can pump up their numbers for people signed in and for how long they are signed in. Hangouts & Voice are what I use. Integration is coming, and it will be great. Posted via the totally awesome Android Central App

I have no idea how to sign in. WTH....

can't seem to update it on tablets (such as Samsung Galaxy Tab 2 7.0 Wifi-only) I completely uninstalled the Skype app and downloaded/installed it again from
the Play Store(which showed the July 1 version).... after it finished installing,
I opened it up, but it was still the previous version?

Yup, oddly the description for the app's already updates but v3.2 still gets downloaded and installed. I picked up the v4.0 apk from another source. Posted via Android Central App

Too white. If only a dark theme is available

Unfortunately the ease to logout as many have mentioned is a problem. As is the lack of 'push' notifications. I have my phone calls forwarded to Skype and then onto my mobile as I travel overseas. The problem with using a 3rd party tp push the chats is, they break the call forwarding feature. Skype really does need to look at pushing chats as other have this working.

Why i can't make a video call ? Have the update skype now ! Before qas great ! Now can do anything just send files :/

I suppose v4.0 this is optimized for smartphones. I have an Android tablet and the one in Google Play store is still v3.2 and so I picked up the apk elsewhere. In portrait mode, the menu, call, chat button, and apply (check) button's not there so you had to approximate their positions when tapping them, or you can simply rotate to landscape. Posted via Android Central App

Now how do I get to sms function? Posted via Android Central App

Is it just me? Available and Invisible are the only two statuses you have. No status options like "busy", "Away", "Do Not Disturb" or "Offline." Someone also mentioned you can't even sort your contact by "online" only. Looks like a downgraded product to me. I keep the previous version if that's the case.

In my humble opinion, I had given up using Skype for video calls as I kept getting poor videos and started using hangout which is pretty good.
I updated yesterday and only 30 minutes ago I tried the updated Skype from iPad to HTC one,an overseas call, then I tried immediately after from HTC One to HTC One overseas also. My take is that the video between the HTC ones were better than when iPad was used and the quality in general when using between HTC ones was much better than prior to the update. The video was clear and no stuttering. However, when using the iPad, the sound was better and louder. I don't know why the sound on both ends were not so loud when using HTC ones. Let's hope it's a software issue but all in all, the video quality after updating, for me at least, is much better than before. I will be between Skype and hangout for a while to confirm which is better. Posted via Android Central App

Yeah, Skype is good VOIP app, no doubt about that. Additionally, one may even try using RHUB`s web conferencing servers for conducting online meetings. It is easy to use.