Skype adds video calling -- and ads - to another round of phones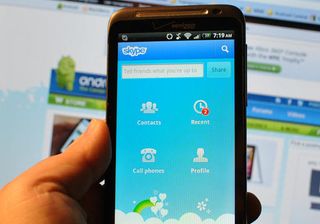 You don't usually get sumpthin' for nothin', and the adage rings true with the latest update to Skype for Android. The good news: A baker's dozen devices have had video calling turned on, but at the price of having to put up with advertising. You can get around the ads (which show up for everyone, not just the new crop) if you've got Skype credits laying around, which we're betting most of you don't.
Anyhoo. Here's the list of phones that gained video calling:
Samsung Galaxy Tab 10.1 (T-Mobile)
HTC Shooter (KDDI)
Sony Ericsson Xperia Live with Walkman
Sony Ericsson Xperia neo V
Acer Iconia Tablet (A500)
LG Optimus Black (landscape only)
LG Optimus 3D (landscape only)
LG Optimus 2x (landscape only)
Motorola Photon
Motorola Droid 3 (landscape only)
Motorola Bionic (landscape only)
Motorola Xoom
Motorola Atrix
A nice smattering, indeed. Download links are after the break.
I still cant video chat with my Evo running CM7 :(

Finally Tegra 2 is supported!

The list above shows the Acer Iconia tab which some have gotten to work, I can't wait to try this out. But I hope they have figured out the microphone issue.

I guess the Epic 4G is too old to get support.

EVO 3D RULES ANDROID DEVICES... Long before this update

sadly it was taken downs of being the best phone of the year with all the SGS2, and HTC Amaze. I love how many phones are coming out, with all the choices that we get :D.

Updating now on my MoPho :)

Guess ill have to remove it now. Don't have a single app that shows ads.

Or you can get adfree from the market. Requires root though

Need to add Asus Transformer TF101 gets Video support also!

Asus transformer has it. Just have to enable it in the settings. Its not "supported" by skype yet but its there. Have no idea what that means. It works for me but the speaker volume sounds like its one step above mute even when I turn it up all the way. So it needs work.

When I enable video calling on my Xoom, I get a message telling me that my device has not been certified for video calls. Boo Skype...

Looks like it was already checked off for me (after the update) on my MoPho.

Would this work on the Epic Touch 4G?

Works for htc Thunderbolt

My Mic still wont work on thunderbolt

Once connected hit mute. Then unmute and I'm betting it will work.

If hitting mute then unmute doesnt work I would clear date force stop uninstall and reinstal because its working great for me.

og epic 4g works wth gingerbread leak if i remember right.

Just an FYI...the ASUS Transformer tablet has the option to turn on video calling! I will test it out tonight, but I think it should probably be on the list. :-)

Just an FYI...the ASUS Transformer tablet has the option to turn on video calling! I will test it out tonight, but I think it should probably be on the list. :-)

Hey Phil, It works on the the Galaxy Tab 10.1 LTE for verizon just had a video call with my brother!

Video doesn't work on my wifi gtab 10.1... wtf

It works on my wifi Galaxy Tab 10.1. You have to go into settings and enable video. I called my wife's Touchpad from my Tab this morning. Worked great.

It works! Thanks for the tip! I donn't know why they list it as Galaxy Tab 10.1 (T-mobile)...

Working fine on my Droid 3, but no video call option on WiFi Xoom.

Did you try going into settings and scroll down?

I feel like a dumb-ass. Thanks.

Won't work on my Sprint Galaxy S II if the 4G is on? wth? If I turn off my 4G then I can log in. But if I'm logged in and turn on my 4G, it logs me out. Is 4G not supported by Skype yet?

Just FYI, on unlisted phones, you can enable Video Call in settings and you will get a warning saying that the device is not officially supported and you may experience poor quality. BUT don't pay attention to that, back out and voila, it works. Tested on myTouch 4G (unlisted as supported). Enjoy! edit: BTW, it works with both front and back cameras!

It now uses the Motorola Triumph's front-facing-camera too!

After you downloaded and changed your Skype and after you logged in, go to Settings and proceed all the way down to get to the Enable Video calling and check the box to activate it and you can do the rest of the settings afterwards. If you don't do that, you cannot enjoy the video calling feature. While on the video call, you can change the camera's view, front and back while on use. You can also change your display's view if you want yourself on big or maximum view or the one your's calling by dragging the small videobox (your image view) to top-left and double tapping it. Going back to normal, do the same procedure.
Android Central Newsletter
Get the best of Android Central in in your inbox, every day!
Thank you for signing up to Android Central. You will receive a verification email shortly.
There was a problem. Please refresh the page and try again.