Samsung's latest Galaxy S5 ad pokes fun at iPhone battery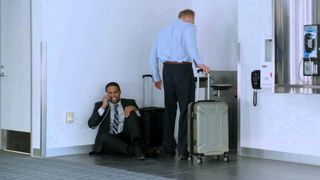 Samsung's latest Galaxy S5 ad takes square aim at iPhone users, particularly as they're huddled around the few wall outlets scattered around an airport. Meanwhile, smug S5 owners can switch on ultra power saving mode or pop in an extra battery pack.
Samsung has had some ads in the past along the same vein, and even the more recent ads still put Apple squarely in their sights. Funnily enough BlackBerry CEO John Chen called iPhone users wall huggers back in March, as pointed out by Jordan Kahn.
What do you guys think of the ads? Is the commentary about battery life apt? How often do you find yourself hunting for a plug at the airport?
Android Central Newsletter
Get instant access to breaking news, the hottest reviews, great deals and helpful tips
Simon has been covering mobile since before the first iPhone came out. After producing news articles, podcasts, review videos, and everything in between, he's now helping industry partners get the word about their latest products. Get in touch with him at simon@futurenet.com.
haha that's awesome Posted via Android Central App

Went on vacation for a week with my cousins who all own iPhones (one 4S, five 5's, and one 5S) and this is a pretty legit commercial, they had to charge their phones EVERYWHERE, every chance they could get, even one time in a furniture store. I have the One (m7) and didn't have any problems at all with my battery life. One thing I have noticed though is that the m7's ultra power saver mode did absolutely nothing for me, as if it was never on in the first place.

I have been a S5 owner for about a month now and I have yet to get my phone down to 10% and I use it a lot from games to calls.

Really? Wow! Unbelievable. A whole month without a single charge and still above 10%? Samsung is clearly underselling that Ultra powersaving mode! Posted via Android Central App

His comment went WAAAAY over your head. Don't bother ducking.

No... He just stepped over it. ;-) Posted via Android Central App- Via HTC One

That is definitely one of the better Samsung commercials I've seen. Well done!

That is a funny but true commercial. I wouldn't buy a phone if it didn't have a removable battery. Posted via Android Central App

Me either. If a phone doesn't have a removable battery, then I cross that phone off of my list of phones that I may want to upgrade to. Right now I've got an S3 and I absolutely love it. The only place that I have issues with the battery draining is when I'm at work and that's because I'm in a metal building. Otherwise, it does just fine.

Care to explain that last sentence?

U mean the metal building sentence? Its because of the low signal the phones radio drains alot of battery. Posted via Android Central App

Exactly! I've had that same issue with just about every smartphone I've ever owned. I just make sure I have a charger ready in case it's needed. Posted via Android Central App

Definitely understand. But I also think they were showing that if you couldn't change the battery the battery life is still great. But that is definitely a feature I loved about my Note 2, being able to replace the battery. On vacation in theme parks it was great just swapping batteries. Posted via Nexus 5 Android Central App

I wish HTC had Samsungs marketing expertise and capital. That was an excellent commercial. Jim Lloyd

But HTC doesn't have a removeable battery, so they can't make the commercial.

They may not but they don't need them. They already have great battery life. Posted HTC One M8 via Android Central App

Are you kidding me, HTC phones no longer have removable batteries, also their camera is utter crap

You do know removable batteries are utter crap right? Also the camera is great. You have clearly never used it. Posted HTC One M8 via Android Central App

Been using a removable battery phone for i'd say 4 years. it's funny when someone doesnt have one and we're out partying and their phone has 12% battery, while mine has 112%, and carries me through the night at the bar and into the next morn when i leave with some hog, and need to get picked up when i'm ducking out of her place at 6 am (still with 50%+ juice)... i'm not about to give up on going out, so i would never go back to a non-removable battery.

That's exactly why Samsung is more successful!

Yep. Nicely done Samsung Posted via Android Central App

Give it a couple weeks,, apple will sue Samsung for battery life patent infringement Posted via my Droid RAZR Maxx HD using the Android Central App

Rounded edges on the battery Posted via Android Central App

I chuckled Posted via Android Central App

I lost it Posted from my Nexus 7 2013 running Android L or Samsung galaxy S5

Lol...so true Posted via Android Central App

Hahaha it's funny because it's true I have really seen people do that Posted via Android Central App

I live it! Iphone for work, that I charge at least once a day, just from texting and talking. Use my note 3 for the same but personal, nav, and emails, even AC! 70% since 5 am.....already charged the iphone half way through the day. Would love an extra battery for it.....

No one does commercials like Samsung , brilliant !

Funny but from my experience its like calling the kettle black. My battery life isn't so great either, as is the case with a lot of folks. Boom! From My S5

But you don´t have a GS5 do you...

Great point. The g2 battery is amazing. Posted via Nexus 5 Android Central App

My G2 has a bipolar battery. Sometimes great, sometimes meh. Better than my GS3 tho. (I wish I could trade for a GS5). Posted via Android Central App

Did you watch the ad? They make 2 points. Ultra saving power mode and swappable battery. IPhone does not have those features. How is this calling the kettle black? Do you know what they phrase means? ಠ益ಠ

Give it 2 years. IOS10 will have power saving mode and they will call it innovative.

Lol, more like 3, and Apple will sue Samsung over who did power saving mode and that Sammy's battery packs are a shape. Posted via Android Central App

My note will not just differ, but beat it up... Posted via Android Central App

You may have a bad battery, or have messed up an app somewhere or setting. I get almost 2 days of good use outa my G-S5a
Good thing here is if you do have a bad battery in your S5, you don't have to split your Phone in half and likely break your screen to replace it like some iSheep wall hugger has to.....

This is so true Lmaooo Posted via Android Central App

Apparently no one has ever heard of a battery pack...sheesh... really? Posted via Serenity

Doesn't battery pack cost even more?
What they show here is either free (built in feature of the device) or quite cheap (replaceable batteries)

About the same, but you get about 2 charges with even a small(cigarette) size pack. Works with any device. Posted via Serenity

a cigarette size is small? I think that is pretty large. And the increase in bulk of your phone if you use it while its charging from the battery back. No thank you.

exactly. It makes the phone larger, yet the screen stays small.
If you used a larger device, you'd have a larger screen and a larger battery, and, in this case, a way better, removable battery ...
not only that, but if you do like more power, you could buy another battery, which has more capacity...

People who demand removable battery on every phone pretend battery packs don't exist.

I rather change a battery than use a battery pack that I would have to wear as a case or have a pack and cable hanging from my phone. An extra note 3 battery cost me like $10 and I don't even need to use it lol..

Very true. Battery packs are great. But some people buy their phones for size and adding a bulky battery pack is not as good as just swapping a battery or having battery saving mode. Posted via Nexus 5 Android Central App

And having a battery that is swappable isn't as good as having one built in and integrated with the hardware. Posted HTC One M8 via Android Central App

And then there are heavy users that run battery killing programs like Ingress. When the battery pack just prolongs the life as it still drains the battery faster than charging. In that case you either have to quit to charge, or you could swap and have another prolonged battery drain.

But why sit there and wait for it to charge when I can just swap batteries and be at 100% in 5 seconds

Nice ad.
I don't like Samsung plastic phones but really good ad moved from nexus 5 to HTCm8

Ok. And a phone with front and back glass is much stronger and better.... Ok. Tell that to all the iPhone users walking around with broken phones because they can't pay to fix it or choose not to fix it and Samsung users just have a nick or cut on the phone and their phones look just fine. Posted via Nexus 5 Android Central App

Calm down. Everyone has their likes and dislikes. Posted via Android Central App

I don't see how his dislike of Samsung phones means he automatically likes iPhones and in particular the 4 and 4s. In fact he seem to be using the same phone you use the Nexus 5. I hate Samsung plastic also, and I hated the iPhone 4 and 4s because of the glass as well. See how that works?

My iPhone 5s battery was much better than my S5. Just speaking my experience. Ultra power saving mode is a waste to me bc I want a strong battery and juice that doesn't force to me to change modes! And limit my activity. The HTC I have now beats any phone I have ever had. Posted via Android Central App

There are other options besides ultra power saving mode. There is a power saving mode where you can do things such as limiting the cpu performance, block background data, turn on grayscale mode, and more. Which is helpful as well, and you don't have to change modes.

Very cool...It reminds me that making the move from my iPhone 3G which had to replaced SIX times for battery problems to my GS3 which has NEVER had any battery problems was the best decision I could have made, not to mention all the great benefits of Android.. Well done Sammy!

Funny, they have good commercials now

So true! This is a very common site in airports!

This is a huge point against Apple - I have had my s3 for almost 2 years now and just recently bought 2 new batteries with a wall charger on Amazon for like 10 bucks. It's nice to know that when I take a trip to NYC or elsewhere I can walk around all day and not have to worry about plugging in because I have 2 spares that easily fit in my pocket.

The way that I see it, Motorola could make the same ad comparing it's MAXX phones with the Galaxy series.
I presently have a Galaxy S4 and an older Motorola RAZR MAXX that I replaced with the S4. The MAXX had a MUCH BETTER battery. Samsung still don't get in in the Battery department.

Exactly. Which is why they always have a removable battery. Posted HTC One M8 via Android Central App

I know 2 people that ditched iPhone recently for the s5. And both were because of battery life. Apple and it's avid followers will try to convince you differently but Apple products with built in batteries do not have a great life span. Apple will continue to get money from me but only in the form of a desktop. ಠ益ಠ

Really? I'm all android but I still have my iPod touch 2nd gen. Use it everyday for music. Battery lasts almost 4 days. A buddy of mine bought my iPhone 4 off me and it still has awesome battery life, roughly 2 days easy. Its all about the user experience. I love my droid and won't go back to iPhone simply because Android has more to offer to me than Apple. This doesn't mean Apple sucks. Everyone has their own likes. Sent from my Motorola Droid RAZR M

Which is why I want the removable battery in my nexus. (I used to carry around a spare battery. The external battery works o.k. but is much more awkward to use.) It was my biggest concern switching to the Nexus 5.
Posted via Android Central App

I used to swap out my batteries on my galaxy nexus all the time (that phone really needed it) I have an external charger for my nexus 5 but swapping out batteries is much easier. Posted via Android Central App

I might shudder with disgust at Samsung's TouchWiz UI but I have to give credit to Samsung for staying committed to devices with removable batteries and SD cards.(Especially SD cards.)

SD cards are the floppy disk of the mobile world. And need to die.
Posted HTC One M8 via Android Central App

And that's why HTC went back to using SD cards on the m8 micro SD cards are here to stay Posted via Android Central App

I never change batteries, usually because of the case. However, Apple's quest for always thinner at the expense of everything else is getting old. They can get great battery life on the iPad, why not boost the thickness on the iPhone and do it there too. Take the rumored iPhone 6, everything is pointing to making it thinner. Why? Why not keep the same thickness as the 5s (which is more than thin enough) and add some battery?

Mind you they made the Ipad thinner the last 2 generation and increased battery life each generation. It doesn't have to be a tradeoff.

BTW, where's Richard Yarrell? An actual positively-received Samsung article and he's not here to gloat?

I believe he was banned. Posted via Android Central App

Battery life on my Note 3 is awesome. I can routinely get a day and half out of it without a charge and normal use. My Galaxy Nexus on the other hand often wouldn't make it to lunch time on an 8 hour work day. Glad to see they are steadily improving battery life, I feel it's the only tech holding these smartphones back at this point.

I also easy get a full 24 hours of battery life on my Note 3 with heavy usage and still have sbout 20% left Posted Via AT&T Galaxy Note 3

IPhone will always be a step behind Posted via Android Central App

The swappable battery is one of the biggest reasons I stuck with the s5. External battery packs just do not work with how I need to use my phone. Sadly Samsung seems to be the only good phone with a swappable battery anymore though.

The G3 has a removable battery as well.

Yep my note 3 battery is really good unless I play plants vs zombies. Thanks for removable batteries

My teenaged niece was literally depressed when her iPhone died halfway up the drive to Mt Hood! She almost cried! I made matters worse when I offered her my micro usb charger. Lol, I had to buy her an Apple compatible USB battery pack. Posted via Android Central App- Via HTC One

Lololol good one!
Ultra power saving mode is great but even the regular power saving mode is pretty good too.
Swapping batteries just helps you feel better throughout the day.
We all subconsciously think about our battery life throughout the day, with the option to carry more than one battery its so relieving. Did you guys catch the line about the new iphone in the commercial? Can't help but think it's only a matter of time before Apple strikes back. Posted from my caseless GS5, because I believe in myself

Not bad at all.. Lol Posted via Android Central App on The Nexus 5

I have a portable battery pack made by Tylt, that works with any smartphone--android, iPhone, etc. There is little reason to have to plug into a wall. My battery pack cost me about $40.00 and can charge three smart phones or one tablet. Even though my HTC One M7 doesn't have battery issues, it is still a good thing to bring along on airplane trips so that I can have a full charge when I step off the plane. Posted via Android Central App

Needing to replace your battery is not a good thing. A good thing is having a long battery life. My S5 had great battery life for about 2-3 weeks after purchase and that with pretty heavy usage. I was really happy with it and thought I finally found THE ONE. Turns out it's not.... Now I'm sitting at 64% after 7 hours and little use. I guess all battery miracles last 2 weeks. And no, I don't have any rogue apps using up all the battery. The panda has spoken

Um...64% after 7 hours actually sounds pretty good. What kind of battery life are you expecting?

My s5 has those days too, hold the power button in and hit restart. Always helped me. But that still isn't THAT bad, what was the sceen on time?

Android powerusers are wall huggers as well..even w a note 3 ;) Posted via Android Central App

No they're not. Especially not the Note 3. A Note 3 can get through a full day (10 hrs) on a single charge EASILY with normal usage. I regularly get 13 hrs on my Note 3 and I use it mostly to play games and read books on the subway in addition to calling/texting/emails etc.

I don't think you read the post right. He said "POWERUSERS" Much different from normal usage.

Nope. I am a serious power user. I can kill a Note 3 battery in 8 hours when I am using it for some of my work. I just swap the battery out and I am good to go. No wall hugging needed. Normally I get 18+ hours out of a single charge.

Yeah but with Android L coming out it will have substantially better battery life and other phones that doesn't run heavy UI like Samsung could easily beat them.

You act like Samsung is not going to be using the same features of Android L to conserve power.... Besides, a lot of the stuff jsut now hitting vanilla android is stuff that HTC, LG and Samsung (to name a few) have had for years. Vanilla is like iOS in that regard. Just now catching up

Wallhugger. ROFL. Yes iPhone battery sucks. The screen resolution sucks. The screen size sucks. But people looooove Apple, so they'll keep on shelling out the money for their products.

I LOVE the screen size! Why would you want a tablet size? I don't have gorilla hands so it's perfect for me. The iphone is like a stripped down BMW and the galaxy is like a souped up ford... but it's still a ford. AND, I LOVE SHELLING OUT MONEY ON THEIR PRODUCTS!!! : D

LOL. The iPhone is far from a stripped down BMW. It's a KIA with a BMW price tag. Apple's marketing makes you believe that you're getting a 'premium' product, when in fact, you're actually getting a sub-standard product. Think of it this way. In 2014, Apple sold you a phone with a 4" screen and a resolution of 1136x640. IN 2014! When every other flagship phone has 5"+ and a 1920x1080 resolution or better. ROFL. How is that a 'stripped down BMW'? LOL

I posted Jun 1st about people on lock down at the airport. every on I saw with a iPhone was lock to a plug in Vegas airport. Posted via Android Central App

Did anyone notice the tablet dangling from an outlet near the beginning of the commercial? Posted via Android Central App

That's an awesome commercial hahhahhaha Posted via Android Central App

I think they highlighted the wrong aspects. My friend has an iPhone, and every time we see eachother, the first step is to plug in.
I've never used the ultra power saving, or regular power saving modes on my s5, nor do I have a second battery. And I routinely make it through the day, even driving a truck cross country, on t-mobile.
The commercial calls Samsung's battery life into question, by bringing up methods of extending or replacing the battery, instead of highlighting it's natural longevity.
Just my thoughts
Posted via Android Central App

AC needs to do a survey to find how many people with removable batteries actually use a spare battery. I bet it's like 3%. It's one of those things everyone complains about but few actually take advantage of.

I bet it's more than 3%. Call it a niche, but it's a life-saver when you need it. Not only can you swap it out and get a full-charge in seconds, but also keep your phone and just change the battery when it's dying, rather than replacing your entire phone. Yes, I have a phone with a sealed battery (One M7), and I haven't felt the need to have one, but I bet people who use it will keep sticking to them.

It also depends where you are from. In South Korea, they always provide you with two batteries when you buy a phone. Whenever I ride a subway or bus, I see many people watch TV (DMB) on their phone or read a articles or browse the web on the go, and we always Kakaotalk (essentially whatsapp version of it) or even playing popular games, and they always bring a spare battery.

That maybe true. The thing is that the option is there. I would rather have the option and not use it than not have the option at all

Who ever says the s5 doesn't have great batt. Life is a plant or a troll. I use both s5 & 5s. I rarely even use my iPhone for that battery life reason. It only comes to the club or bar with me , douche comment, I know. lol. But that's the truth. Posted via Android Central App

That is actually a great commercial showing a great feature of this phone. Posted via Nexus 5 Android Central App

This is bloody genius, and it actually happens in many airports. I've seen quite a few at O' Hare. My M7 has an Extreme Power Saving Mode as well, but no removable battery. Oh well. Gonna get a battery extender since I currently don't need a swappable battery. Great ad. HTC, take a page from this. You NEED better ads.

Samsung, I sincerely love you! Posted via Android Central App

That's the funniest samsung Ad, thumbs up samsung! Posted on my phone

Real life situation..accept it... ... ( 0ppo F5) ...

Removable battery and micro SD cards are big reasons I use Samsung. Even so there are options, even for iPhones. My Note 3 battery life is great; so was my GS2 (until I moved it to Orange) so network strength is an issue. Posted via Android Central App

If I turn off my data and WiFi when I'm not using it I can get about 16 hours of the day with my gs4. I don't know why on iPhone it is not as easy to to turn off data as it is WiFi ect. Posted via Android Central App

Which is why I use an android even tho I prefer the HTC One M8, I do agree with Samsung here! My coworkers are constantly charging their iPhones every chance they get, sitting by the outlets with them just like this commercial.. You couldn't pay me to have that boring device.. Been there done that like 5 years ago.. So happy for choice!
Posted via Android Central App

I will say reading Rene's same article on imore is hilarious! The Apple fanboys are pissed! Posted via Android Central App

Funny ad, but I wouldn't focus on the competition so much. On the other hand, Samsung clearly knows how to market its products well without my input. Posted via AC App on HTC One

Loool! So true! Posted via Android Central App

But.... it's still NOT an iPhone-which is why they need to try and poke fun at their competition and Apple doesn't. Who wants something the size of a tablet? Bigger phone needs more than one battery.. that's your fix? commercial was good for a laugh!

Bigger phone has bigger battery ,not like the vEgetable phones tiny >15oomah...

I woudlnt buy a phone without a removable battery and a memory card ...its a shame the newer HTC are copying Apple on that... Still,im looking for a update and i may consider a samsung for that.I have a HTC Desire with the original removable battery wich still last the entire day...with low usage lasts for several days.So im happy for now but looking for a phone with REMOVABLE battery and MEMORY CARD !
Android Central Newsletter
Get instant access to breaking news, the hottest reviews, great deals and helpful tips
Thank you for signing up to Android Central. You will receive a verification email shortly.
There was a problem. Please refresh the page and try again.