Samsung Galaxy S7 edge versus Galaxy Note 5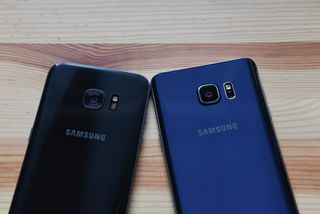 At first blush, it would be difficult to recommend the Galaxy Note 5 of 2015 over Samsung's brand new 2016 flagship, the Galaxy S7 edge.
But when you dig deeper, there are some ways the Note 5 stands out, and not just in the obvious stylus-infused narrative we return to each fall when Samsung releases yet another Note.
Though much of the attention right now is on the Galaxy S7 edge, the Note 5 offers a few clear advantages, and still comes off as an incredibly powerful and capable smartphone. Curious to learn how? Read on.
Hardware and specs
The Note 5 was Samsung's first device with a curved glass back, making it much easier for people to hold given its 5.7-inch display size. Not only did that curve make it easier to hold, it added a beautiful infinity pool quality to the Note's rear, distinguishing it from the Galaxy S6 edge+, which was announced at the same time. To many, the Note 5 marked a maturity in Samsung's design story, a striking turn from just a year earlier when the Galaxy S5 was still being criticized for its plastic chassis.
With the Galaxy S7, Samsung combines the best of the Note 5 and the Galaxy S6 edge+ into one device, offering the glass-and-metal structure that debuted with the GS6 with accents like a curved back and front. To that end, the Galaxy S7 edge is clearly in the same family as the Note 5, but its extremely narrow side bezel makes it slightly more difficult to pick up off a table, or grip solidly in the hand. Those are really the only criticisms of a smartphone that has what appears to be the entire tech industry in heat.
Many people deciding between the Note 5 and S7 edge will have to contend with each device's biggest features: the S Pen and curved display, respectively. That's because they are extremely similar in most other respects: both have the same QHD resolution display, though the S7 edge's is slightly brighter and, at 5.5-inches to the Note 5's 5.7, a tiny bit sharper. Internally, the Note 5's Exynos 7420 processor and 4GB of RAM stand up well to the GS7 edge's Snapdragon 820 (or, in Canada, Europe and the rest of the world, Exynos 8890) and 4GB of RAM. In real-world testing, these two phones are among the fastest in the industry, and it won't be for some time that the GS7 edge's 20-30 percent (theoretical) extra horsepower will become evident.
Back to those distinguishing features. Many people love the Note series' S Pen, utilizing it for note-taking, drawing, and in compatible apps. As we'll go over in the next section, Samsung made a number of improvements to Air Command, the Note's stylus command center, in the Note 5's Android 5.1.1 software. By taking the S Pen out of its holster, Air Command brings up a bevy of possible actions, including an overhauled S Note app that works with the lower-latency stylus itself to create what is easily the best handwriting experience on a smartphone today. Personally, I don't use the S Pen enough to recommend it over a similar device without it, but the question here is whether it is more useful than the Galaxy S7 edge's curved display, and that is more difficult to answer.
With the Galaxy S7 edge Samsung made better use of the Edge Display, that tiny lip that, when swiped in from the right side of the screen, brings up a number of shortcuts and easily-digestible bits of information such as favorite apps and contacts, sports scores and basic utilities. Here's the thing, though: Samsung could have easily added the edge display functionality to the regular Galaxy S7, or any of its former Galaxy products, without sacrificing usability. Sure, it feels better to swipe in on a curved display, but that doesn't preclude it from working on flat glass.
So the question is whether the Edge Display has any other value, which leads us to talk about its aesthetic qualities. The curved edges look amazing, period. I think it's OK to care about how a piece of technology looks, especially one that you carry with you every day, and doubly so when those qualities don't detract from using the product. The Galaxy S7 edge is probably the best-looking phone Samsung has ever released. It also has a slightly more matte look to it when compared to the Note 5; the aluminum is slightly darker and less reflective, and the curved edges eliminate the pronounced bezel that we see on the Note 5.
Moreover, the S7 edge (and its non-edge counterpart) heralds the return of the microSD slot that was removed in the S6 line (and absent from the Note 5), and waterproofing from the S5.
Swipe to scroll horizontally
Category
Galaxy Note 5
Galaxy S7 edge
Operating System
Android 5.1.1 Lollipop
Marshmallow update pending
Android 6.0.1 Marshmallow
Display
5.7-inch QHD (2560x1440, 518 ppi) Super AMOLED
Gorilla Glass 4
5.5-inch QHD (2560x1440, 534 ppi) Super AMOLED
Gorilla Glass 4
Processor
Exynos 7420 octa-core (2.1GHz quad + 1.5GHz quad)
Snapdragon 820 quad-core or Exyos 8890 octa-core
Storage
32 or 64GB
Non-expandable
32GB
microSD expandable
RAM
4GB (LPDDR4)
4GB (LPDDR4)
Rear Camera
16MP, f/1.9, OIS, phase detection auto focus
4K video, 120fps slow motion
12MP, f/1.7, OIS, dual-focus pixels
4K video, 240fps slow motion
Front Camera
5MP, f/1.9
5MP, f/1.7
Connectivity
802.11ac Wi-Fi, 2.4/5GHz, MIMO (2x2)
Bluetooth v4.2 LE, ANT+
NFC, Location (GPS, Glonass, Beidou)
802.11ac Wi-Fi, 2.4/5GHz, MU-MIMO
Bluetooth v4.2 LE, ANT+
NFC, Location (GPS, Glonass, Beidou)
Charging
Micro-USB 2.0, Adaptive Fast Charging
Qi wireless, Powermat wireless, fast wireless charging
Micro-USB 2.0, Adaptive Fast Charging
Qi wireless, Powermat wireless, fast wireless charging
Battery
3000 mAh
Non-removable
3600 mAh
Non-removable
Waterproofing
No
IP68 waterproofing
Dimensions
153.2 x 76.1 x 7.6mm
150.9 x 72.6 x 7.7 mm
Weight
171g
157g
Software and performance
Unlike some other comparisons we've done in the past, extracting differences in the software of two Samsung devices is relatively difficult.
Unless you're on Verizon (at the time of writing), the Note 5 still runs Android 5.1.1 Lollipop in most parts of the world, including my Canadian unit. On the other hand, the Galaxy S7 edge ships with Android 6.0.1, and even has the next-to-most recent Android security patch on most carriers.
The differences in the two pieces of software is subtle, especially when removing the device-specific features like Air Command and Edge Screen. Samsung has softened some of the blue and green-heavy color palettes that shipped on its Lollipop devices, moving to a more mature blue and grey. These changes can mainly be seen in the notification shade and some of the menus.
Of course, by running Android 6.0.1, the Galaxy S7 edge benefits from some of Google's native improvements, such as Doze, runtime app permissions, and a variety of performance improvements. These will all come to the Note 5 in due time, along with these color updates, but some users may have to wait longer than others.
The one other thing to note when it comes to the look of the software is that the Note 5 ships with a higher DPI (or display density) preset than the Galaxy S7 edge, which allows it to fit more interface elements on the screen at once. The benefits are clear when scrolling through long lists and web pages, but it's relatively easy to achieve the same result on the GS7 edge with a handy app (opens in new tab) — and even if you leave it at its default, you won't be missing much.
Finally, the battery on the GS7 edge is a capacious 3600 mAh compared to the Note 5's 3000. In real-world use, that should represent a couple more hours of uptime per day, but the truth is that without Doze and App Standby, it's difficult to tell how much of the GS7 edge's battery advantage is due to the bigger battery cell or the newer software. We know the Note 5 doesn't have much of an issue getting through a day now even on Lollipop, and that can only improve with the latest software tweaks from Samsung.
Camera quality
Here's where things get interesting. The Note 5 benefited from a more comprehensive Pro Mode when it shipped last year with the same 16MP camera sensor and lens combo as the GS6. It quickly became my favorite Android phone to shoot with, given the big, vibrant viewfinder, incredibly fast autofocus, true depth of field from the f/1.9 lens, and excellent optical image stabilization which made up for some of the sensor's deficiencies in low light. But it also had some issues: there was some major over-sharpening happening on daylight photos, and the 16:9 sensor crop was not great for portraits and other closeups.
The Galaxy S7 edge attempts to overcome both of those issues. Not only does it share the same great Pro Mode (along with an excellent Auto mode that takes great shots in nearly every environment), but Samsung dropped the megapixel count from 16 to 12, increasing the size of the sensor's individual pixels in the process. It also reframed the sensor's aspect ratio to 4:3, bringing it more in line with the rest of the industry. And alongside the larger pixels, which let in more light, the new f/1.7 lens is faster and wider, improving both low light and depth of field.
Galaxy S7 edge (left) / Galaxy Note 5 (right); click images to view larger
Unfortunately, it's not immediately clear which is the better camera in every situation. While low-light photography is indeed improved over the Note 5, the Galaxy S7 edge doesn't always come out ahead in daylight photos. What could be as easy as a minor software update may also be a more complex issue with the new 12MP sensor, which captures lower-resolution photos.
Both cameras are among the best in the industry, but overall I'd have to give the edge to the, um, edge.
Bottom line
These are both great phones, and the choice isn't as clear as when I started researching this piece. While I love the GS7 edge's matte finish and curved display, I often feel more comfortable using the Note 5, with its easy-to-grip sides and larger display. I also think the S Pen offers more long-term usability, especially for avid note-takers, than the Edge Screen, which in software has yet to meet the potential of the beautiful hardware.
Of course, I have to say the Galaxy S7 edge is the better phone, because in many ways it is: it has a faster processor, a slightly brighter display, a camera that performs better in low light, waterproofing, the return of the microSD slot, and, right now at least, the latest version of Android. When the Note 5 receives Marshmallow, however, which for non-Verizon users should be any day now, the contest may be even closer than it is today.
In any case, you can't go wrong with either phone — find the one that meets your needs in terms of features and price, and you'll be happy here.
Android Central Newsletter
Get instant access to breaking news, the hottest reviews, great deals and helpful tips
Daniel Bader was a former Android Central Editor-in-Chief and Executive Editor for iMore and Windows Central.
Note 6 is the winner Dr. Satan is my physician

Lol no way. Note 9 is miles better. Posted via the Android Central App

Neither. The Samsung Instinct was and still is the bomb... Posted via the Android Central App

Nah, the phone from Night At The Roxbury is the best. Posted via the Samsung Galaxy Note 5 on the Sprint Network

Nah, the phone from Night At The Roxbury is the best! Posted via the Samsung Galaxy Note 5 on the Sprint Network

Nah, the phone from Night At The Roxbury is the best!

Nah, the phone from Night At The Roxbury is the best! Posted via Xperia Z5

And phonefanatic2014 is a moron!

That's rich coming from the likes of you...

Phone? What? Posted via the Android Central App

Turns out the Note 7 was the bomb

That phone I seen on Mission Impossible Ghost Protocol is the best hands down! Be Together Not The Same

Nah, The Samsung phone from the Matrix was the best. Posted via the Android Central App

Do you love the s pen? Note 5 is the winner. If you don't care about the s pen and like the edge display, then the S7 edge is the winner, winner, chicken dinner.... Posted via the Android Central App

My sentiments exactly Posted via the Android Central App

Note 4 tops both Note 5 and Galaxy s7 Edge, and whatever samsung choose to produce in the future that's totally non-repairable, non-removable battery and yucky glass back

I prefer the Note 5, for a few simple reasons, while it might look better at a glance, I still prefer a flat screen, I'm not a fan of the edge screen when using the device.
The higher DPI honestly means a lot more than screen size, I find I can do so much more with my note and S-pen that on the smaller screen of the edge with a lower DPI. the difference is significant and it really improves a lot of tasks.
I prefer having the 64 gb of internal storage plus cloud storage to 32 gb + sd card. (I'm over dealing with sd cards) The only device that could take me from my Note 5 is the Note 6, hopefully they'll provide a 64 Gb version
water resistance, bigger battery are all welcome additions, but not things I actually need.
Samsung has to impress me with the Note6 or I'll just keep the note 5 for another year. God, I sound like such a Samsung fanboy, makes me a little sick.
I did have to pick up a nexus 5x to play with google's latest and greatest, can't rely on Samsung for updates.
But they do make great phones to just pick up and use as they are.

I figured i was the only one who liked the Note 5 over the S7 Edge.. I'm not enamored with the curved glass as much as i thought i would be.. I find myself actuating the screen when just holding it. Never happened with the Note5. I think i'm going back to that phone. The subtle differences once on Marshmallow make it an easy choice for me. Of course, its just a personal preference. Both devices are fantastic. I'm anxious to see what the Note 6 ends up being. I will likely be acquiring that device when it comes out...

+1 for this guy. I'm able to upgrade often so I was expecting to jump from the Note 5 to the S7 Edge. Not after holding it in person. It's very awkward to hold, for me, and like you said, I couldn't seem to hold it without touching the screen with interrupted my usage. I love the S Pen so I figured why upgrade to basically the same phone, which is more uncomfortable to hold and has no stylus? I opted to go for the regular S7 and it's quite simply amazing. Something about it feels slightly quicker and more responsive than the Note 5. And I'm loving this 200gb of extra storage I have inside. The only issues I've noticed that seem odd are (1) the quick charging doesn't seem to charge nearly as fast as the Note 5, and (2) the S7 doesn't pick up my normal wifi signal as strong. Same with data connection too. I find myself in more "dead spots" now around town and even home on my wifi. They're usually short lived and manageable. Odd nonetheless. The battery life is amazing too. I'm still in my first week and I've already tweaked the phone to where I'm getting 5-7 hours SOT. I managed to get my Note 5 up to 8 hours SOT. I would go nuts in September if they released the Note 6 in two variations. The normal-sized Note and a Note 6 Mini. If this S7 in its current carnation had a stylus, I would have my ultimate dream phone. Posted via the Android Central App

My hopes are for a larger note. There is so much they can do to stand out considering how much the note 5 does. I would love an oversized note giving me more room to use the spen. Not complaining about the current size but a 6.3 to 6.5 would be ideal. Not to mention that I have large hands. The note in my hand looks like a 5 inch phone in others hands. Posted via the Android Central App

That's a little too big for my tastes, the current size is just perfect imo Posted via the Android Central App

I agree. I like the 5.7 size. I'm talking about a + variant vs going with a mini. I think the big one would sell better than a mini but the 5.7 would still be the top seller. Posted via the Android Central App

I actually love how they trimmed down the screen-to-body ratio on the Note 5. It's a little shocking to know that you're holding a device with a 5.7" screen given how small the physical phone is. My iPhone 6 Plus looked like a monstrosity next to it (even though it had a smaller screen lol). After some fumbling last year, Samsung seemed to have gotten their bearings now with all the variants. Simply two S7's in the spring which would leave the fall open for two variants for their fall Note release, if they wanted. Keep it simple for the customers. None of this "multiple storage size options available" for a million different phones. Bringing back the sd card and limiting the buying options to a standard 32gb was a great decision from a marketing standpoint. While the gentlemen above would love to have a 6.5" Note, the market for that is very small, I'd wager. I do think there is a market for an 'S7 Pro' (aka Note 6 Mini). This latest S7 release shows that the public can handle a dual release (couple options, but not an overwhelming number of them). I think Samsung could get away with the same thing in the fall with the Note 6 release. The Note customer base is large but somewhat specific. It's a great powerhouse business phone. Many of us (myself and friends/colleagues use the stylus frequently) and I know many of them/us would certainly welcome the baller functionality of the Note in a smaller phone. While I absolutely love the Note line, I still use the phone with one hand most of the day for typing. It's doable with the Note 5, but way more comfortable with the S7 body. Either way, I'm stoked for the Note 6 rumors and leaks to start! The S7 rumor mill got me through a very cold winter here in the Baltimore area :) Posted via the Android Central App

ME TOO--WHERE IS THE NOTE6 I TALKED TO SAMSUNG AT BEST BUY, IT WILL HAVE ALL THE 7 STUFF, AND THE SAME NOTE DESIGN WE HAVE ENJOYED. THEY WENT FOR THE WATER DUNK IN LIEU OF THE REMOVABLE BATTERY I'LL TAKE AN SD CARD, 64 G MAX NOT ENOUGH WHEN YOU HAVE A 128 NOW +32 PLUS THE MARSHMALLOW WILL BE BUILT IN, NO MORE UPGRADE ISSUES I HAVE A N4, I AM WONDERING IF I SHOULD WAIT FOR THE N6, THE S7 EDGE WILL BUST WITH ALL THAT GLASS, EVEN IN A CASE, THEN YOU PONY UP 150. I WAS TOLD MAYBE JULY NOW-- 6 WEEKS OF JONESIN TAKE CARE

You're definitely not the only one. I sold my note 5 and bought the edge, big mistake. Just purchase another Note off of eBay and I'm selling the edge.

The Edge actually has a slightly higher ppi count.

... Only because of the smaller screen. It's the same screen as the note 5 Posted via the Android Central App

I have a Note 5 from Verizon and I've had Marshmallow since 3/6. Can't say for the other carriers though.

Isn't it buggy as all getout? Posted via the Android Central App

I've had no problems at all.

No issues here either Posted via the Android Central App

Not at all. It was a great phone before and now it's even better. Better battery life and using the phone is even more smooth than before. Posted via the Android Central App

Verizon is the only US carrier to get it yet, AT&T has hinted that it's close I think.
My T-mobile Note 5 is still on lollipop

US Cellular got it a couple days ago. I'm on Marshmallow. Gold Platinum Galaxy Note 5

I have a unlocked non carrier note 5 in Australia. Still no Marshmallow and I'm still on the November security patch. Samsung ate terrible with software updates. Great phone. But I do get freezing quite often. Sometimes I cannot unlock the phone for a few minutes. Posted via the Android Central App

I have the note 5 and s7 edge. While the s7 edge is smaller the note 5 is more comfortable to hold and i can use it one handed better.

I have the Galaxy S7 edge and it's taking a little to get used to holding it because of the edge screen, but I like it. It's nice and fast and just an all around good experience. Posted via the Android Central App

Diane, thanks for the good article, and also for the reference to the app that scales the screen. I installed it on my S7 Edge and love the extra real Estate this has created. I'd be particularly interested in hearing the perspective of folks who have both and are in Verizon, or are in a country where the Note has received Marshmallow. I've heard that Marshmallow improves the speed and accuracy of the fingerprint reader in the Note 5 to get it up to par with the S7 Edge, and that improves it's smoothness to be close to one par. Posted via the Android Central App

Diane? Posted via the Android Central App

Lol. Autocorrect or something. Good catch. Sorry Daniel. Posted via the Android Central App

I wish my note 5 came in silver titanium, but I'll keep the 5 just the same. ♡ Posted via the Android Central App

Galaxy Note 5 all day for anyone who uses the S Pen (stylus) on a regular basis. I have both and I have to say if you actually use the full potential of the Note 5 and the full capabilities of the 7Edge then it's a close one but for me I prefer my Note 5. With that said I have been using my 7 Edge for 9 days straight (my Note 5 is with Sammy getting an internal camera lens replaced) I really like it but not enough to be my daily driver. This phone is cool TouchWiz sucks as much as ever though. Posted via the Android Central App

I hate the term daily driver. Don't kno why Posted via the Android Central App

How in the world does TouchWiz "suck as much as ever" ?? Please elaborate on that silly statement, considering they've made it better than it ever was before. Whether one likes or hates TouchWiz, one should at least be able to come to the logical conclusion that it's better than ever.

Better than ever doesn't mean much when it was the worst of the worst.

Note 5 gold heere with marshmallow its the best phone from samsung the s7 edge screen is still a gimmick and for the looks nothing moore Btw note 5 with marshmallow very smooth i cant find any problems at all Posted Via Samsung Galaxy Note 5 Platinum Gold & Microsoft 950 XL Black

Agree 100% 6.0.1 on N5 is awesome on vzw. One issue I found is hangouts is a bit wonky... Doesn't work all the time. Wouldn't connect over 4G and audio not working.... Yes I did check permissions.. Same issue on my wife's note 5. Other than that no issues. Sent Via Nexus 9 on N Posted via the Android Central App

In my personal opinion, there is not reason to upgrade if you have the Note 5(unless you like to waste money).

That's what I'm saying. Ppl are crazy jumping on phones every 6 months Posted via the Android Central App

I was considering upgrading my Note 4 to the S7 Edge but I went with the Note 5 instead. I use the S Pen way too much to give it up and I personally prefer more internal memory options then a SD card. I hope they make a Note 6 with 128 GB internal because that will be my next phone. If they bring back the SD card then I hope they at least have a 64 GB version. Either way the Note 6 will be my by next phone. Posted Via The AT&T Note 5

You have a problem. Posted via the Android Central App

I went from the Note 5 to 6p to the s7 edge. The note 5 is easier to hold. I do like the look of the edge better. I'm definitely looking forward to the note 6 but I must admit that the water resistance on the edge is a big plus. Especially with a little one running around the house. I am back on tmobile and I'm worried about Jumping to the note. Updates seem to take longer with the notes for whatever reason. I remember being frustrated as a note 4 owner when everyone was getting updates and I had to wait. We will see how things go. Posted via the Android Central App

As much as the edge has caught on, for me the note is more useful. I love the note5 and cant wait for the note6 final specs. Btw, i am on verizon and have 6.0.1 on my note5 and it made a great phone even better! Probably the first update since ICS that made a big difference to me lol. Sent with my white Note5 with nonremovable back and no SDcard!

Here's an easier test: douse them both in water and see which one survives. Posted via the Android Central App on the S7 edge

The note 5 would survive a dousing.... not so sure about full submergence though.

I'm still using my note 2 Posted via the Android Central App

Good for you, smart man, I am still using my Note 4 and it works like a charm, still fast and capable as day one. I don't get why people like to burn money by upgrading every six months, makes no sense. Posted via the Android Central App

Coming from the note edge (having both edge screen and s pen), I can't help but lean towards the s7 edge since it's obviously newer (more future proof) and waterproof (with a klutz such as I, it is a good precaution lol).. Though I feel like I'll reach a point where the spen will be missed, even though I don't use it regularly at all.. Plus the s7edge just feels smaller in my hand, which is only a pro so long as the edge screen has good palm rejection.. Posted via the Android Central App

note 6 or 7 edge will be a must get if they choose that route again Posted via the Android Central App

Note 5 Posted via the Android Central App

microsoft apps big + 105 gigs free cloud storage ill never use Posted via the Android Central App

Long live the note 4 Posted via the Android Central App

Yup, user-replaceable battery, SD card, IR blaster and soft touch rubbery back!

Posted this in the Note 4 forum after recently picking up a couple new batteries but needs to be repeated here; I have to share how these two new batteries have made my Note 4 like new again. I'm back to getting the same kind of on-screen time I used to get when the original two, now almost 1.5 years old, were new. Even so, no worries of getting low on a charge while out and about today and probably on in to the night as the other new fully charged spare is in my pocket to get back to an immediate full charge again. I'll be good to go into tomorrow morning (this is what function over form is all about)! Let's see those sealed/embedded battery phones do that! ;)

+1 Posted via the Android Central App and Note 4

There is no wrong choice here. Both have positive. I would be happy with either one.
but, if there can be only One: Note 5 - S Pen does More than Edge. (edge screen is sexy tho)

Sexy but gimmicky. Posted via the Android Central App

Nexus 4 domination! Posted via the Android Central App

Besides offering a choice, there is no reason why Samsung can't implement a grand majority of its Edge "features" on any device. After watching a video demonstrating the Edge apps, there is nothing there that can't be used on a Note 5. Posted via the Android Central App

Had the note 5 since release date and recently got the s7 edge. Note 5 is definitely easier to hold but everything else about the s7 edge is better. Battery is awesome and ram management is great. Definitely will upgrade to the note 6 bug personally to me the s7 edge is a better phone

I jumped from the Note 5 to the S7 Edge. I really only did it because, well, I could. The S7 Edge wins out a little bit for me. Battery life is much better for me (I got about 4.5 hours of SOT with the Note, and I'm averaging about 6 hours of SOT with the S7 Edge), the camera fits my needs much better (taking pictures of my kids inside), and it feels a little bit better in hand thanks to the curved front and back. I loved the sapphire black color, so I miss that. I also miss screen-on writing as I used that feature more than I thought I would. Overall, i'm happy I made the jump...but I wouldn't have even thought about doing it if I didn't have Jump On Demand.

I switch from the note 5 to the Edge and I feel the note 5 is a great phone but the finger print scanner was a nightmare!. I love the spen feature but after using the Edge, Hands down! the Edge is the choice for me...The stunning screen! Posted via the Android Central App

I own both note 5 and gs7 edge and love them both. But I must say I'm very impressed with all the things the gs7 brings . Better battery, brighter screen in sun light ,faster smoother and cleaner Ui , and a way better low light camera . I'll hold on to my note 5 until the note 6 drops in July . Truth be told I actually use the edge screen features way more then I use my S pen Posted via the Android Central App

The Note 5 is the worst of the Note line. The S7e is the epitome of the S line. No contest as of today but the Note 6 will be a whole different ballgame. Posted from my S7e/Note 4/iPad Pro

Note 5 worst ? i have to disagree . i love mine . and i upgraded from a note 4 . now the s7 edge is kinda ehh

Note 5 is great! Problem is. Lost my S pen can't get a replacement without relinquishing my current phone. Too much trouble

Huh ??? You can buy a S pen on line all day long eBay and Amazon there about $25 Posted via the Android Central App

Had to get a couple of replacement devices when I had a Note 5 and got to keep the stylus when I sent in the phone. PM me and I'll send you one free. They're gold btw. Posted from my S7e/Note 4/iPad Pro

من وقتی که امیل ادرس خود را داخل میکنم این رقم هدار میدهد اندرات پاک شود Posted via the Android Central App

Basically it boils down to what you prefer. If it's specs the GS7, but for usability it's gotta go to the Note 5. The edge screen us cool and all (I have that GS6 edge), but not that usable. That may change in 6 months by the time the Note 6 comes out but so far I haven't seen it on the GS6 yet. Posted via the Android Central App

I think its a win win, just depends on what your needs are and what works for you.. I loved my Note 4, I just didn't need a stylus and it was just a tad too big for me, the S7 Edge has really hit the sweet spot for me. I am a bit surprised thought the Note 5 didn't get the same camera as the Edge, best camera I've ever had in a smartphone.

Both incredible devices. Can't go wrong with either. Posted via the Android Central App

i own both . love the note 5 . and i only like the s7 edge

How about a Note Edge 2? Posted via the Android Central App

Have the Note 5 and just got given the s7 edge for work. Have to choose which one to give back... This is so hard. Love the battery on edge (although nothing wrong with Note)
The multitasking/ram management is light years better on the edge. Surely when my Note finally gets MM that'll improve? And I'm one of the people that actually uses the S Pen all the time. I find it extremely useful during meetings and for my own research purposes, whereas the edge screen is turned off because I don't find it useful at all.
Since I work in the industry I'll get given a Note 6 in 6 months anyway so I guess I'll stick with the Edge... 1st world problems. Posted via the Android Central App

Gotta love a job that gives you a free note 5 and a gs7 edge. Both are keepers. But I think the 7 ....has the edge on the n5 haha get it Posted via the Android Central App

Basically comes down to what you'd prefer. Pointy bits or edgy screens. My G4 kinda overheated not long ago and is starting to develop some more issues. I'm holding out for the Note 6 if I could but if it fails, then it's going to be the S7 Edge.

I'd love to have an S-pen, but for my hands the Note is just too wide, and too uncomfortable to hold. No sale.

This has been a difficult choice for me this year. I too like the size of the Note 5. I use to have 2 phones of different sizes to take to work and take out to the gym or social event but I'm not sure I need to do that anymore.
This may be the first time I actually hold onto the note 5 and just wait for the note 6. Let's hope the 6 is a great phone to upgrade to.

You know, whomever is in charge of samsungs customer satisfaction must be retarded. The note 5 is a flop. Cant upgrade memory, but you can use online storage? Certainly no privacy issues there. Cant replace your battery, one of the reasons Samsung owners don't like the iPhone. I have a Note edge and love it. The very best of both phones in one. What does Samsung do? Ditch it for two half the greatness phones! If I did my job that poor, i would be fired...

Note 5. This edge crap is ridiculous.

the note 5 is a way better phone
Android Central Newsletter
Get instant access to breaking news, the hottest reviews, great deals and helpful tips
Thank you for signing up to Android Central. You will receive a verification email shortly.
There was a problem. Please refresh the page and try again.