Real Racing 3: quality gameplay meets the freemium model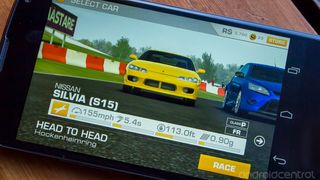 With a name like EA behind it, the Real Racing series has a high bar set for itself to offer a great mobile gaming experience. Real Racing 3 is the latest in the series, and it surely doesn't disappoint when it comes to the quality of design. But users are still cautious about the title, as instead of charging several dollars for the game up front, EA has chosen to go with a "freemium" model to generate revenue.
Real Racing 3 offers great gameplay, visuals and sound, but does that overcome the annoyance of constant in-app purchases? Read on past the break with us and see.
When you open up Real Racing 3 for the first time, you're thrown right into a tutorial race before meeting any menu structure. In this tutorial you'll get acquainted with the controls, interface and gameplay. This is useful if you've never played Real Racing before, but veterans can skip right past it to the main menu. That main menu is extremely clean and easy to use, although the touch targets to change settings and view your profile are a little on the small side when played on a phone.
When it comes down to a racing experience, Real Racing 3 delivers something quite satisfying. It's almost surprising how high quality of graphics and sound are available on a smart phone platform, and this is game is a good example of what's possible. By default, your controls are extremely easy, with all of the "assisted" settings enabled. For the more hardcore players, you'll want to turn these off and go with your own movements -- luckily there are many ways to customize how you control the car. The happy medium for me was manual gas and brake, with minimal steering assistance and tilt steering.
You'll have to start off on the easiest levels first, as is the case with these types of games, but they're very useful to get used to how the game plays. You get enough money -- aka R$ -- to buy the lowest level car and get going on the races. You receive money for completing races and "gold" for completing different achievements and unlocks. You can use the money to buy new cars, upgrades and repairs on your current car. Gold can be used for different unlocks as well. It should be noted that you'll continue to receive R$ for winning races, even after you've completed them the first time to unlock future levels.
The settings menu is where you'll spend that hard-earned money. Racing your car means you'll likely incur some maintenance and repair costs, and each one will cost a different amount. While you'll make thousands of R$ per race win, you'll only spend R$75 or so on common maintenance and repair. Car upgrades, however, can be up in the thousands of R$, as are new car purchases. When making an upgrade to your car, there will be a cool-down period associated with it -- somewhere in the 2 minute range for quick upgrades -- that you'll have to wait out to finish. If you want the upgrade done instantly, that'll cost you gold.
Here's where some criticism of Real Racing 3 comes into play: the in-app purchase system. Because the game is free to play, the purchase of in-app currency is what provides the developers with the revenue to put the game out. You can buy different amounts of R$ and gold in the store at prices ranging from $1.99 to $99.99, or purchase different "packs" that include multiple unlocks or features together at a discounted price. It should be noted that the in-app purchases aren't at all necessary to complete or have fun with the game, they're only there to accelerate your progress if you wish.
It's for this reason that we really don't think this is such a bad thing. Players of this style of racing game are used to the concept of unlocks, grinding races for currency and buying different features -- and make no mistake, the game would still have unlocks and repair costs even if there were no in-app purchases. For these people, they're getting a discount on the game because they may never buy a single in-app purchase over the life of playing it. For the more casual player that would rather throw $9.99 at the game and buy a new car, that option is there too.
Real Racing 3 may have put some people off from the start with the new "freemium" revenue model, but that system doesn't detract from the quality gameplay and graphics offered in this game. In many respects, the devoted players that are planning to spend hours playing and enjoy the game management of racing for R$ to finance future unlocks are getting one of the best racing games available for free.
The free to play model also gives players a chance to check out the game with no up-front cost, which you can do for yourself at the Play Store link above.
Get the Android Central Newsletter
Instant access to breaking news, the hottest reviews, great deals and helpful tips.
Andrew was an Executive Editor, U.S. at Android Central between 2012 and 2020.