Quick comparison: Galaxy S6 edge plus versus S6 edge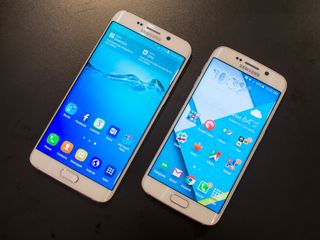 The Galaxy S6 edge was an unexpected hit after being launched alongside the standard Galaxy S6, and now six months later Samsung is hoping to continue on that momentum with a larger version, the Galaxy S6 edge+. The GS6 edge+ is an interesting device as it looks identical to the original Galaxy S6, simply with a larger screen, but also has the few enhancements that put it in a class with the newer Galaxy Note 5.
In all there isn't too much to unpack when looking at these phones side-by-side — let us show you the finer points.
Same hardware, new size
Though the naming convention gives little room for confusion, the Galaxy S6 edge+ really is just a larger version of the Galaxy S6 edge. There's a jump up to a 5.7-inch display — the same as the one in the Note 5, plus curves — from 5.1-inches in the original, and the entire design has just scaled up to meet the new screen size.
This is the same solid metal frame, flat glass back, buttons and ports as you'll find in the original, and the same color choices will be available (with regional exclusivities expected) as well. That glass back still hides wireless charging underneath, and though the camera pod on the back has a slight color change it's protecting the same 16MP sensor and capabilities. The one physical change you can notice is the loss of the IR port on the top edge of the phone, and the subsequent movement of a microphone hole.
Image 1 of 4
Image 2 of 4
Image 3 of 4
Image 4 of 4
Whether or not the larger size will cause issues with usability will be a personal question, but considering how the original Galaxy S6 edge was a bit tough to hold onto due to its design I can't imagine the larger screen would help any. A screen size bump of just over a half an inch isn't egregious, but it's enough to potentially make a big difference in usability. More folks will have to get these phones in their hands side-by-side to get a better feel for how big a difference that is.
A tiny bump in specs
Internally, things are very similar between the two phones. The screen is the same type, quality and resolution but simply at a larger 5.7-inch size, and there's a familiar octa-core Exynos processor under the glass supported by 4GB (one gigabyte more than the S6 edge) of RAM. The larger phone size bumped the battery up from 2600 mAh to an even 3000 — and in both cases it can't be removed, but can be quickly charged either with a wire or your choice of Qi or Powermat wireless charging.
The only other difference is storage — the Galaxy S6 edge+ has 32 or 64GB options, whereas the original had a 128GB option, depending on where you were looking to buy. Naturally there's no SD card slot in the Galaxy S6 edge+, as is the case on the Note 5 and the original Galaxy S6 edge.
Category
Galaxy S6 edge+
Galaxy S6 edge
Operating System
Android 5.1.1, TouchWiz
Android 5.1.1, TouchWiz
Display
5.7-inch QHD (2560x1440, 518 ppi) Super AMOLED
Dual edge screen
5.1-inch QHD (2560x1440, 577 ppi) Super AMOLED
Dual edge screen
Processor
Exynos 7420 octa-core (2.1GHz quad + 1.5GHz quad)
64bit, 14nm
Exynos 7420 octa-core (2.1GHz quad + 1.5GHz quad)
64bit, 14nm
Storage
32 or 64GB, UFS 2.0
Non-expandable
32, 64 or 128GB
Non-expandable
RAM
4GB (LPDDR4)
3GB
Rear Camera
16MP, f/1.9, OIS, phase detection auto focus
4K video, slow motion video
16MP, f/1.9, OIS, phase detection auto focus
4K video, slow motion video
Front Camera
5MP, f/1.9
5MP, f/1.9
Network
LTE cat.9
(network bands vary by market)
LTE cat.6
(network bands vary by market)
Connectivity
802.11ac Wifi, 2.4/5GHz, MIMO (2x2), 620Mbps
Bluetooth v4.2 LE, ANT+
NFC, Location (GPS, Glonass, Beidou)
802.11ac Wifi, 2.4/5GHz, HT80 MIMO (2x2), 620Mbps, dual-band, Wi-Fi Direct, Mobile hotspot
Bluetooth 4.1 LE, A2DP, atp-X, ANT+
GPS, GLONASS, NFC, IR remote
Sensors
Accelerometer, Proximity, RGB Light, Geo-magnetic, Gyro, Fingerprint, Barometer, Hall, HRM
Accelerometer, ambient light, barometer, compass, fingerprint, gyroscope, hall, heart rate monitor, HRM, proximity
Charging
Micro USB 2.0, Adaptive Fast Charging
Qi wireless, Powermat wireless, fast wireless charging
Micro USB 2.0, Adaptive Fast Charging
Qi wireless, Powermat wireless
Battery
3000 mAh
Non-removable
2600 mAh
Non-removable
Dimensions
154.4 x 75.8 x 6.9mm
142.1 x 70.1 x 7.0mm
Weight
153g
132g
Colors
black sapphire, white pearl, gold platinum, green emerald
(colors will vary by market)
black sapphire, white pearl, gold platinum, green emerald
(colors will vary by market)
Small software changes
As covered in our hands-on impressions of the Galaxy S6 edge+, Samsung hasn't changed much in the software since it revamped things with the launch of the Galaxy S6 and S6 edge earlier this year. Beyond simple differences in the look of icons and some styling in the launcher, there are two big changes about how the edge screen works.
On the Galaxy S6 edge+ you can now swipe in from the edge to expose the "people edge" even within apps, an upgrade over the previous system that required you be on the home screen or lock screen, and you can also configure the people edge to launch anywhere on the side, not just at the top. With the people edge exposed, you can now also give it an additional swipe to launch an "app edge," which gives you a handful of your favorite apps to launch. When paired with the ability to launch in any app, it should be a nice boost to multitasking functionality.
Samsung was (expectedly) quiet on a timeline for bringing these new edge features back to the original Galaxy S6 edge, but I would be surprised if they didn't arrive in a software update in the near future. The few simple changes to the way the edge screen works are great without being confusing, and don't get in the way when you don't want to use them.
Andrew was an Executive Editor, U.S. at Android Central between 2012 and 2020.
??? LG G2
GSIII
Galaxy Note 4
(The Sprint Lover)

What happened to the 128 option? Wow. Posted via the Android Central App

i don't think it's coming in Green.. didn't they say Silver Titanium was the new colour option?

I cant help but feel that this was a deliberate move from Samsung. First release the S6 Edge, so hyped Samsung fans would buy the most overrated and over priced phone in history. And then when sales have dropped they release an exact copy only bigger so those fans that was wining about small size will once again buy the bigger, not better but still most overrated and over priced phone in history. Can't believe people still buy Samsung. They offer nothing you cant achieve through apps or other brands... The whole curved screen thing is just a sales gimmick and "we was first, buy our product"... Nah, Samsung never was my cup of tea.

When you buy a Samsung device you know that it's likely the rooting, and modding community will support it. You claim Samsung offers nothing that you can't achieve via an App, what App will give me 4GB of ram, Fast Wireless Charging, or a fingerprint reader? What brand will offer those things, and contact less payments? Which brand will continue to update their phones for at least 2 years? Which brand offer LTE Cat 9? (Before someone says anything Telstra have Cat LTE 9 service) If you just said "I personally don't like Samsung" that would be a better comment than the baseless one you provided.

The S6 Edge Plus and the S6 Edge seem to have quite a bit similar internal with the exception of the larger RAM inside the Plus as seen here http://versus.com/en/samsung-galaxy-s6-edge-plus-vs-samsung-galaxy-s6-edge . But some people may still prefer the smaller footprint of the S6 Edge so that it could fit perfectly in their hands. Also, having no microsd card support, I guess the option for a larger internal for the S6 Edge would also be a big deal for heavy storage users out there.

Which music widget is that ???? On s6 edge Posted via the Android Central App

That's samsung milk music widget powered by slacker

I'm still using the Samsung S3 and I won't upgrade until they start putting batteries in their phones.
Yes, I know they have wireless charging and quick charging. They need all that plus a BIGGER BATTERY! Do you hear Samsung????? No one cares how thin the phone is! That's a game between you and Apple. Your customers don't care if it's 3mm thick or 9mm think. They want a BATTERY.....CAN YOU HEAR ME NOW????? A battery. If I was CEO of Samsung I'd fire everyone responsible for the designs that incorporate small batteries in the phone. But, Samsung won't change. It's just a good old boys club who will continue to make what they want instead of what the customers want. I'd love to get into one of their board meetings. I'd fire everybody.

What do u want a car battery attached to ur phn which u will car by urself where ever you. I hv been using all s series phones of samsung. And haven't had such big issue with battery as u r explaning. In normal use my battery almost lasts 24 hours. And if i switch my mobile data off no wonder it goes beyond that. If battery is such a issue for u in samsung phns y u still using 3 or more year old phone of samsung.

He's doesn't want a car battery. Just looking for a phone like the S3 , with a removable battery. Like all phones use tp offer. Sounds like he has spare batteries and if it dies during the day just puts a spare in. That's why no upgrade to a new phone because you lose that option.

Totally agree, as i also have been using an older Samsung for the last 3 years, with 1 spare battery always fully charged, But iv just bought a S6-Edge and my added concern is when this in-built battery finally gives up! the phone is some what useless, lets hope its not for a few years at least, as i have to admit this S6-Edge is so amazing,

Hey Samsungisgoingsouth, what you think the phone runs on? Pixie power? Literally the dumbest comment I've ever read. It has a battery in it.

I'm looking forward to the Galaxy S6 Edge, but in the Plus size - a bigger screen is an awesome screen!

Get the S6, S6 Edge + and other Samsung Phones at a discounted price only on BestAndroidPhoneDeals;com
Android Central Newsletter
Get the best of Android Central in in your inbox, every day!
Thank you for signing up to Android Central. You will receive a verification email shortly.
There was a problem. Please refresh the page and try again.