Qualcomm announces ultrasonic finger scanner and machine learning engine, teases Snapdragon 820 processor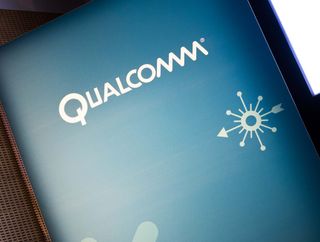 Qualcomm today at MWC 2015 announced their newest device security measure: an ultrasonic fingerprint scanner. Dubbed Qualcomm Snapdragon Sense ID 3D Fingerprint Technology, the tech uses ultrasonic waves to penetrate through the outer layers of your finger to build a three-dimensional map of your fingerprint that's much harder to duplicate than a mere capacitive scanner as you'd find on the Samsung Galaxy S6 or iPhone 6. Additionally, Qualcomm also announced their new "machine learning" platform Zeroth, which aims to go for a device that learns and adapts to how you use it.
The Sense ID scanner recognizes sweat glands and the layers of your fingerprint ridges. But more impressive is that it works through metal, plastic, and glass, so it can be installed differently in a phone than under the glass plates that fingerprint scanners are currently placed. Additionally, by going ultrasonic, Sense ID can scan through any lotion, grease, or other grime that might frustrate a traditional capacitive scanner. Sense ID adheres to the FIDO open standard secure authentication.
Qualcomm Zeroth might be the more interesting announcement long-term, however. Right now it's a bit vague — Qualcomm President Derek Aberle described it as a cognitive and machine computing platform that "will allow your device to learn about you and customize itself over time". All of the data collected by Zeroth is stored on the device, none of it's pushed to the cloud. And while they're initially targeting mobile devices like smartphones and tablets, Qualcomm sees the platform extending to automotive and other sectors in the future.
So what does Zeroth do? Qualcomm provided one interesting demo: the camera. The camera app leveraged Zeroth to actually recognize what was in a photo — people, architecture, food, etc. — and where it was being taken — indoor, outdoor, night — to engage in automatic scene detection and tweaking of the camera settings appropriately. Zeroth also amplifies face detection that most modern smartphones support with face recognition. Yes, it can see who is in the photo, not just that there are people in the photo.
The last big new announcement was the new Snapdragon 820 processor. Aberle teased the new chipset, which will include a custom Kryo CPU and a "leading" LinFET process (though they would not comment on what process they're using — Samsung's up to 14nm at this point). The new processor isn't expected to start sampling to manufacturers until the second half of 2015, so it'll probably be a while before we start seeing Snapdragon 820 smartphones and tablets start shipping.
A few other notes on what Qualcomm has done and has in store:
In 2014 Qualcomm shipped 920 million chipsets to manufacturers.
The Snapdragon brand is expanding to encompass Qualcomm's LTE modems, recently rebranded as X-series modems. So Snapdragon will stand for the complete system-on-a-chip). Take the Snapdragon 620 and 425 for example: they both use the 450Mbps X8 modem.
Qualcomm is integrating specialized support for "select Cyanogen features and enhancements", and has seen more than 30 Windows Phone devices launched off the Qualcomm Reference Design.
Qualcomm's working on seamless hand-overs of voice and video calls between Wi-Fi and LTE and aggregating Wi-Fi and LTE for faster multi-stream downloads (several Android device manufacturers have implemented this on their own, but this is the first that will be built in at the hardware level).
Additionally, Qualcomm recently dug deeper into unlicensed spectrum, with Aberle saying that "LTE-U is even a better neighbor to Wi-Fi than other Wi-Fi networks." Of course, we'll have to see carriers actually start implementing LTE-U before we can even think about how well our networks will play together. On the other end of the spectrum, Qualcomm is also demoing the first Cat.11 LTE modems at MWC, topping out at a blistering 600Mbps downloads.
Get the Android Central Newsletter
Instant access to breaking news, the hottest reviews, great deals and helpful tips.
Derek Kessler is Special Projects Manager for Mobile Nations. He's been writing about tech since 2009, has far more phones than is considered humane, still carries a torch for Palm (the old one), and got a Tesla because it was the biggest gadget he could find. You can follow him on Twitter at @derekakessler.
@Derek Kessler
Thanks for your post.
Yeah seems like Qualcomm is doing well. competition should be there always then more good things come out always. Thanks in Advance

We're yet to have a feel of devices with the Snapdragon 810 processor and Qualcomm is already teasing Snapdragon 820. As a matter of fact not everyone's had a feel of how the SD805 works. It's funny how Qualcomm makes our devices feel outdated within a very short time. chookaPookaPandaBear

The trick is to pick the phone with the chipset you like. Then 2 years later do it again. Gs3- Snapdragon S4 Pro
LG G2- Snapdragon 800
Galaxy Note 4- Snapdragon 805 Rooted LG G2.
Rooted GS3, Stock Galaxy Note 4
If it ain't Tech, it ain't Right!

If they're gonna roll out sense ID to the 810, could the Xperia Z4 have it?

No Sense ID is for the SD820. The 810 has already been shipped to manufacturers and is already being implemented into phones so it is too late to change things up. You'll just have to wait until the next gen chips come out. Even then Sony might decide to not use the sensor in their phone, then they won't have Sense ID. Posted via Android Central App

From the verge : "Qualcomm's Sense ID will be built into its new Snapdragon 810 and 425 chips, and it will also be available as a standalone part. The first devices using the tech should be out later this year."

Hmmm that really makes no sense but whatever

So the next flagship phone that's announced (after the G4) will have people bitching that it's "last year's tech" because it won't have the 820 in it. I'm really looking forward to those comments. Posted from my Droid Turbo, Kelly and Ozone

Considering the G4 will be the last of the major manufacturers who'll actually adopt the Snapdragon 810, the "honours" will go to them.

No I think Motorola is also going to use the 810 but they are already infamous for using "outdated" processors Posted via the Android Central App

Since they're technically Lenovo these days, it's not unlikely that Moto will switch to something like MediaTek. Or there's also the possibility they'll get an Exynos, as they're already getting their displays from Samsung.