Q&A with TheScore - serving up Olympics coverage and diving into the Nexus 7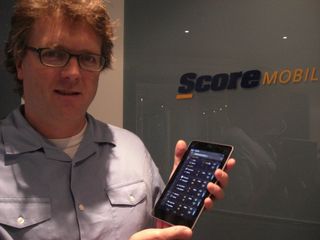 ScoreMobile for Android was recently updated for Nexus 7 compatibility and seeing as their app is all about keeping track of sports, they had a busy run during the Olympics. Of course, the app still keeps tabs on football, hockey, baseball, and golf too. We caught up with Score Media's VP of Digital Products Dale Fallon to talk about what it's like working with Jelly Bean, how their traffic has bean over the last couple of weeks, and how their sporting coverage is going to progress over the next couple of months.
Hi, Dale! Thanks for your time. Care to give us a bit of background on ScoreMobile?
No problem, Simon. ScoreMobile actually existed first as a Java-based app back in 2005. It was very basic, offering just the latest scores of games and was only available in Canada. It was in 2007 when it made its debut as an iPhone web app in the US, and then, a year later, as a native app that things really exploded. Since then we've developed native apps for Android, BlackBerry, Windows Phone, iPad, Kindle Fire and now the Nexus 7. This has helped us grow to 3.5 million active users every month around the world, making ScoreMobile one of the top sports apps on the planet. It's certainly come a long way – from an app which just gave you the score, to one which provides an in-depth experience, offering scores, stats, free push alerts, news and options to personalize, as well as the ability to track fantasy league rosters. With NFL season just around the corner, I know a lot of fans are researching and planning their fantasy rosters!
Not long ago you guys pumped out a version of your app for Nexus 7 tablets. How dramatic was the transition from the smartphone app? Did the extra screen real estate open up potential for new functions?
Moving the smartphone experience to a tablet has allowed us to bring enriched content & features to the fore. For example, on a tablet we are able to provide quicker access to TV listings and share tools. Video is obviously much more compelling on a tablet than it would be on a smartphone. We also know that tablet users are looking for a slightly different experience compared to what they get from a smartphone app. We know that most people use their tablets while they're doing something else, like watching a sport on television as opposed to smartphone users who tend to be using the app to access scores and updates remotely. So tablet users want to interact, chat and share content with their friends, and we want to enhance that experience.
As a free app, ScoreMobile depends on ad revenue. How successful has mobile advertising been for your partners? Are pre-roll video ads viable on mobile? Are you considering a paid app option at all?
Mobile advertising and sponsorships are definitely proving successful for our partners. The association with high quality content like big league sports is a good place to be for a lot of marketers. With about 3.5 million monthly unique users, we provide our partners with a great potential reach. And of course targeting gets better and better. Our digital media revenue growth seen during the last quarter was reflective of our success in monetizing our growing user base across all our digital platforms in North America.
To date, pre-roll video has been a part of our advertising offering, and we expect to see it grow over the next few quarters. And while we don't currently have any firm plans to release a paid app, we are aware that there's a growing appetite on the part of consumers to pay for premium content and experiences. I expect this will be something we experiment with in the future.
It seemed like the Nexus 7 and Jelly Bean have been a big focus of the update. Are there any specific parts of the new OS that ScoreMobile is taking advantage of? Any particularly tricky obstacles in optimizing for Jelly Bean?
We started out working with an HTML5 codebase, and an app designed for a roughly 7" tablet (ie BlackBerry PlayBook and Kindle Fire). We found that in order to achieve acceptable performance in terms of transitions and scrolling long pages, we needed to tap into the improved hardware acceleration Google delivered with Jelly Bean. There were a couple little gotchas with mixing transitions sliding in over hardware accelerated pages, but in general no major headaches. So for us it wasn't so much a case of what we had to do optimize for JB, but rather JB made it "easier" for us to deliver a high quality experience.
The Olympics just wrapped up, and I see ScoreMobile had a dedicated section to stay on top of London 2012. Given the breadth of events, it must have been a lot of work to develop, but the Olympics only run so long; was it worth the time and effort investment?
Absolutely. When we began designing our Olympic microsite "Going for Glory" our goal was very much to service our users who regularly visit us for news and data relating to key sports like basketball, soccer and tennis. We certainly didn't set out to compete with the official Olympic sites or even the sites of the official broadcast partners, but we wanted to ensure our loyal users did not have to go elsewhere to get the kind of event-specific news they were looking for. We deliver most of the content through a responsive website, which allowed us to use it across desktop, tablet and smartphones. There are still some things we needed to do natively in our apps, but overall this helped us manage our costs. Page views during the Games have actually more than doubled than what we would typically see on theScore website at this time of year, with much of these originating from mobile devices, so it's been well worth the time and effort.
There are some pretty big associations in charge of each of these sports. How closely do you work with them to provide your services? Do you ever collaborate with individual teams or athletes on projects or promotions?
All of the sports data and information that our users access within ScoreMobile is gathered either by ourselves in-house or through third party partners. So the way we provide our data means we don't have to work that closely with the leagues. That's not to say that we don't have good relationships with many of them, having developed these through our work as a national sports television network here in Canada. We haven't directly partnered with any athletes or teams, but it's not something we'd discount moving forward if the opportunity was right.
What can we expect next from ScoreMobile?
Our roadmap is driving us towards providing a more immersive experience for the sports fan around the clock. ScoreMobile has always been best during live games, so now we're looking to move beyond being score and data-centric, to making the app a more social experience – which is exactly how watching and participating in sports should be. We can't say much more than that at this stage but we're very excited by the direction we're taking. In addition, this winter we'll be looking to re-launch our Android presence on tablet and smartphone. Again, we can't offer up too many specifics but it's shaping up to be one of the biggest launches we've undertaken since the app was born. We can't wait.
You can download ScoreMobile for the Nexus 7 and other Jelly Bean tablets at the link above, or go for the smartphone version instead. Both offer the latest scores, stats, standings, news and video for MLB, NFL, NBA, NHL, EPL and PGA.
Be an expert in 5 minutes
Get the latest news from Android Central, your trusted companion in the world of Android
Simon has been covering mobile since before the first iPhone came out. After producing news articles, podcasts, review videos, and everything in between, he's now helping industry partners get the word about their latest products. Get in touch with him at simon@futurenet.com.