Android Central 264: A brief history of Android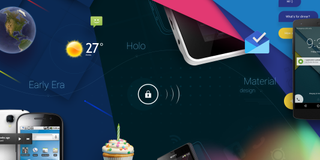 We're taking this entire holiday podcast to talk about our History of Android project, an eight-part series that takes a look back at Android's meager beginnings through its rise to total world domination from some of the folks who actually made it happen.
Read the entire series at HistoryOfAndroid.com.
Thanks to this week's sponsors:
Thursday Boot Company: Durable, sophisticated and versatile boots, perfect for work or play.
Canary: A complete home security system in a single package. Use promo code ANDROID.
I just pressed play. This will be some good listening. Posted via the Android Central App

Enjoyed the podcast Posted via the Android Central App

Great podcast guys! Posted via the Android Central App

Enjoyed the podcast. Posted via Android Central App

This technical issue may be specific to the download I got through Pocketcasts (so please check). There seems to be a constant high tone, quite low in the mix, for the entire podcast duration. If it is on the master, a narrow notch filter could almost entirely remove it. A very interesting discussion about the early days of Android. My first device came with 2.1 and my first phone was the Samsung GS2 with 2.3; so I missed the early days. The Android Central Podcast has always been the most intereting and tight of the many podcasts on the subject. I never miss it - and try to listen (or watch) live when I can. Thanks AC team

Pretty sure it's because I recorded on a different computer. But thanks for pointing it out.

Great show. Definitely love the idea of you guys talking about the history of our beloved OS in next week's cast. Posted via the Android Central App

I loved my Nexus S, I didn't buy it new, because it was like £550 at the time, and no way could I afford that. But I eventually got a used one and I loved the amoled screen, with the real blacks, that I'd never seen on a screen before. The curve was cool and futuristic. And the camera was amazing for the time, I don't think it really got the credit it deserved for that. I used that thing from gingerbread right up to jelly bean, and it worked great on all of them. NFC and the prospect of mobile payments was exciting, but I never ever used it. I still have it sitting somewhere. I even thought about going back to it this year, after my xperia Z broke, but of course my sim didn't fit in it. Posted via the Android Central App

The notification for a AC app on nexus 6p is just a white plain square :/ Posted via the Android Central App

Same for me on my Sony. Posted via the Android Central App

This did not help me, im selling my LG tablet but 1st i want to back up all of my pictures onto my SD or sim card that is in my tablet now

Phil seeing as you was talking about not wanting to use your phone in the car can you recommend any good bluetooth headsets, would be nice to have a article regarding the best in the teams eyes.
Hope you can shed some light on this
Many Thanks
Happy Holidays

Actually i want latest android version of p 55 panasonic is this available on net
Android Central Newsletter
Thank you for signing up to Android Central. You will receive a verification email shortly.
There was a problem. Please refresh the page and try again.